Human Resources
Retirement
A Supplemental Retirement plan allows you to use either post tax or pretax retirement contributions to save for retirement. Pre-tax contributions will reduce your federal income taxes now. Post tax contributions may help you avoid paying higher taxes on your retirement savings in the future.
Please talk with a TIAA advisor or to Dave Knott, Wabash's consultant (phone: 765-447-5234
) to determine which contribution level is right for you.
In either case, TAKE ADVANTAGE OF YOUR PLAN TODAY?
To enroll or increase your retirement contributions follow the link to the TIAA website below and register or enroll in your account. Choose Contibutions and then follow the instructions to put in your percentage of contribution and to choose the investment account(s).
https://www.tiaa.org/public/index.html
Also remember to check that your beneficiary is current. Especially after a life changing event such as: birth, adoption, marriage, death, etc.
Elective Deferrals 2018 Limit - $18,500
Plus, Catch up Contributions (employees over 50) - $6,000.
CONTACTS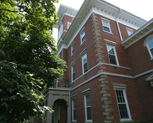 Cathy Metz
Director of Human Resources
765.361.6418
metzc@wabash.edu