Human Resources
Health Insurance
Employees at Wabash College receive Health Insurance Benefits through CIGNA Healthcare. We offer a Traditional Health Plan and a High Deductible Health Plan with an Health Savings Account option.
Wabash 2019 Open Enrollment Presentation
Medical Rates Cost sharing for both plans and COBRA rates as of 1-1-2019 can be found in the document below.
To search for an in-network provider or receive information on CIGNA's Drug Formulary information, please visit www.cigna.com.
See links below to documents regarding
CONTACTS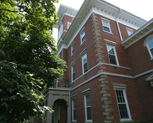 Cathy Metz
Director of Human Resources
765.361.6418
metzc@wabash.edu