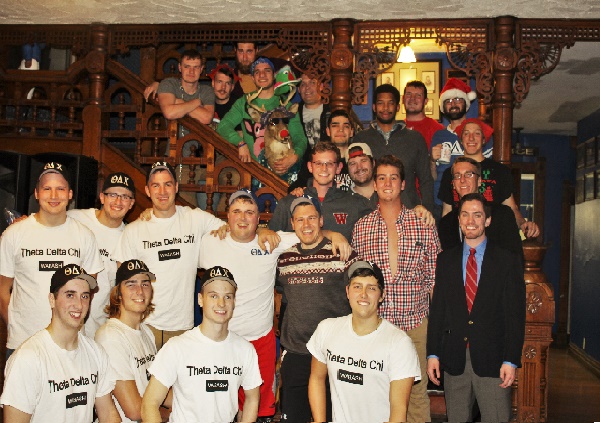 Welcome!
Theta Delta Chi is the most unique and diverse house at Wabash College. Unlike every other Wabash fraternity, the 25 Brothers of Theta Delta Chi reside in a privately-owned residential-style house designed for group living. The residential style along with home-cooked meals gives Theta Delta Chi the feeling of a "home away from home." Although Theta Delta Chi is the smallest fraternity on campus, it fosters strong bonds of friendship and brotherhood to last a lifetime.
Theta Delta Chi involved in every aspect of college life. The brothers study a wide range of academic majors, which involves: Political Science, Rhetoric, English, Music, Chemistry, Physics, Biology, Biochemistry, Mathematics, Classics, Economics, etc. Some brothers compete in track, cross-country, football, soccer, etc. We are continually improving our intramural standing on campus, finishing high in the standings last year, and striving to improve in the future.
Keep in mind, Theta Delta Chi is an house for leaders - ranging from the Sphinx Club President to the officers of Alpha Phi Omega, Pre-med Society, Model UN, IFC, and many more. For the past years, Theta Delta Chi has held the great honor being in the top ranks of the GPA race.
We strive to give back to the community through philanthropy. We do projects through Habitat for Humanity, walks for Breast Cancer Research, pancake dinners for Autism speaks, etc. We pride ourselves in the service that we can do for this community and were awarded as the best philanthropy house last year among all the fraternities.
While we pride ourselves in academics, we also foster social joys in the college atmosphere. Additionally, the Brothers spend time together at Brotherhood activities once a week - which involves bowling, Euchre & Poker Tournaments, Super Bowl Parties; and we welcome friends throughout the week.
Despite our accomplishments, the Unique Brotherhood makes Theta Delta Chi stand out as the house for leaders. We look forward to continuing the proud tradition of Theta Delta Chi at Wabash College.

Best,
Levi Garrison '18