Student Life
Theta Delta Chi
Theta Delta Chi — 415 South Washington Street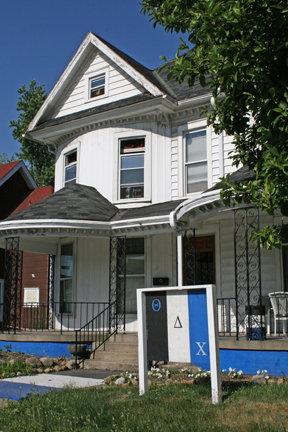 Theta Delta Chi is a distinct and continuously growing house here at Wabash. The Theta Delts live in a house that is unlike the dorm-style residencies of the other fraternities. They boast a 24-hour kitchen, spacious rooms and private bathrooms. Theta Delta Chi is also the only independently owned fraternity on campus. They have a newly refurbished house, which includes unique Victorian-style woodwork. All of these amenities add to the "Feels Like Home" atmosphere that the Theta Delts enjoy.
A brother of Theta Delta Chi can expect to find many leadership opportunities in the close-knit group of men living both in and out of the house. Brothers are currently active in Cross Country, Track, Lacrosse Club, Alpha Phi Omega, Diving, the College Democrats, the IFC, Golf, Student Senate, Glee Club, Sphinx Club, and various other organizations across campus. Even as freshmen, the brothers of Theta Delta Chi can expect to take on significant leadership roles in the house, such as treasurer, rush chairman or secretary.
The brothers of Theta Delta Chi have boasted among the highest average GPAs on campus for the past two years, with last year fall's average being 3.2. Though small, the brothers of Theta Delta Chi at Wabash won three national awards in the past year including the Theta Delta Chi Philanthropy and Service Cup, and are continually striving to better themselves. Theta Delt is truly a place for leaders and achievers. It's not all business at the Theta Delt house, however; the brothers have a refinished pool table, ping-pong table and big screen TV. Stop by the house at any time to experience how being a brother at Theta Delta Chi enhances the liberal arts education that is Wabash College.
At its National Convetion in 2011, the Wabash chapter of Theta Delta Chi captured the Robert N. LoParo Service and Philanthropy Cup for the third time in four years. It also won the Excellence in International Brotherhood Award. Brothers Brett Birch and Jacob Surface each won scholarships and Surface was named the Theta Delta Chi Undergraduate of the Year. Alumnus Kyle O'Keef '08 was elected to the Educational Foundation Board, and Jordan Ferguson '12 was elected to the Grand Lodge.
Theta Delta Chi Leadership
Ian Baumgardner '14, President - (idbaumga15@wabash.edu)
Joe Sukup '15, Rush Chair - (jasukup15@wabash.edu)
Notable Alumni
Ryan Clougherty '02, Honors Attorney, FDIC
Jeffrey Nicoson '97, Cancer Research Department at Purdue University
Matt Swift '97, Anesthesiologist, Riverview Hospital
David Zimmerman '93, Oncologist, St. Louis University Hospital
Jon Larcomb '96, Attorney, JAG Corps
Todd Vogel '04, Neurosurgeon