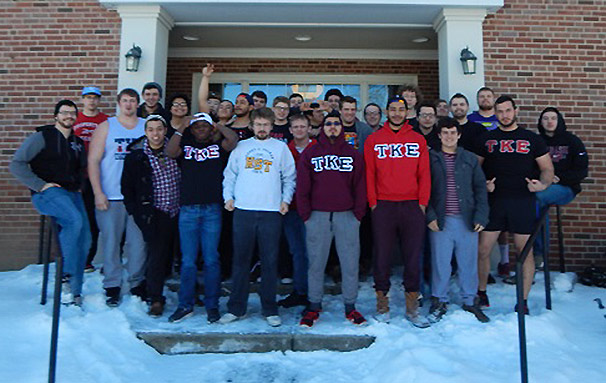 The Class of 2019

This past August, TKE Alpha Alpha inducted the new pledge class of 2019. From left to right in the back row: Quinn Cavin, David Thomas, Martin Roman, Noah Madison, Colby Dunigan, Brandon Johnson, and Sean Schlebecker. In the front row: Weston Steele, Jorge Rodriguez, Nathan Muha, David Segovia, Teague Meiers, Jared Cottingham, and Brennan Davenport. We welcome them on their first steps towards becoming better men. So far this freshman class has set a strong precedent for painting the senior bench this year.

TKE Takes the Stage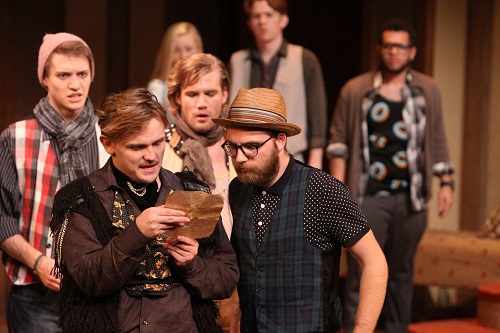 This fall, the Wabash College Theater Department ran a production of The Misanthrope, directed by Professor Jessie Mills and adapted for the modern audience by Brian Sutow. The show starred pledge Jared Cottingham '18, costarring fraters Donovan Whitney '16, and Zachary Anderson '18. The show was co-directed and choreographed by frater Rory Willats '17, while set and light design was done by frater Tucker Mark '16. Supporting roles in the production were played by fraters Dan McCarthy '17, Noah Eppler '16, and pledges Quinn Cavin '19 and Nathan Muha '18. Rory Willats '17, Jason Wright '16, and Donovan Whitney '16 all worked on costume design and creation as well.
Schedule a visit to Wabash, and to TKE!

Click here to schedule a visit to Wabash, and be sure to visit TKE! Our doors are always open to visitors!

TKE Ideals

Every Teke strives to live a life that exemplifies our fraternal ideals of Love, Charity, and Esteem. These ideals, along with brotherhood, community service, and lifelong friendships, are what makes our fraternity strong.

Rush TKE! Become part of the bond!

We are a group of diverse men hoping to offer you new experiences to share with us. Stop by on Honor Scholar Weekend!