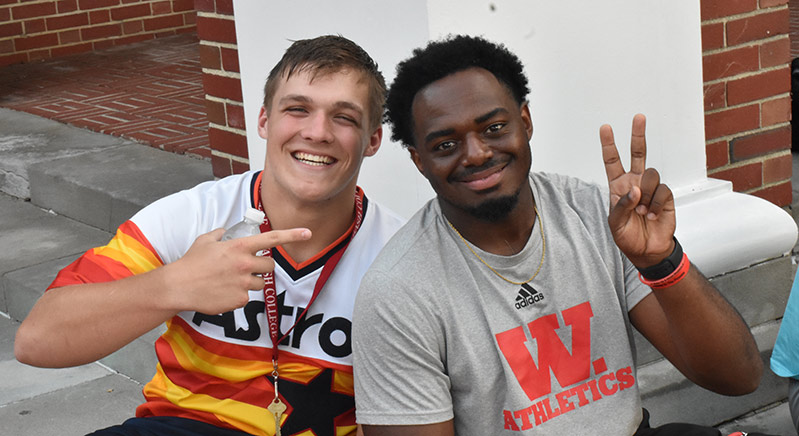 Wellness means lots of different things to people, but at Wabash, we look at wellness as balance in life; a healthy balance between work and play, diet and exercise, and getting the most out of your time on campus. Your physical, mental, social, and emotional health are all tied together, so we have opportunities and services aligned to keep your whole self well.
Nurse Chris Amidon and doctors John Roberts '83 and Scott Douglas '84 have clinic hours every weekday while classes are in session at our on-campus Student Health Center. Visits to the Student Health Center are unlimited and are covered by the annual Health Services fee. Services include illness examinations, diagnostic testing including rapid test for strep, "mono," and influenza, physician-prescribed medicines (some of these prescriptions are distributed free of charge); wellness examinations including sports physicals, blood pressure checks, and general wellness exams, service for student travel experiences, including travel immunizations, physicals for internships, and tuberculosis testing. Other medical services include allergy injections, suturing of lacerations, suture removal, and ear irrigation. Rehabilitation services are also offered in conjunction with the athletic trainers.
Counselors Jamie Sweet Douglas and Laura Dolph offer no-cost, professional, confidential counseling for Wabash College students and their dependents. The Counseling Center staff assist students and their dependents with objective, professional assistance for a broad range of issues, as well as help them manage the stress of college life and to promote healthy and effective life choices.
Our Allen Athletics and Recreation Center offers stunning facilities for serious athletes and joggers alike. The Class of 1952 Fitness Center has 7,000 square feet of Cybex and Hammer Strength equipment, as well as free weights and aerobic fitness equipment, allowing each user to tailor a workout to their specific needs. Knowling Fieldhouse boasts a 200-meter Robert H. Johnson Indoor Track, along with four full-sized basketball courts, which can be configured for use for volleyball and other intramural sports. Our baseball and golf teams also have elevated cages for off-season practice. When the weather is good, our walkers and joggers head outside to the J. Owen Huntsman Track inside Little Giant Stadium. Swimmers love the Class of 1950 Natatorium, which features an eight-lane, 40-yard pool with movable bulkhead that allows for lap swimming and varsity swimming and diving practice.
The Academic Centers for Excellence at Wabash offer a wide range of support services for students, including the Writing Center and Quantitative Skills Center. ACE can also help students with disabilities and those who seek help improving their time management. At times Wabash Students are injured or face learning struggles. In that event, Disability Services provides the needed support. From moving classrooms to accommodate students on crutches, to extra time on tests, or help taking notes, Disability Services is ready to help Wabash Students with any form or disability, temporary or chronic, receive the support they need.