Mission
The Registrar's Office is committed to maintaining the integrity, accuracy, and confidentiality of academic records, continuously improving our processes and services, and supporting Wabash College's mission and its lifelong relationship with students and alumni.
---
SENIORS! Click the button below for the Senior Checkout link.
---
COURSE INFORMATION
Fall 2021 Course Offerings
Click Here to Search for Sections (with enrollment data)
---
Spring 2021 Course Offerings
---
Final Examination Schedules
---
Academic Calendars
---
Pre-Registration Alpha Rotation
---
Diploma Information
---
Archives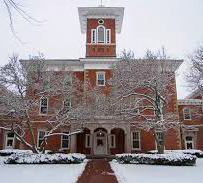 Center Hall, Room 115
Office Hours
Monday — Friday
8:00 a.m. - noon
1:00 p.m. - 4:30 p.m.
Phone
765-361-6416
Email
Twitter
https://twitter.com/WabashRegistrar
---
Advisor Resources
Sophomore, Junior, and Senior Advising Checklist
---
Online Tools
Bulletin Edits (Faculty/Staff)
FERPA (Family Educational Rights and Privacy Act of 1974)
New Course/Course Change Proposal Form (Faculty)
Transfer Credit Approval Request
Self-Service/Student Planning Registration Resources:
New Student Curriculum Overview and Student Planning Basics (Fall 2019 webinar)
Sending Courses to Advisor for Review (slide show)
Student Instructions for Student Planning (document)
---
Policy Links:
Registration Confirmation Policy
---
Concerns