Robert Wedgeworth '59 Library Research, Scholarship and Creativity Awards
With financial support from Robert and Chung-Kyun Wedgeworth, Lilly Library has been pleased to offer the Robert Wedgeworth Library Research, Scholarship, and Creativity Award since 2010. With generous grant support from the Center of Inquiry in the Liberal Arts, the Lilly Library bestowed the annual Lilly Library Research, Scholarship, and Creativity Awards from 2007 to 2009. Starting in 2015, three students who make the most effective use of library resources in developing their Celebration presentations will receive $500 cash awards.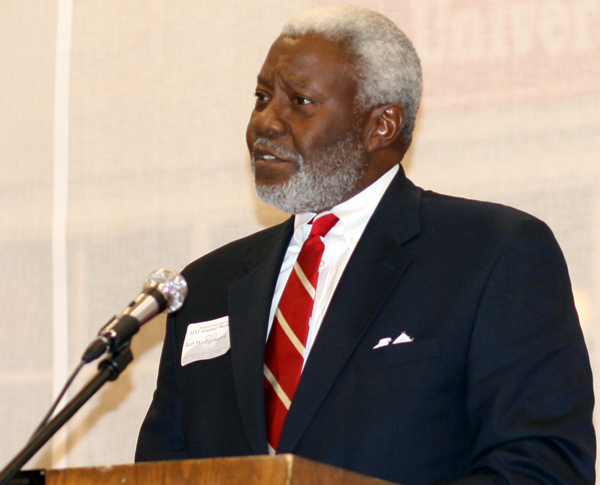 Wedgeworth '59 Delivers Inaugural Evans Lecture
Award Application--Discuss the Role of the Library in your Celebration Presentation
Include the equivalent of a one to two page statement describing how effective use of the library helped with the development of your oral presentation, poster presentation, performance, or exhibit. Your statement will describe:
The library resources (collections, facilities, services, etc.) used.
A brief explanation of how these resources were used
A recommendation to other students on how to use these resources effectively.
A recommendation to the Library on how to enhance support for student research, scholarship and creative activity.
Participants signify by their entry an understanding that the Library may use this information to assess the role of library in support of student research, scholarship and creative activity.
Previous Award Winners
Award winners in 2019

Wade Haesemeyer" "Wabash's Taj Mahal? A Podcast about the Origins of The Sparks Center"
Walker Hedgepath: "Warring Brothers: A History of Sino-Vietnamese Relations in the Indochina Wars"
Corey Leuters: "The Cisterhood: Masculinity, Its Investment in Cisgender Men and the Effects on Single-Sex Institutions"

Award winners in 2018

Jared Cottingham: "Do Not Resuscitate"
Erich Lange: "Political Activism as a Component of Religious Commitment: Reflections from a Nazi Prison"
Christopher Roman: "The Portrayal of Radicalized Individuals in US Media"

Award winners in 2017

William Kelly: "A Transcendental Critique of Economic Reasoning"
Taner Kiral and Jonathan Murdock: "The Four Curves of Alexis Clairaut"
Zac Maciejewski: "Covering the Torture Issue: Liberal and Conservative Media Predilections of Abu Ghraib and Guantanamo Bay"

Award winners in 2016

Ian Artis, Jr.: "Sunburn - Flash Fiction and Various Poetry"
William Kelly: "Utilizing Liberal Arts Skills Through America's Longest War"
Christian Lopac: "Desolation and the Dharma: Desolation Angels and the End of Kerouac's Religious Trek"

Award winner in 2015

Cody Cochran: "The Art of Dystopia"

Award winners in 2014

Adam Alexander: "The Cuban Embargo: How Cultural Hardliners Can Perpetuate the Status Quo"
Nikolas Jones: "N'k Stretching and other Poems"
Patrick Stroud: "Civil and Common Law in Colonial Canada" and
"The Cántigas de Santa María: A Genre Study"

Award winners in 2013

Jeffrey Bohórquez: "Escobar, the Boss of Evil, International Ambassador of Colombia"
Julian Jose Cernuda: "The Logical Man in Borges' World of Chance and Disorder"
Bradley Wise: "Ecuador: Afro?Ecuadorian Culture Documentary"

Award winners in 2012

Kyle Martin Bender: "Trends Within Presidential Inaugural Addresses, 1913-2008"
John Anderson Murrell: "Bomba Music: Evolution and Contextual Function"
Reginald Nadjae Steele: "From Negro Spirituals to Black Gospel Music: History of a Musical Tradition"

Award winners in 2011

Michael Holmes: "A Snow Flake Gauntlet"
James Nossett: "Majority In the Middle? The Impacts of Partisan Ideological Polarization on Independent Voters"
Adam Schenk: "Roma Aeterna: Hadrian and His Plan for City and Empire"

Award winners in 2010

Mitch Brown: "Luxury and Austerity: Two Centuries of Discourse in Roman Society"
Paul Musielak: "Using Empirical Evidence to Examine Depositor and Bank Behavior: Capital Sources for Banks Before and After the Recession of 2008"
Derrek Yager: "Bloody Spain"

Award winners in 2009

Sean Clerget: "More than Minimal: Judicial Minimalism in the October 2006 Supreme Court Term"
Sean Huston: "Road to Indiana Statehood"
Greg Slisz: "Against All Odds: The 1955 Crispus Attucks Boys High School Basketball Team"

Award winners in 2008

Mitch Brown: "Brown County: Continuing The Tradition"
Ryan Morris: "Les Harki Et La Stigmatisation Héréditaire: The Story Of Pro-French Algerian Supplementary Soldiers In The Algerian War Of Independence"
Tyler Williams: "The Study and Impact of Civil War Re-enactment"

Award winners in 2007

Dick Page: "Indian Adoption of European-style Slavery"
Joshua Paul: "Prejudice Against People with Disabilities: Automatically Activated Stereotypes and Their Effect on Subsequent Judgments and Interaction"
Aaron Spolarich: "Vonnegut: A Hoosier Legacy"