Wedgeworth '59 Delivers Inaugural Evans Lecture
by Steve Charles
Printer-friendly version | Email this article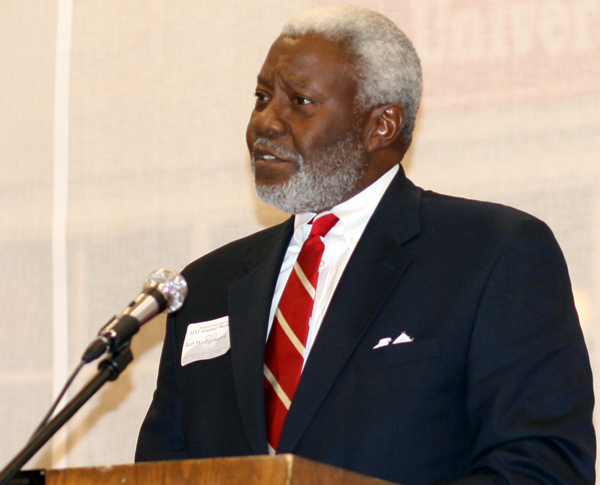 When John W. Evans '08 died—the first African American to graduate from Wabash and a teacher, historian, and principal of the second largest high school in St. Louis—the St. Louis Post Dispatch did not publish his obituary.

But last Saturday, to mark the 100th anniversary of his commencement from Wabash, the College's Malcolm X Institute of Black Studies made certain his name will always be honored at his alma mater, as Bob Wedgeworth '59 delivered the inaugural John W. Evans Lecture in Black Studies.
(See photo albums here, here, and here)

"This is a moment in history whose poignancy is hard to fully perceive," MXIBS Director and Assistant Professor of English Tim Lake said as he welcomed MXIBS alumni and Wabash students, faculty, and administrators. He noted that the event was being held in the field house named for prominent African American entrepreneur Robert Knowling '77—whose conversations with former Wabash President Andy Ford had been a catalyst for the Reunion Weekend— and on the track dedicated to the College's first African American head coach, Rob Johnson H'77.

"To better live up to John Evans example, the MXIBS established the John W. Evans Lecture in Black Studies, to reflect upon an interpretation of black life or culture."

"This is a milestone in Wabash history," said Dean of the College Gary Phillips, adding that Evans was not only an educator, but a researcher and historian, as well. "His avocation as a researcher and preserver of history anticipates by 60 years the mission of the MXIBS."

Wabash College President Pat White introduced the evening's keynote speaker, calling retired ProLiteracy Worldwide President Bob Wedgeworth "a man of such accomplishment and service to Wabash that he really needs no introduction, but a man all Wabash men need to know."

"The unfulfilled promise [of American life] is the gap between the rights in the Declaration of Independence and the Constitution and the enactment of those rights in the lives of all its citizens," Wedgeworth said, beginning his address entitled "Ambiguities and Contradictions in American Life: An African American Perspective."

The award-winning librarian and Wabash trustee emeritus told the story of the lecture's namesake, who was "bound over in service" to repay a debt his father owed. Working for no pay to fulfill that debt, Evans nevertheless graduated from high school and attended Wilberforce University, the nation's oldest historically black college. He went on to teach and to become principal of several schools in Indiana and St. Louis, attending and graduating from Wabash by attending classes on Saturdays.

Evans was not unlike some of Wedgeworth's personal heroes—the men who taught him at the all-black Lincoln High school in Kansas City, MO.

"We were raised for export," Wedgeworth said. "Our teachers did an excellent job in preparing us for a world in which they didn't actively participate."

The evening's agenda included the presentation of the John Evans Award to Jeffrey Cusic '87. The award, chosen by nomination of the MXIBS alumni, is given to an alumnus "who has made distinguished contributions to his field."

MXIBS co-founder Keith Nelson '71 was presented with The 416 Award, named after the original location of the Institute and given to an alumnus "who has made contributions of continued support for and involvement with the MXIBS."

The evening concluded with another recognition of the heritage of the MXIBS, as current students gave pins bearing the MXIBS logo to the founding members of the Institute, who had returned for the weekend's reunion.
One of those receiving his pin, former Wabash Professor and MXIBS co-founder Findley Campbell, had opened the program with an invocation:

"The Malcolm X Institute of Black Studies, along with other Centers and Programs, shows our commitment to a complete vision of the human race and our opposition to all forms of separatism and inhumanity and inequity related to race, gender, and economic circumstances."

Dean for College Advancement Joe Emmick also presented pins to those who have supported the MXIBS program fund, which sponsors the weekend's Alumni Reunion, the John Evans Lecture Series, and many other MXIBS events.

"To date, you have given over $17,000 to the MXIBS program fund," Emmick said. "More important than the amount given, though, is what those gifts make possible for our students. I invite you to wear this pin in recognition of your gift and as a reminder of the ways in which your support transforms our students' lives."

Read the entire text of the Evans lecture here.