Since 2001, the Wabash community has gathered the last Friday afternoon of January to share in the impressive work of Wabash students at the Celebration of Student Research, Scholarship, and Creative Work. By vote of the faculty, afternoon classes are cancelled on this day so that all members of the community may attend. The 2007 Celebration had the added significance of being featured as part of the activities for Inauguration Weekend, culminating with President White's official inauguration on Saturday January 27, 2007.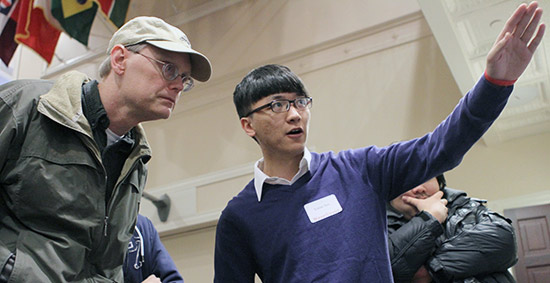 Celebration 2017 photos, program, podcast, and article.
Read news articles and view photo albums from 2016, 2015, 2014, 2013, and 2012. Plus stories and images from 2011, 2010, 2009, 2008, 2007 and 2006 as well as a preview and report on the 2005 Celebration. The Winter/Spring 2001 Wabash Magazine also featured a story on the Celebration entitled Student Research and Creative Work Celebration is "Vintage Wabash".
Celebration Participation (2001-2020)
Year
2001
2002
2003
2004
2005
2006
2007
2008
2009
2010
Decade
Presentations+
26
34
42
27
34
39
50
62
48
41
403
Posters*
29
29
35
24
23
27
23
29
29
20
268
Total
55
63
77
51
57
66
73
91
77
61
671
Year
2011
2012
2013
2014
2015
2016
2017
2018
2019
2020
Decade
Total
Presentations+
50
50
57
45
50
41
40
33
28
29
423
826
Posters*
31
22
32
18
28
32
34
28
39
24
288
556
Total
81
72
89
63
78
73
74
61
67
53
711
1382
+Presentations includes Musical and Theatrical Performances
*Posters includes Artistic Exhibitions