Microsoft Software
Wabash students and employees may install Microsoft Office applications by logging into portal.office.com. Up to 15 licenses are available, broken down into 5 desktop, 5 tablet, and 5 mobile devices.
To install the applications, log into the office portal with your Wabash email and password, click on the "Install apps" in the top right, then choose "Microsoft 365 apps" option from the menu.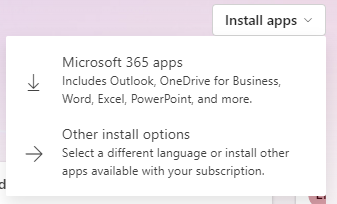 Mathematica
Wabash students and employees may install Mathematica for free, under Wabash's campus license. See our Mathematica page for more information.
Adobe Creative Suite
Full licenses for Adobe Creative Suite are available to employees and students. Please contact the Help Desk (helpdesk@wabash.edu or 765-361-6400) for information on how to acquire the software.
Zoom
Professional Zoom license are available to all employees and students. To activate your account, sign in at wabash.zoom.us, and your Zoom account will be provisioned automatically.
HOURS
---
Help Desk:
Monday-Friday, 8am-Noon, 1pm-4:30pm
helpdesk@wabash.edu
x6400
---
Computer Labs:
Armory Computer Lab
Open daily
Lilly Library Computer Lab and
Educational Technology Center Lab
Open regular hours
Mon-Thurs 8am-Midnight
Friday 8am-10pm
Saturday Noon-10pm
Sunday Noon-Midnight