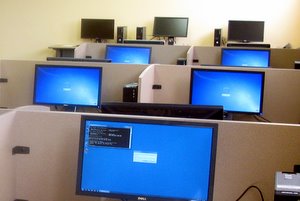 INFORMATION TECHNOLOGY SERVICES (IT Services) enables the effective use of information technology in support of the College. We support all technology on campus, including instructional technology, enterprise computing, network infrastructure, computer labs and classrooms, help desk, web technologies, research computing, and telecommunications.
In pursuit of this mission, IT Services' goals are to:
Deliver technology solutions and services that meet the needs of the Wabash community and achieve the highest level of customer satisfaction.
Provide robust, reliable, and secure cyberinfrastructure.
Support the use and development of information technology to enable innovation in teaching, learning, research, and scholarship.
Provide leadership in planning for the effective and strategic use of technology.
Foster collaboration among information technology staff and the campus community.
Campus Wireless Changes
We've recently decommissioned the WabashCommunity, WabashStudents, and WabashStaff wireless networks. All employees and students should now connect computer and mobile devices to the eduroam network. For Windows and MacOS computers, you can connect by providing your Wabash email address and network when prompted. Android devices may need additional configuration, using some or all of the following information, depending on your device and software version. You may have to tap "Advanced settings" to find some of these:
EAP method = PEAP
Phase 2 authentication = MSCHAPV2
CA certificate = "Don't Validate"
Identity = Wabash email address
Anonymous identity = leave blank
Password = network password
Devices other than computers, phones, and tablets will need to be registered on our new WabashIoT network. This includes gaming systems, streaming media players, personal assistants, and similar devices. To register your devices, go to https://www.wabash.edu/registerdevices.
COVID-19 Response
During the COVID-19 outbreak, see our resources for teaching, working, and learning remotely.
HOURS
---
Help Desk:
Monday-Friday, 8am-Noon, 1pm-4:30pm
helpdesk@wabash.edu
x6400
---
Computer Labs:
Armory Computer Lab
Open daily
Lilly Library Computer Lab and
Educational Technology Center Lab
Open regular hours
Mon-Thurs 8am-Midnight
Friday 8am-10pm
Saturday Noon-10pm
Sunday Noon-Midnight