Our Mission: Lead Effectively and Live Humanely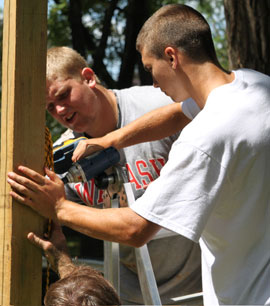 Two strong pillars of Wabash's mission speak to our students' desire to serve others — lead effectively and live humanely — and Wabash men are innovative in the ways in which they get involved in the community.
Whether coaching at the Boys and Girls Club, hosting Special Olympics championships, or tutoring in
award-winning chapter of College Mentors for Kids
, Wabash students develop a commitment to making a difference in the community — a desire they take with them the rest of your life.
Wabash men start early, too. Within 48 hours of arriving on campus, every freshman heads out into the community to meet people and engage in an afternoon of service — at local food banks, youth centers, churches, and nearly two-dozen non-profit agencies.
It doesn't stop there. Every fall, the National Association of Wabash Men (the alumni body) holds
WABASH Day,
a national day of service during which alumni, students, faculty, staff, and their families take to the streets to help others — from Washington, D.C., to Northern California and all points between.
While there are literally hundreds of ways Wabash men get involved in Montgomery County, here are some of the organizations and agencies they most often serve.
College Mentors for Kids

On Campus

On Campus

(765) 362-3103

Animal Welfare League (Shelter)

765-362-8846

Boys and Girls Club

(765) 362-8912

(765) 362-0694

FISH Food Pantry

(765) 362-4817

The Friendship Kitchen

(765) 362-8840

Habitat for Humanity

(765) 364-6704

Home for Friendless Animals

(765) 866-1760

(765) 362-7077