Wabash Mentors for Kids Named Top Chapter
• April 22, 2011

Share:
Wabash College's Chapter of Mentors for Kids has been named national Chapter of the Year. Mentors is a relatively new organization with 23 groups primarily in the Midwest.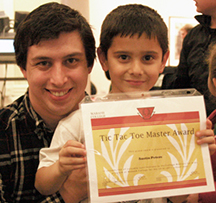 The Wabash Mentors for Kids was founded five years ago by Chris Serak '08 and has grown from serving 10 young boys to 40 this year. The organization has 40 Wabash students who meet with the same young person each week for activities and mentoring.
"We are by far one of the most active clubs on the campus and definitely the most motivated as one can imagine the difficulty in getting 40 men to show up to educate underprivileged children every week while being put through vigorous academic trials," said club leader Jake Ezell '11. "Each mentor in our program has their own story each of which you could write about for hours upon hours."
The 2010-2011 program year wrapped up Thursday night with a banquet. The mentors presented kids with fun award certificates for things like Tic Tac Toe Master and Most Likely to Become a Pro Skateboarder.
The highlight of the evening was receiving the honor as the Midwest's top chapter.
In photo: Michael Sexton '11 with his little buddy.