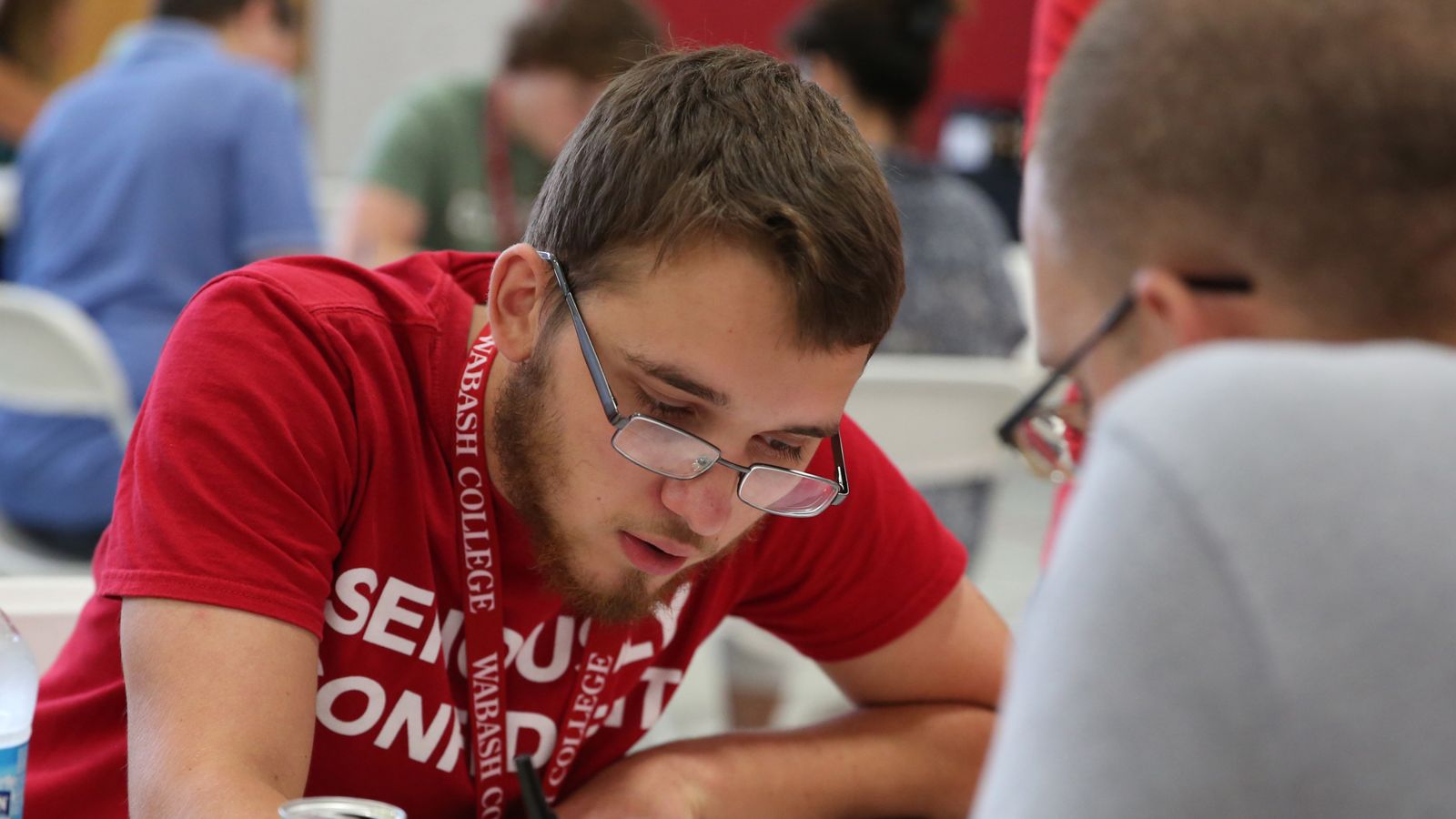 New Student Orientation
August 20-23, 2022
New Student Orientation begins on move-in Saturday, August 20, and ends August 23. Please review the schedule of events listed below.
---
*Indicates required activities
SATURDAY, AUGUST 20
Move-in 9:00 a.m. – 12:30 p.m.
Residence Halls and Fraternities
(Check-in at your living unit and pick up your orientation folder.)
10:00 a.m. – 1:30 p.m.
Information One Stop Shop
Allen Athletics and Recreation Center
Satisfy responsibilities and/or meet the Business Office Team
Complete paperwork and/or meet with Financial Aid Team
Finalize Student Health Records and/or meet the Student Health Center Nurse
Meet Counseling Center Team
Meet the Malcolm X Institute of Black Studies (MXIBS) Team
Meet the Career Services Team
Talk with WISE (Wabash Internship and Student Employment) representatives
Student Employment

Turn in Employment Paperwork

Bring your driver's license or state ID, and social security card or birth certificate OR just a passport

Sign up for Direct Deposit

Bring your bank account information

Pick up lunch (11 a.m. – 1:30 p.m.)
Lunch 11:00 a.m. – 1:30 p.m.
Food Trucks on The Mall
(New Students eat free with voucher; Parents and guests can purchase food)
10:00 a.m. – 5:00 p.m.
Visit the Wabash College Bookstore
Sparks Center, Lower Level
12:00 p.m. – 5:00 p.m.
Visit the Lilly Library
*2:00 p.m. – 3:00 p.m.
RINGING IN CEREMONY
Scott Feller, President
Gregory Redding '88, Dean of Students
Chip Timmons '96, Dean of Enrollment Management
Matthew Kip Chase '03, President of National Association of Wabash Men
Pioneer Chapel (overflow live streaming in Baxter 101)
*3:30 p.m. – 4:15 p.m.
Parents and families meet with Faculty Advisor/Tutorial Instructor
See Parent Sheet for location
*3:30 p.m. – 4:15 p.m.
New Students meet with Orientation Mentor
Orientation Classrooms
See Orientation Mentor for location
4:15 p.m. – 5:00 p.m.
Hugs & Good-byes
5:00 p.m. – 6:00 p.m.
Welcome to the Wabash Family
Gathering for Parents and Guests
Little Giant Stadium Concourse
Meet President and Mrs. Feller, members of the Parent Advisory Committee, and other parents.
Refreshments provided, casual attire.
On-Campus program ends for parents and guests.
*5:15 p.m. – 6:15 p.m.
New Students meet with Faculty Advisors/Tutorial Instructor
Orientation Classrooms
See Orientation Mentor for location
6:15 p.m. – 7:00 p.m.
Dinner
Allen Center, Chadwick Court
*7:15 p.m. – 8:30 p.m.
Introduction to the Gentleman's Rule
Gregory Redding '88, Dean of Students
Marc Welch '99, Associate Dean of Students
Michael Lynn, Residence Life Specialist
Nicholas Gray '15, Director of Safety and Security
Buck Waddell, Assistant Director of Safety and Security
Gentleman/Responsible Citizen
Academics
Housing Process
Student Panel: Questions and Discussion
Fine Arts Center, Ball Theater
*8:30 p.m. – 9:30 p.m.
Fun Activity
9:30 p.m. – Midnight
Fraternity Rush
---
SUNDAY, AUGUST 21
7:15 a.m. – 8:15 a.m.
Breakfast
Sparks Center
*8:15 a.m. – 9:45 a.m.
Freshman Surveys
(Bring your laptop, tablet, or phone)
Fine Arts Center, Ball Theater
10:00 a.m. – 12 Noon
Worship Opportunity
(See orientation folder for a list of places to worship)
11:00 a.m. – 1 p.m.
Lunch
Sparks Center
*1:15 p.m. – 2:15 p.m.
Library Orientation (Zoom)
Beth Daniel Lindsay, Research and Instructional Librarian
Orientation Classroom (See Orientation Mentor for location)
*2:15 p.m. – 3:00 p.m.
Title IX and the Gentleman's Rule (Zoom)
Heather Thrush, Associate Dean for Student Engagement and Success
Orientation Classroom (See Orientation Mentor for location)
*3:15 p.m. – 4:30 p.m.
Exploring the Gentleman's Rule with Faculty/Staff Alumni
Orientation Classroom (See Orientation Mentor for location)
*6:00 p.m. – 8:00 p.m.
Faculty Advisor/Tutorial Instructor Dinner
See Orientation Mentor for location
8:30 p.m. – Midnight
Fraternity Rush
---
MONDAY, AUGUST 22
7:00 a.m. – 8:00 a.m.
Breakfast
Sparks Center
*7:30 a.m. – 12:00 p.m.
Community Service Projects in Montgomery County
Wear work clothes, bring water, many projects will be outside.
See Orientation Mentor for location
11:00 a.m. – 1:00 p.m.
Lunch
Sparks Center
*1:30 p.m. – 3:00 p.m.
Advising Meeting
Mandatory if arranged by advisor
*1:30 p.m. – 3:00 p.m.
Your First Coffee & Careers
Meet the Professional Development Staff
Prepare your resume. Bring your laptop. Snacks provided.
Lilly Library (You should attend this sessions, if your advisor didn't schedule a meeting and you don't have an approved resume)
*3:15 p.m. – 5:15 p.m.
BaFa BaFa: A Cross Culture Simulation
See Orientation Mentor for location
Dinner: Regular Meal Service
*7:00 p.m. – 9:00 p.m.
Independent Men's Association (IMA) Monday Night Football
Allen Center Fieldhouse and Little Giant Stadium
9:00 p.m. – Midnight
Fraternity Rush
---
TUESDAY, AUGUST 23
Breakfast: Regular Meal Service
*8:15 a.m. – 9:15 a.m.
Registrar 101
Julia Perry, Associate Registrar
Jon Jump, Registrar/Associate Dean of the College
Fine Arts, Ball Theater
*9:30 a.m. – 10:00 a.m.
Introduction to Pre-Health, Pre-Law, Fellowships, and Study Abroad
Jill Rogers, Pre-Health Advisor and Program Coordinator for the Global Health Initiative
Scott Himsel '85, Pre-Law Advisor, Associate Professor of Political Science
Susan Albrecht, Fellowship Advisor and Library Visual Media Liaison
Amy Weir, Director of International Programs
Fine Arts Center, Ball Theater
*10:00 a.m. – 10:30 a.m.
Introduction to Academic Support Services
Zachery Koppelmann, Writing Center Director
Victor Lindsay, Coordinator of Student Success
Heather Thrush, Associate Dean for Student Engagement and Success/Disability Services Coordinator
Fine Arts Center, Ball Theater
*10:30 a.m. – 12:00 p.m.
Advising Meetings
Mandatory if arranged by advisor
*10:30 a.m. – 12:00 p.m.
Your First Coffee & Careers
Meet the Professional Development Staff
Prepare your resume. Bring your laptop. Snacks provided.
Lilly Library (You should attend this sessions, if your advisor didn't schedule a meeting and you don't have an approved resume)
Lunch: Regular Meal Service
*1:30 p.m. – 3:00 p.m.
Wabash College Community Gathering and Walking Tour
Meet with Crawfordsville Mayor Todd Barton '00
Downtown Crawfordsville, Pike Place Park
(Rain Location - Wabash College Pioneer Chapel)
*3:30 p.m. – 5:00 p.m.
Introduction to Student Health Center, Counseling Center, and Wellness
You can help a friend training
Chris Amidon, College Nurse
Jamie Douglas, Counseling Center Director, Counselor
Laura Dolph, Counselor
Fine Arts Center, Ball Theater
5:15 p.m. – 6:30 p.m.
Registration Changes for Fall Semester
Hays 003
Dinner: Regular Meal Service
*7:00 p.m. – 9:00 p.m.
Introduction to Student Activities & Student Government
Victor Lindsay, Coordinator of Student Success
Student Senate Representatives
Dean's President's Council Representatives
Pioneer Chapel
9:00 p.m. – 11:00 p.m.
Fraternity Rush
---
WEDNESDAY, AUGUST 24
Fall 2022 Classes Begin
---
THURSDAY, AUGUST 25
9:00 a.m. – 11:00 a.m.
Student Employment Fair
On the Mall (Rain Location TBD)
(Check your Wabash College e-mail for information)