This page contains information about our academic program.
Academic Bulletin (Course Catalog)
The Academic Bulletin contains important information for all students, including requirements for Majors, Minors, and course descriptions. Students will also find Academic Policy information such as Grades, Honors, Dean's List, and how to make changes to your schedule, just to name a few.
Your Academic Bulletin will be the 2019-2020 Edition. It will be available to view online around the middle of August. Please check back for the link. Until then, you may view the 2018-2019 Bulletin.
Click to view the four-year Academic Calendar.
Registration for Classes
Freshmen register for their Freshman Tutorial any time between April 15 – June 1 using the New Student Road Map. Some tutorial sections may fill up quickly, so you should review the course descriptions and make your selection as soon as possible.
One of your courses may be English 101, Composition. Your SAT or ACT entrance exam scores determine whether or not you need this course to satisfy Wabash's English proficiency requirement. If you need ENG-101, it will be added to your schedule automatically in early June.
In June, you will return to campus for Wabash 101, our summer pre-orientation, where you (and your parents) can finalize administrative matters and you can turn in your schedule request for Fall 2019. The Wabash 101 dates are June 14, 21, or 28. You will register for one of these Wabash 101 dates through the New Student Road Map.
As a first-year student, you will choose either two (2) or three (3) additional courses during Wabash 101, depending upon whether or not you are placed in ENG-101, as explained above.
During Wabash 101 events, new students will meet with an academic advisor to register for the rest of their courses. Students should make sure they have alternate selections in case a class is closed. Consult the Sample Schedules on the New Student Road Map for additional details on registration.
Placement Exams: You will complete two online exams before registering for Wabash 101. These exams determine the level at which you can begin study at Wabash in those disciplines. In some cases, the math placement also indicates the level of readiness for introductory courses in other disciplines, e.g., economics, chemistry, or physics.
The Mathematics Placement Exam: All Wabash students will complete two credits to satisfy a quantitative literacy requirement. Calculus I (MAT-111) is a benchmark course in the math department for quantitative literacy. However, there are other courses that will meet this requirement too, both in math and in other departments. Calculus I is not a required course at Wabash. If you are not interested in pursuing a major or minor that requires Calculus I, you may prefer to meet your quantitative literacy requirement with different courses.
Foreign Language Requirement: All students, unless receiving a waiver, have a foreign language proficiency requirement. If you are planning to continue study of a foreign language from high school but not planning to major or minor in that language, it's wise to consider taking the course(s) that meet this requirement early in your studies at Wabash. If you are placed into a 201-level or higher course of a foreign language, you can earn an additional credit after completing that course with a B- or higher, in addition to satisfying the foreign language requirement.
Of course, a student may begin a new language at Wabash. Our beginning courses assume no background in the language.
AP, IB, and Dual Credit: Advanced Placement, International Baccalaureate, or other credit by exam can receive credit in an appropriate Wabash department. The exam score must be 4 or 5 for AP exams, or 5, 6, or 7 on the higher-level (HL) IB exams. Exam credit is typically elective credit at Wabash but can be awarded as a specific course that could meet prerequisite or major/minor requirements (e.g., PSY-101, MAT-111) at the discretion of the department or program chair.
Dual credit courses (receiving both high school and college credit) may be awarded contingent upon completion of an additional course in the appropriate Wabash department or program, and approval of that department or program chair. If there is no corresponding department, program, or course at Wabash in which to enroll, no Wabash credit will be granted for the dual credit. To earn transfer credit for such courses, students will typically be permitted to enroll in a higher-level course in the same department or program, and will receive credit for the transfer course after earning a grade of B- or higher in the Wabash course. Department or program chairs will decide how a dual credit course will count within their programs. Students who have dual credit to be evaluated need to arrange for an official transcript from the college (not the high school) that awarded credit to be sent to the Wabash Registrar's Office.
A minimum of three (3) credits per semester are required to be considered a full-time student. A minimum of four (4) credits per semester is considered a full course load, which keeps pace for a student intending to graduate from college in four years. A maximum of five and a half (5.5) credits of enrollment per semester are permitted for a student without special permission. New students at Wabash are discouraged from enrolling in more than four (4) credits in their first semester.
Additional Information for Transfer Students: If a transfer student to Wabash has completed at least one semester of college, he will likely receive a waiver for the Freshman Tutorial requirement. With less than a full year of transfer credits, however, it is likely that a transfer student will still be required to complete the Enduring Questions course, which is the other half of the Freshman Experience sequence, in the Spring semester. In either case, check your transfer credit evaluation letter from Wabash to see how this applies to you.
Transfer students are often, but not always, waived from English 101 and the English proficiency requirement (check the transfer credit evaluation letter to be sure).
If Freshman Tutorial or English 101 are not required, you may be choosing either four or five credits for Fall. Pay close attention to the credits you have already been awarded, the requirements those credits meet, and the requirements yet to be satisfied for distribution, as well as the major and minor you intend to pursue. Because you will have likely met some prerequisite requirements that first-time freshmen have not, a greater number of courses on the Fall 2019 course listings, i.e. those above the introductory level, will be available to you.
It is also important to identify an adequate number of backup courses (at least two, ideally more) in case you are unable to enroll in a desired course.
As a transfer student, your advisor when you start at Wabash will be Associate Dean of Students Marc Welch. Work closely with him on scheduling during Wabash 101 and over the summer as needed.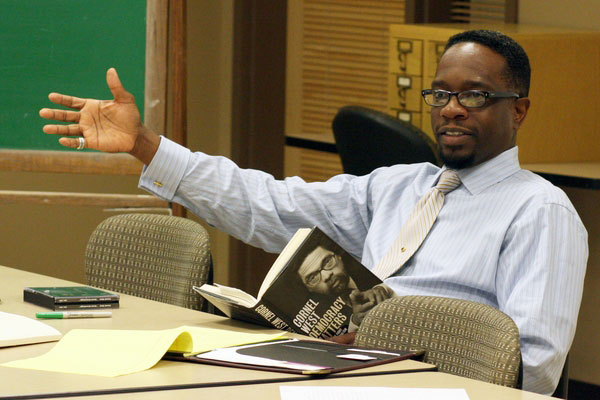 Professor Lake discussing coursework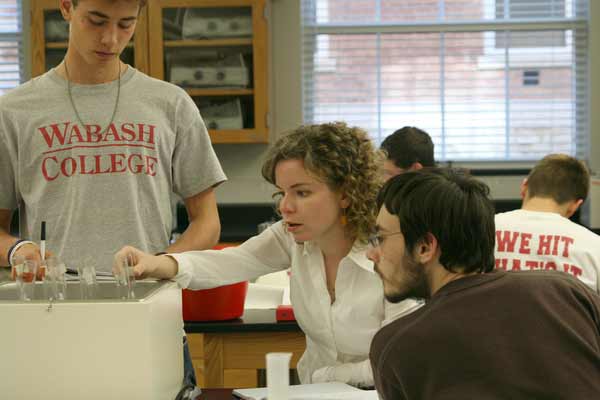 Professor Ingram assisting students with labwork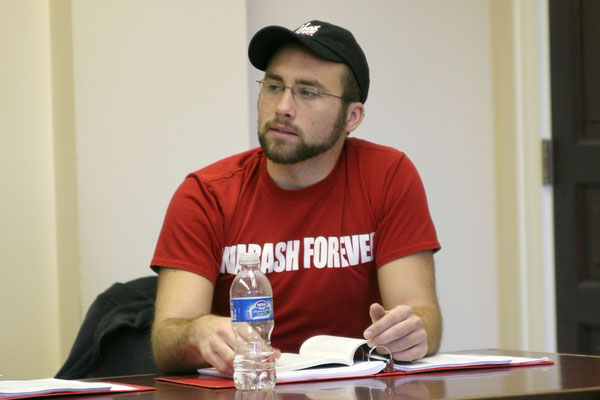 Student contemplating discussion topics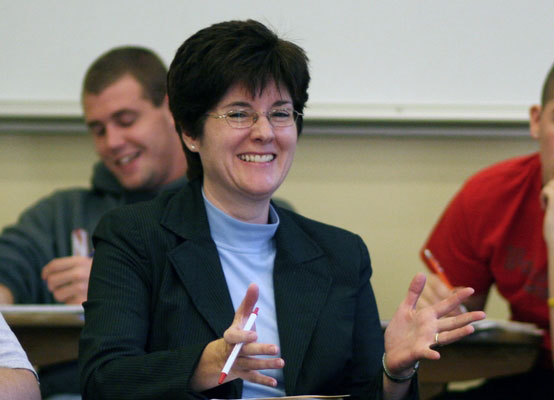 Professor Hardy smiling in class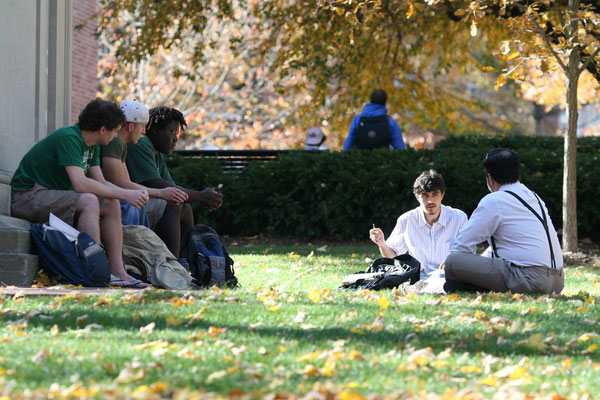 Students relaxing in the grass