Colloquia: Alumni Return to Classroom as Teachers
by Public Affairs Staff • June 6, 2008

Share:
Stephen Goldsmith '68 - Do Ideas Really Matter?
Howard W. Hewitt - Former Indianapolis Mayor and Professor of Government at Harvard University Stephen Goldsmith '68 shared conservative views with a touch of pragmatism and "at least pretending to be bi-partisan" point of view.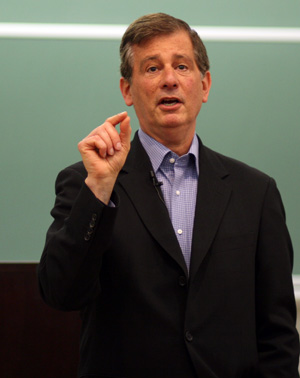 Mixing self-deprecating humor with insight and drawing from his wealth of political experience, he shed light on his years as Indianapolis mayor and his vision and concerns about the future.
He often cited Joe O'Rourke and Ben Rogge as huge influences on his career and thinking. Goldsmith, who also serves as Chairman of the Corporation for National and Community Service, talked about the upcoming election.
He first tackled entitlement spending by putting it into perspective. He noted that by 2050 it will take the entire federal budget to fund Medicare, Medicaid and Social Security. Anyone paying the 35 percent income tax now would have to pay 70 percent to fund the entitlement programs 42 years from now.
"And this election will help frame the rest of this century," he said. "The stuff (economics professor) Ben Rogge taught us here at Wabash College is going to play is self out in the next few months."
He marveled at the enthusiasm and fund-raising success of Barack Obama. He said college age students are more engaged in community service now than any time since the Second World War "Senator Obama has tapped into that. But it's not just a phenomenon of the left; it's something we should all tap into."
Goldsmith spent considerable time on education after quipping he had done "about everything you could do wrong" while Indianapolis mayor.
"If we're going to have a successful and prosperous country, we're going to have to have a well educated population. We can't have the high school drop out rates at 50 percent in the inner cities."
He said those who don't get a high school diploma become consumers of government instead of contributors to society. "The role of government is to create public value, not wealth. If you help someone accomplish something then that's good."
After his colloquium Goldsmith did some one-on-one mentoring with two Wabash students. Read about that here.
Max Servies '58: A Conversation About Wabash Athletics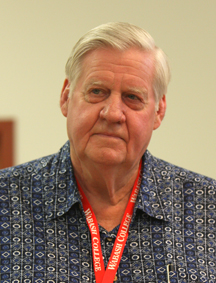 Jim Amidon — Max Servies '58, back on the Wabash campus to celebrate his 50th class reunion, delighted the audience at a colloquium session at which he talked about the history of Wabash athletics. Prior to his retirement, Servies had been head wrestling coach for 40 years and served as director of athletics for more than 30 years. He remains the longest serving coach in Wabash's vast athletic history.
"The athletic program at Wabash has always been under the auspices of the president of the College," he said. "It was always meant to be educational. Our coaches were teachers and taught us not only how to win tough games, but to learn from the tough losses."
Servies is also the author of a book, Some Little Giants, which traces the history of Wabash athletics to its beginnings in 1866. That was the year Wabash defeated Asbury (later DePauw) 45-32 in a nine-inning baseball game, which Servies said, "Officially started our athletic school spirit."
"Our history in athletics has been about having fun," he said. "Having fun is the most important part for our athletes. You can have fun in both wins and losses, from generation to generation."
Servies touched on some historic milestones and key events in Wabash's athletics past. He cited the spirit and excitement generated in 1876, America's centennial year, when Wabash celebrated with a 35-3 baseball victory over Asbury.
He spoke fondly of the old Polytechnic Gym, which was built in 1872 but eventually became "a museum that housed dinosaur bones." Later that building was razed to build Chadwick Court in 1916, which was then the envy of every college and university in the state.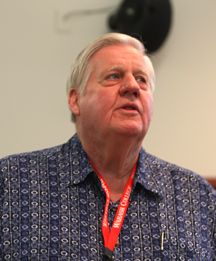 Servies noted Wabash's 4-0 win over Butler in the first intercollegiate football game played west of the Allegheny Mountains. Jesse Taber, an accomplished tennis player, "kicked four goals in the victory," according to the Hall of Fame coach.
Two years later, Wabash claimed the state intercollegiate football championship. Returning from Franklin College by train to the Plumb Street Station near campus, the team was greeted by hundreds of shouting fans. It was there that Wabash established its official team color (scarlet). After heliotrope had been suggested, team manager and star Billy Martin shouted, "Hell no, we want blood!" to the delight of the assembled masses.
Servies laughed with the audience when he described Wabash's 1889 football game against Purdue. The rivals from the north came down via the Monon rail line to Crawfordsville with a team comprised of more than undergraduate college students. "Angry Wabash students followed the Purdue players all the way to the station after the game, calling them blacksmiths, hayseeds, cornfield sailors, rail splitters, and finally boilermakers. And that name stuck," said Servies, who is a member of the Indiana Wrestling and Football Halls of Fame.
Max gave special attention to the Wabash-DePauw rivalry, especially in football. The rivalry began in 1890, the same year Army first met Navy, and ended with a 0-0 tie.
Other high points of Servies' talk included:
• Francis Cayou's 1904 team — local newspapers called the players "Good Little Men," which the Chicago Tribune later changed to "Little Giants" because of Wabash's fighting spirit against much larger teams.
• Basketball coach Ralph Jones' work as Wabash's basketball coach. "Ralph Jones built a powerhouse — he had what the newspapers claimed a world championship team in 1908," said Servies. "They were 24-0!"
• "Pete Vaughan was the man as a coach in football and basketball in the 1920s," said Servies. Vaughan coached two "Wonder Five" basketball teams, in 1922 and 1925, and from 1921 through 1927, his football team beat DePauw seven times in a row with six shutouts.
"Track coach Owen Huntsman was like a father to me," recalled Servies. "When I came back here to coach in 1960, Mr. (Garland) Frazier assigned me to Owen. Now Owen was a great teacher and a great coach, but he was never a super organized guy. I didn't know anything about track, so it was my job to try to help get the little things done."
Servies concluded by speaking with pride of some of the accomplishments of the coaches he hired as director of athletics. "I'm proud especially of Frank Navarro's 1977 football team that played in the Stagg Bowl; Mac Petty's 1982 basketball team that won a national championship; Stan Parrish's run as football coach; and Rob Johnson's effect on school spirit and sportsmanship. Those things make me very proud."
Richard B. Gunderman, M.D., Ph.D. '83 - How Philanthropy Can Rescue the Health Professions
Kim Johnson - Richard B. Gunderman '83 is a physician-ethicist who is concerned about why so many physicians are currently unhappy in their chosen professions. He presented a colloquium session titled "How Philanthropy Can Rescue the Health Professions."
"Let physicians do what they care about most," Gunderman said. "It's about the love of our fellow human beings. Generosity and compassion are the remedies to what is ailing modern American medicine."
In his presentation, he cited a recent survey by the American College of Physician Executives that found two-thirds of physicians have experienced emotional burn out, one third have suffered from depression or family discord, and 60 percent of physicians have considered leaving medicine.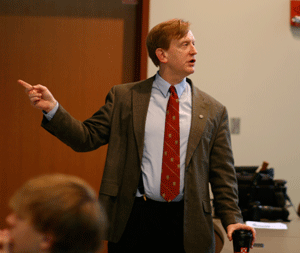 Gunderman believes the root of the problem is low physician morale from physicians being forced to make medicine about seeing more patients and generating more revenue rather than caring for people.
He explained that where physician morale is high, patient satisfaction, trust, and confidence in the physician is higher. Patient well-being and compliance in prescribed treatment is also higher when the physician has greater job satisfaction.
The solution, he said, is found in the quote "We make a living by what we get; we make a life by what we give."
"Our most precious resource is not the MRI machine or the CT machine but it is inspiring the next generation of physicians."
Richard Gunderman is a Professor of Radiology, Pediatrics, Medical Education, Philosophy, Liberal Arts, and Philanthropy at Indiana University, where he also serves as Vice Chair of Radiology and Director or Pediatric Radiology. He is a Fellow of the Tobias Center for Leadership Excellence and serves on the Board of Governors of the Kinsey Institute and the Institute for Advanced Study.
He received his B.A. summa cum laude from Wabash College, and his M.D. and Ph.D. from the University of Chicago, as well as a M.P.H. from Indiana University.

Reminiscences—Emeritus Professors Vic Powell H'55 and Hall Peebles H'63 Share Stories from Their Years Teaching at Wabash. (Click Here for a Photo Album.)

Norman Schumaker '63—"Failing at Retirement

Steve Charles—Scientist/Entrepreneur Norm Schumaker '63 has led, founded, or co-founded four cutting-edge technology companies since leaving AT&T Bell Laboratories" New Materials and Technologies division in the early 1980s, hence the title of his presentation: "Failing at Retirement."
"What are the reasons one retires?" Schumaker wondered aloud, offering answers ranging from "time to pursue hobbies" to "time to travel" to "raising grandkids."
"In other words, you retire to do the things you want to do," says Schumaker, who most recently retired from Infineon Technologies after helping to start the company in 2006. For Schumaker, those things include "the race for success," "the challenge of the hunt," and "the enthusiasm you find working with young people."
"Students and young people consistently revitalize you."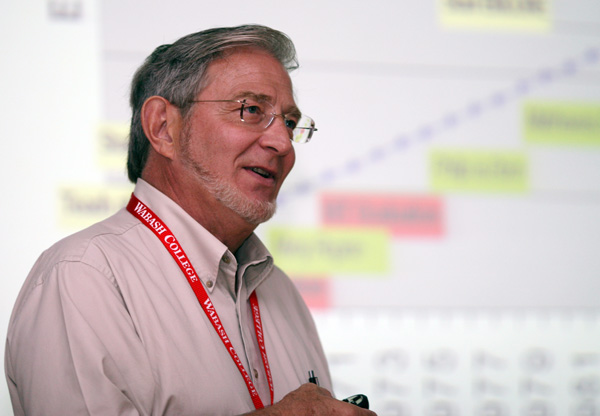 Schumaker, who holds a degree in chemistry from Wabash College and a Ph.D. in biochemistry from MIT, called establishing these companies "a roller coaster ride of success and failure."

Perhaps the greatest success is Molecular Imprints, a developer and manufacturer of nano-lithography systems that allow for cheaper and faster production of semiconductor and optical-electronic parts that was named the "Most Promising Technology of the Year" in 2005 by the Electrical Engineers Times. Schumaker provided seed money for the company and became its president and CEO after two professors from the University of Texas approached him with the technology and asked his help getting the company started.
In a recent issue of Wabash Magazine, Schumaker had this to say about the characteristics of a successful entrepreneur: "In all the successful entrepreneurs I have met, as well as all successful scientists, the will to succeed was an apparent and strong motivating factor in their character. An almost messianic faith in their vision and product led them to the success they desired."
Schumaker has patented seven inventions and served on advisory panels for the National Academy of Science. Audience members at Friday's talk included chemistry professor Scott Feller and Lon Porter, who hosted Schumaker four years ago when the entrepreneur met with their classes for presentations on science, technology, and the businesses of the future.
Dr. Mark Doyle '98 - A White Wally in a Post-Apartheid South Africa: my post-graduation journey from the research bench to the Peace Corps and back again
Kim Johnson -
After finishing his Ph.D. in molecular biology in 2004, Dr. Mark Doyle '98 wasn't sure what he wanted to do with his life. He had spent some time volunteering in the past and decided he would take off a couple years to focus on that.
In his colloquium session titled "A White Wally in a Post-Apartheid South Africa: my post-graduation journey from the research bench to the Peace Corps and back again" he talked about his two years volunteering in South Africa at a high school.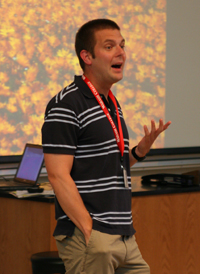 More than 200,000 Americans have volunteered for the Peace Corps with about 8,000 people currently volunteering. Volunteers range in age from young adults to retirees in their 80s. Doyle said, "I'm long for the day I'll retire so I can go back."
While in South Africa he worked at a high school training teachers. "Being a product of America gives us a functional set of skills we often take for granted," Doyle said. While it seems obvious to Americans what to do with a computer, even simply turning it on is not common knowledge in many other parts of the world.
Doyle did in-service programs for teachers encouraging them to do hands-on activities with students in biology. After a about a year he realized computers were the way to get teachers interested so he developed a 14-week computer curriculum from "the power button and double-click through basic skills in Word and Excel," he said.
"There is a lot of money in South Africa and it is easy to get computers in schools but once there, they just sit because no one even knows how to turn them on. Teaching the computer course was one of the most meaningful parts of what I did during my time there."