Writer Black Artemis to Give Talk at Wabash
by Karen Handley • April 21, 2008

Share: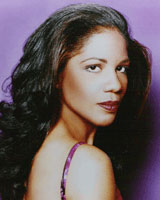 Wabash College's History Department will host Sophia Quintero (aka Black Artemis) who will give a talk on "Reclaiming Hip Hop and Keeping It Real" at 7:30 p.m. Tuesday, April 22, in Room 101 (Lovell Lecture Room) in Baxter Hall.

Black Artemis is the pen name of Sofía Quintero, a writer, activist, educator, speaker, and comedienne born into a working-class Puerto Rican-Dominican family in the Bronx. A self-proclaimed "Ivy League home girl," she earned a BA in history-sociology from Columbia University in 1990 and her MPA from the university's School of International and Public Affairs in 1992. After years of working on a range of policy issues from multicultural education to HIV/AIDS, she decided to heed the muse and pursue a career in entertainment.

Determined to write edgy yet intelligent novels for women who love hip hop even when hip hop fails to love them in return, Sofía wrote her debut novel Explicit Content. Explicit Content—the first work of fiction about female MCs in the hip hop industry—was published by the New American Library/Penguin in August 2004. Booklist said of the novel Explicit Content, "Fans of Sister Souljah's The Coldest Winter Ever (1999) will find this debut novel just as tantalizing. . ."

Her second Black Artemis novel Picture Me Rollin' hit bookstores in June 2005. Bringing a fresh twist to the home-from-prison tale, Picture Me Rollin' tells of the story of a young Latina whose obsession with Tupac Shakur leads her on quest to find self-love. Black Beat wrote of Picture Me Rollin,' "Black Artemis has penned yet another piece of hip hop fiction that'll have you at the edge of your seat 'til the very last page."

Amidst the controversy over the popularity of street lit, Sofía's hip hop novels written as Black Artemis have been hailed by critics of all stripes—reviewers, educators and readers—for being as intelligent and substantive as they are entertaining and accessible. Her third Black Artemis novel Burn was published in August 2006. True to her mission to use hip hop as "edutainment," Burn follows a bail bond agent in the South Bronx who—while searching for a missing graffiti artist—uncovers secrets and confronts her pasts.

With her dear friend and business partner Elisha Miranda (aka E-Fierce, author of the YA hip hop novel The Sista Hood), Sofía recently founded Sister/Outsider Entertainment, a multimedia production company with several project in development for television, film, and stage. Her essays have been published in such diverse venues as Ms., Blu, Fuego, 360hiphop.com, politicallyblack.com, and migente.com, and her work have also appeared in major publications like the New York Post, the New York Daily News, the New York Times, Latina, and Upscale.

Her talk is free and open to the public.