The whole man
• January 12, 2005

Share: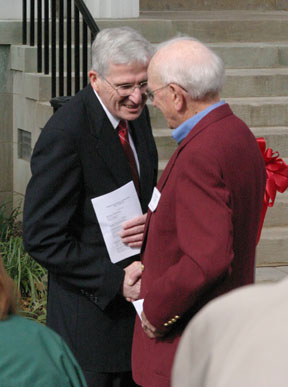 "This is Wabash College. We do not live our lives in cubicles. We do not find it remarkable that a chemist plays in a quartet with a professor of philosophy, a professor of French, and a member of the staff.

"We are proud that our music hall bears the name of Lewis Salter, a physicist who could talk philosophy with philosophers, theology with theologians, music with musicians, and would even, on occasion, introduce his non-scientist dean to some elementary principles of physics.

Over 100 years ago, Emerson wrote:


"'The state of society is one in which the members have suffered amputation from the trunk, and strut about so many walking monsters—a good finger, a neck, a stomach, an elbow, but never man.'"

"At Wabash College we still believe in the notion of the whole man."
Professor of Speech Emeritus Vic Powell H'55, speaking at the dedication of the Vic Powell Classroom in the Goodrich Hall math and physics building, named by the Class of '54 in his honor.