Grant Aids Low-Income Students
by Richard Paige • March 11, 2015

Share:
Wabash College is one of 12 Indiana colleges selected to share in $1.8 million from the Indiana Commission for Higher Education to develop or expand programs to help more low-income students graduate from college.
The College received more than $143,000 to fund programs that support students who receive state financial aid for college through the 21st Century Scholars or Frank O'Bannon Scholars programs. This diverse group of low-income students are often the first in their families to attend college.
"Wabash College is a leader in providing young men access to transformative educational opportunities and we are thrilled to partner with the Indiana Commission for Higher Education in our efforts to ensure that these students graduate on time," said Dr. Scott E. Feller, Dean of the College. "With their support, we will implement new programming to ease the transition to college by educating students and their families on the extensive support network available at Wabash."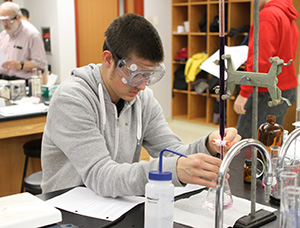 Wabash and the 11 other institutions have committed to establish programs to help first-year students transition to college, such as Wabash's First-Year Experience or a summer bridge program. The institutions will aid in the acclimation to the collegiate community with additional academic and social support, including proactive advising and mentoring.
Further, this grant seeks to provide career development experiences aligned to individual areas of study, like career interest assessments and internships. Financial literacy training will be provided to assist first-year students in understanding short- and long-term consequences of their financial decisions.
"Indiana has shifted its focus from making sure more students enroll in college to making sure students graduate with a degree that prepares them for a good job and life," Commissioner for Higher Education Teresa Lubbers said. "We're pleased to provide this financial assistance for colleges that are committed to supporting students who need it most, when they need it most: early in their college experience."
The support comes from Indiana's College Access Challenge Grant, a federally funded grant program designed to increase the number of low-income students who are prepared to enter and succeed in post-secondary education. The College Access Challenge Grant also helps support Indiana's College Success Coalitions, student-focused awareness campaigns and mentoring programs—all focused on achieving ICHE's goal for 60 percent of all Hoosiers to have a quality degree or credential by 2025.