Siegel Shares Life Experiences
by Derek Andre '16 • April 9, 2014

Share:
Monday night saw Wabash host the current CEO of USA Track and Field Max Siegel. Siegel was brought to Wabash by a joint endeavor of the Malcolm X Institute and Kappa Alpha Psi Fraternity, Inc.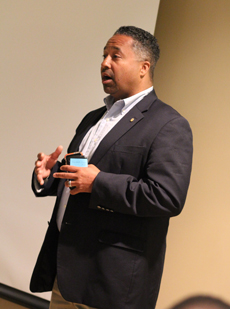 The lecture Siegel gave on Monday night centered around the successes, failures and lessons he has learned throughout his career. Prior to working for USA Track and Field, Siegel worked as President of Global Operations at Dale Earnhardt Inc., Senior Vice President at Sony/BMG, and as the agent for Reggie White and Tony Gwynn. Siegel was also the first African-American to graduate with honors from Notre Dame Law School. After his lecture Siegel spoke about why he came to speak at Wabash.
"As hard as the students work here at Wabash College," Siegel said, "and be able to give some context to what you're passionate about is hopefully inspiring and informative. It's just great to be in front of young men who are striving for excellence."
Throughout the lecture, Siegel referenced his own story in hopes that it could serve as inspiration to those in attendance. Siegel spoke at length about the struggles he had growing up in a broken home. After graduating from Northwest High School in Indianapolis, Siegel attended Notre Dame where he struggled early in his career. Siegle eventually graduated from Notre Dame and went into the workforce.
After spending a few years working for General Motors, Siegel returned to South Bend and attended Notre Dame Law School. Siegel would then go on to work for Indianapolis based Baker and Daniels. Eventually, Siegel was appointed CEO of USA Track and Field after stints with Sony/BMG and Dale Earnhardt Inc. The goal of Siegel's lecture was to prove to those in attendance that where you started was not indicative of where you finished. Following the lecture, Arion Clanton '15 spoke about what he was able to take away from Siegel's comments.
"[I'm taking away] a lot of knowledge," Clanton said. "This is the first time I've eve met Max Siegel and just to be in the presence of someone as successful as him it shows me that I can also do the same thing that he's doing. I came from a rough background so hearing that he came from a rough background and is billions of dollars it just, it sheds a lot of light on things."