This Human Resource website is designed to provide you with information on the types of services offered at Wabash College. You will find resources for answers to information on benefits including insurance programs and retirement, as well as job postings, employee discounts, the wellness program, etc. You can also access descriptions of services available to assist you with the challenges you encounter in your daily life — both at home and at work.
Please take some time to acquaint yourself with the various Wabash College Human Resource (WCHR) service areas, listed on the right. Please contact Cathy Metz at 765-361-6418 or hr@wabash.edu if you have questions.
Wabash College, a liberal arts college for men, seeks faculty and staff who are committed to providing quality engagement with students, high levels of academic challenge and support, and meaningful experiences that prepare students for life and leadership in a diverse, multicultural world. Wabash is an equal opportunity employer and welcomes employment applications from persons of all backgrounds without regard to their race, color, national origin, sex, gender identification, religion, disability, age, marital or parental status, sexual orientation, or military status, except where such a distinction is a bona fide occupational qualification. Wabash is welcoming for all people who have relationships with the College.
CONTACTS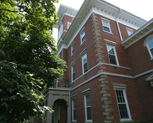 Cathy Metz
Director of Human Resources
765.361.6418
metzc@wabash.edu