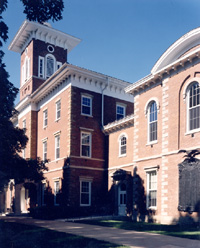 The Wabash College Business Office is located in Room 105 of Center Hall. Contact us:
Wabash College Business Office
301 W. Wabash Avenue
P. O. Box 352
Crawfordsville, IN 47933-0352
Phone: (765) 361-6326
Fax: (765) 361-6433
Emails:
Business Office Reminders
In the near future, our credit card processor may charge up to 2.9% for credit or debit card transactions. There are no fees for electronic check transactions.
Fall tuition & fees are due on or before August 7.
Spring tuition and fees are due on or before December 31.
Parents and Students: View your TUITION INVOICE online at: https://webservice.wabash.edu/student
1098T forms are available on Self-Service - click the "tax information" tab.
1098T FAQs: Click here
International Students who have scholarships greater than Qualified tuition and fees will receive an IRS form 1042-S. The forms are available in the Business Office after March 1. Email studentaccounts@wabash.edu for more information.
2023 mileage reimbursement rate is 65.5¢ per mile.