Business Office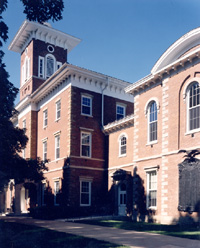 The Wabash College Business Office is located in Room 105 of Center Hall. Contact us:
Wabash College Business Office
301 W. Wabash Avenue
P. O. Box 352
Crawfordsville, IN 47933-0352
Phone: (765) 361-6326
Fax: (765) 361-6433
Email: businessoffice@wabash.edu
Business Office Reminders
To PAY ONLINE, click here
Senior Checkout Begins April 13, 2016. This process is REQUIRED to graduate. You pick up your checkout card from Terri Fyffe in the Business Office. Any payments after April 18, 2016, must be made by cash, credit card, cashier's check or money order. You must have a -0- balance to begin Checkout. If questions, please come to the Business Office.
View your TUITION INVOICE online at http://askwally.wabash.edu
Parents: View invoice online at http://www.wabash.edu/viewbills
1098T FAQs: Click here