Admissions & Financial Aid
Transfer Students
Students in good standing at another college are welcome to apply for transfer admission to Wabash College. The following information has been provided to assist you with each step of the transfer process.
Application
Students interested in transferring to Wabash may apply using either the Wabash College Online Application or The Common Application.
To apply via the Wabash College Online Application, you need to create an account by registering here: https://apply.wabash.edu/account/register
To create a Common Application account, you need to start here: https://apply.commonapp.org
You will also need to submit the following materials:
A written statement discussing the reasons why you want to transfer to Wabash. You will be prompted to complete this statement in the online applications described above.
Your official final high school transcript showing your diploma earned and graduation date.
Your official standardized test (ACT/SAT) scores.
Your official college transcripts from all previous institutions.
A completed Verification of Good Standing Form from an official at your last institution.
A $50.00 non-refundable application fee or a fee waiver (domestic students only).
Transfer Credits
The Registrar's office will conduct a complete evaluation of transfer credits based on your transcript(s). You will receive a credit transfer evaluation letter along with your admissions decision. If you are currently enrolled at another college, please also submit a class schedule so that we can see what current classes may also transfer.
A grade of C- or higher is always required, and the course has to be worth 3, 4, or 5 semester hours at the other college to count as one Wabash credit. A course worth 2 semester hours may be considered for ½ Wabash credit.
Below are suggestions from the Wabash Registrar's Office that may be helpful when choosing courses at another college to be later considered as transfer credit to Wabash:
The institution must be regionally or nationally accredited.
Course work should be liberal arts in nature and acceptable to Wabash College.
There needs to be an equivalent course and/or field of study at Wabash in order to be considered.
A composition course, comparable to Wabash's ENG-101, is highly recommended and will often transfer in as an elective.
Any Math class below Calculus will not transfer.
If you are planning to take courses at another institution prior to your enrollment at Wabash, we strongly encourage you to contact Julia Wells and/or the Registrar's Office for guidance.
Additional information about transfer credit is available in the Wabash Academic Bulletin at http://bulletin.wabash.edu/academic-policies/transfer-credit/.
Considering Enrollment as a Student-Athlete
Please be advised of the following:
If you are considering participating in intercollegiate athletics at Wabash College, you need to contact the Wabash College Compliance Coordinator, Sue Schneider at dobbsscs@wabash.edu.
Mrs. Schneider will contact your current (and any previous) institution(s) to obtain NCAA required transfer paperwork.
If you are transferring from another Division III institution, you must submit the NCAA Division III Self-Release Form prior to any contact with the Wabash College Athletics Department.
Upon transferring to Wabash, there are exceptions that would permit you to be immediately eligible to compete, without first having to fulfill an academic year of residence. To review your situation, feel free to contact Mrs. Schneider.
Additional questions should be directed to Mrs. Schneider.
Visiting Wabash
We highly encourage all transfer students to come to campus for a college visit. You can attend class, meet professors and students, have a meal, and get an official campus tour — these are all important ways to see if Wabash is the best fit for you! Check out the visit options at https://www.wabash.edu/admissions/visit.
Scholarships
Transfer students are eligible for merit-based scholarships, including the Alumni Award, Dean's Scholarship, and President's Scholarship. These are awarded based on high school performance (class rank, GPA, and standardized test scores). However, Wabash reserves the right to include a transfer student's college work in the review for merit-based scholarships.
Wabash College Merit-Based Scholarships
For Domestic Students Entering Wabash in 2019-2020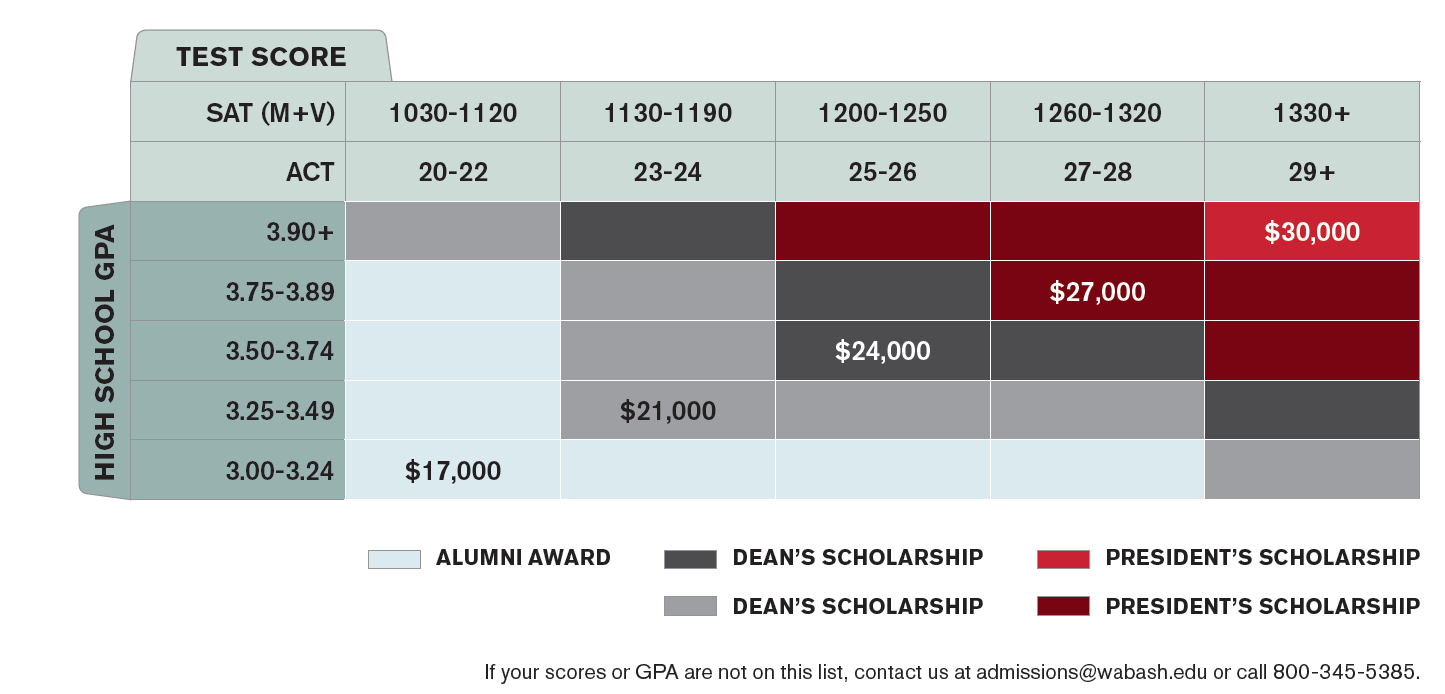 Transfer students are not eligible for other Wabash merit-based awards. Additionally, if you were previously admitted to Wabash, any merit-based scholarships awarded at that time are no longer available.
Wabash College is a member of the NCAA Division III. Consequently, we cannot consider athletic participation, ability, or leadership roles in the awarding of Wabash Scholarships.
Need-Based Financial Aid
To apply for federal, state, and institutional need-based assistance, complete the Free Application for Federal Student Aid (FAFSA) and list Wabash's school code, 001844. Please note that your eligibility for need-based aid may be affected by the amount of federal and/or state aid you utilized at your previous institution(s). Additional information about the need-based financial aid application process at Wabash can be found at https://www.wabash.edu/admissions/finances/aid.
Steps Following Admission
Admitted transfer students should pay the $350 enrollment deposit by the deadline listed on the admissions letter. The Associate Dean of Students will then work with you on housing preferences, class registration, and other new student matters. Transfer students are expected to attend a new student orientation program.
Resources
For more information on what it's like to be a Wabash Man, visit the Student Resource links on the MyBash page.
For questions concerning admissions or the transfer process, please contact Julia Wells, Senior Assistant Director of Admissions & Transfer Coordinator, by email at wellsj@wabash.edu or phone, 765-361-6016 (office) or 765-918-7226 (cell).