As part of the College's continued commitment to, and expansion of multi-year grants from the Lilly Endowment, Inc., the CIBE is able to provide the following programs as part of its continued commitment to educating men to Think Critically, Act Responsibly, Lead Effectively and Live Humanely.
All programs are competitive admissions. Resumes, cover letters, and interviews are required to be accepted into all the formal CIBE programs listed below: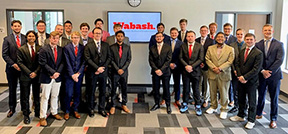 Business innovation program
The eight-week Business Innovation Program is an intensive summer immersion into all aspects of business and entrepreneurship. Students from all majors get a crash course in financial literacy, strategic planning, marketing, decision making, leadership, human resources and negotiations through case study analysis, lectures and site visits. Students research and write multiple business plans, which are presented to panels of expert judges. Students also work on a consulting project in the community to solve a real-world problem. This is a paid summer internship.
Students are paired with an alumni-owned business to work 30-hours per week for the company, and the other 10-hours per week are spent in a classroom environment. In the summer of 2020 15 alumni-owned businesses were able to provide virtual internship opportunities.
CIBE innovation CONSUltant eNGAGEMENTS
During the academic year, CIBE Innovation Consultants working in teams of five to six students, these Wabash men use their experiences from in and out of the classroom to serve as consultants. Partnering with local businesses and non-profits, they tackle real-world business problems by applying the critical thinking that is the bedrock of the Wabash liberal arts education to analyze and solve problems.
The engagements that the CIBE Consultants take are unlike any other business school program. Consultants are introduced to clients and the issue facing the client. The Consultants then use proven methodologies in LEAN or project management to scope out the work. They then spend an entire semester, or perhaps the entire academic year working to solve the issue. This is hands-on learning like no other.
CIBE Internship Program
Internships are critical to student development and are necessary components of the co-curricular experience. By partnering with businesses and community organizations, many of which are alumni-owned or managed, the CIBE provides student internship opportunities across Indiana and the country. The Internships are paid, eight-week summer experiences and allow Wabash students the opportunity to manage a project, create a marketing campaign, conduct business analysis, or have other meaningful real-world experiences. This is a paid summer internship.
INTENSIVES & Programs
Introducing Wabash students to the vast range of careers they can pursue with a rock-solid liberal arts education and the co-curricular offerings of the CIBE is a critical component in the career development process. The Sales Immersion Program (SIP) and Unlocking Leadership through Emotional Intelligence (ULEQ) are intensive one-week deep-dives into industry-specific career paths. Students complete a consulting project in each immersion to examine a real-world problem. All costs are fully covered. Additional intensives are offered in Project Management, LEAN Process Improvement, AWS Certification, Agile Project Deisgn, and Design Thinking.
TEDxWabashCollege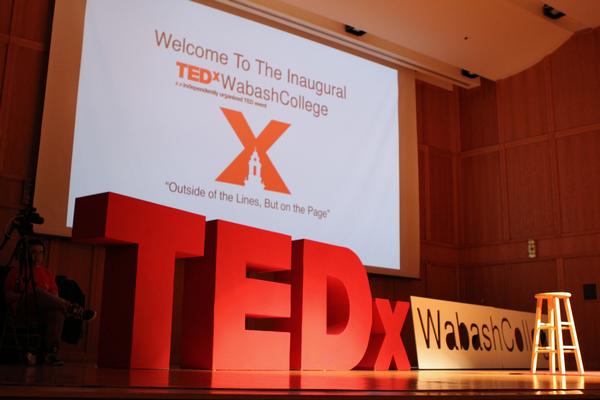 The 4th Annual TEDxWabashCollege conference will be held VIRTUALLY in the Spring of 2020. TEDxWabashCollege brings together innovative thinkers from across the world and the larger community to explore ideas for our collective future. The TEDxWabash College officers obtained licensing from TED as well as Wabash College, and have garnered support across campus from a variety of schools and departments. This is event is Student Organized, Student-Run, and Student-Led.
At TEDxWabashCollege, innovative thinkers from both our college and the greater community will discuss their approaches to some of humanity's fundamental concerns. As a college that grants students with the skills necessary to succeed both in their careers and lives, TEDxWabashCollege seeks to enrich that experience outside the classroom with inspiring talks and performances showcasing talent within the World and beyond.
For additional information about the CIBE please contact: Anthony Mendez (mendeza@wabash.edu).