The Student Voice of Wabash Since 1908
Wabash students have produced an award-winning college newspaper for 115 years, propelling Wabash graduates to successful media caree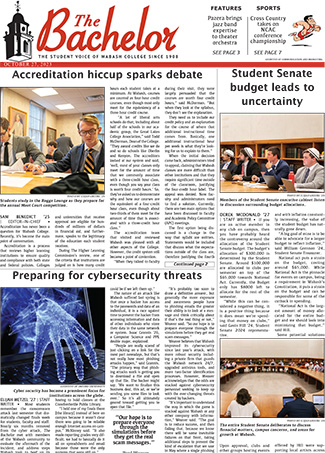 rs.
The Bachelor publishes each Friday during the school year, with featured articles, digital editions, and more found at https://bachelor.wabash.edu. In the paper, you will find all of the weekly and everyday stories readers expect, plus more timely content. Up-to-date sports roundups, a staff member-of-the-week feature, multimedia content, and links to previously published issues (in digital and PDF form) promise to showcase the events at Wabash College like never before.
Associated Press West Region News Director Peter Prengaman '98, former Time Magazine Miami Bureau Chief Tim Padgett '84, CBS and ABC veteran news reporter Dean Reynolds '70, and CBS News' Ryan Smith '03, a producer for 48 Hours Mystery, are just a few of the Wabash graduates and former Bachelor staffers working in the national media. In recent years, experienced journalists like Ron Recinto '87 have left print and moved to online journalism. Recinto is now the Detroit Editor for Yahoo Online Media.
While Wabash may not offer journalism classes, The Bachelor staff members prove in the best liberal arts tradition that there is no substitute for the experiences gained in working a beat, writing and publishing weekly, and engaging with the community. From reporting, to editing, to photography, The Bachelor staff does it all from August through May.
The Bachelor has excelled in recent years, winning 266 Indiana Collegiate Press Association Awards since 2008. The staff came home with 28 awards in the 2023 contest, including best themed issue, best staff editorial, and all four first-place prizes for photography. The state press association named The Bachelor 'Indiana's Best Small College Newspaper' in 2009, 2011, 2014, 2017, and 2023.
The Princeton Review ranked The Bachelor No. 3 on its "Best College Newspapers" list in the Fall of 2023, marking the fifth consecutive year that Wabash's student-run newspaper was ranked inside the top 30 nationally.