The Student Voice of Wabash Since 1908
Wabash may not offer Journalism classes but students have produced an award-winning newspaper for 115 years. In the best liberal arts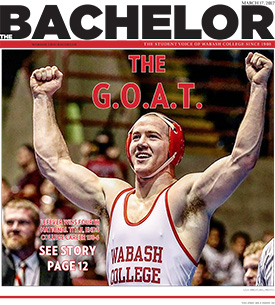 tradition, The Bachelor has propelled Wabash graduates to successful media careers.
Former Time Magazine Miami Bureau Chief Tim Padgett '84, CBS and ABC veteran news reporter Dean Reynolds '70, and CBS News' Ryan Smith '03, a producer for 48 Hours Mystery, are just a few of the Wabash graduates and former Bachelor staffers working in the national media. In recent years experienced journalists like Ron Recinto '87 have left print and moved to online journalism. Recinto is now the Detroit Editor for Yahoo Online Media.
The Bachelor has really excelled in recent years winning 174 Indiana Collegiate Press Association Awards since 2008. The staff came home with 25 awards in the 2016 contest. The state press association named The Bachelor 'Indiana's Best Small College Newspaper' in 2009,2011 and again in 2014.
The Bachelor - publishes each Friday during the school year.