Phi Beta Kappa
Prize
Phi Beta Kappa Prize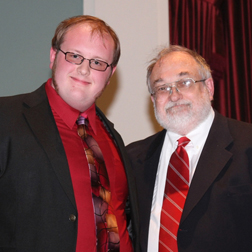 Each year the Wabash Chapter of Phi Beta Kappa awards a prize "to that undergraduate who is judged to have produced the most original and meritorious piece of work, whether artistic or analytical." The terms of the prize specify that it was "established to encourage work of high creative and scholarly merit, as distinct from proficiency in normal course work." Nominations of student contributions are made by the members of the entire teaching faculty, and the entries are judged by a special committee of the Chapter.
2016 — Thien Minh Quan, Immanuel Mitchell-Sodipe and Ben Cramer
2015 — Aaron Wirthwein and Cameron Dennis
2014 — Joe Mount and Wes Hauser
2013 — Peter Santa Maria and Weston Kitley
2012 — Geoffrey (Gus) McKinney and Tuan Nguyen
2011 — Patrick Stroud (pictured with Professor David Blix) and Michael Trevino
2010 — Jonathan O'Donnell and Mitch Brown
2009 — Spencer Elliott
2008 — Kyle Prifogle
2007 — Ross B. Dillard and Brett T. Gann, Jr.
2006 — Russell D. Harbaugh and William E. Whited
2005 — Justin R. Grimmer
2004 — Michael Bricker