St. Louis Welcomes Greg and Lora Hess
by Tom Runge • August 18, 2013

Share: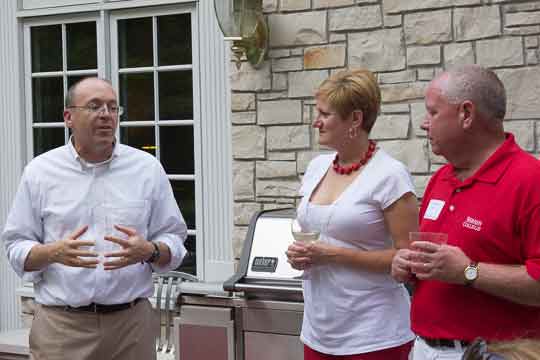 The annual St. Louis Send Off, hosted by Anne and Tom Walsh '73, also served to welcome new Wabash President Gregory Hess, and First Lady Lora Hess, to the St. Louis area.
Tom and Anne Walsh opened their home to Wabash alumni, parents, families and friends. The event has been a yearly success and is now the model for other send off parties by Wabash regional groups. The event combines new and returning students and their families with Wabash alumni – a real opportunity to get all of those questions answered.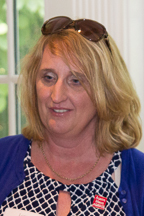 Greg and Lora Hess joined Tom Hays '55, his wife Sue, Ray Kljajic '78, and his wife Beth for a great afternoon. Tom and Ray are Trustees of the College.
Representing the college, in addition to President Hess, were Dean for Advancement Jonathan Stern and Admissions counselor Alex Moseman '11.
Many thanks to Tom '73 and Anne Walsh for hosting another fun event and to Jim '83 and Susie Dyer for their efforts to encourage folks to attend.
Photo:
Top- President Greg Hess thanks Anne and Tom Walsh '73 for their hospitality
Right - First Lady Lora Hess
For more photos of the event, click here.