Lanam '06 Studies Basketball's Culture, History
by Rob Lee • June 29, 2005

Share:
Collin Lanam thinks of two state champion basketball teams almost like an equation.
Milan High School won the 1954 Indiana high school title on a miraculous shot ending a more miraculous season, as the movie "Hoosiers" emulated. Add the Indianapolis Crispus Attucks crowns the next two years. Lanam believes those teams' victories were incredible in their own sense.
Two different schools from two different backgrounds have an equal impact in some aspects.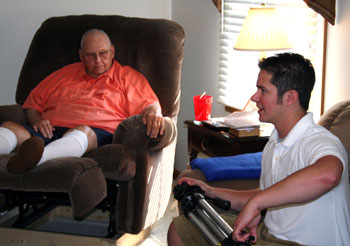 A $1 million grant from Lilly Endowment, Inc. is allowing the Wabash College incoming senior and Crawfordsville High School graduate, along with 10 other Wabash students to study culture and quality of life around the Hoosier state.
"Indiana high school basketball, in general, was too much to consolidate into a 20-minute presentation," Lanam said. "These two teams proved there was so much more to the story than basketball."
Lanam went on the road to do some of his research and get a feel for how the Milan and Crispus Attucks championships influenced those communities.
"I want to try to show how this was important to these two schools," Lanam said. "I want to show how they used basketball to achieve something no one thought they could."
Lanam attested the achievements, while the same, also were different.
"Milan won the state championship and there were only 100 kids in the entire school. Crispus Attacks had to overcome the racism problem. It's amazing to me where using basketball is the common trait between the two schools."
The people Lanam has talked with have included Bobby Plump, who hit the winning shot in the championship game in 1954. Just to get to the title game, Milan had to play Crispus Attacks in the semi-state contest.
"Plump said it was just a step to the state championship," Lanam said. "The racism was not a big deal. That's all it was to them - just a basketball game."
Dealing with adversity and then stepping into state basketball laurels is what Lanam will project with his 20-minute video.
The grant is designed to do much more than send Wabash students on road trips. Lilly hopes once students experience the culture and history, the state will retain them after graduation. This is a measure to stop the exodus of young people from the Hoosier state.
Along with the 11 Experience Indiana participants, 11 more are in the Know Indiana portion, either in internships in historical and cultural settings or in research areas.
Another former Athenian, Sean Gerold, is spending his summer interning at the Lew Wallace Study and Museum.
The cultural facets of Indiana, will no longer be overlooked, if Wabash and Lilly have their way, when young people have a choice where they want to live.

Lee is a reporter for The Paper of Montgomery County.
In photo above: Lanam sets up equipment to interview William "Gus" Moorhead. Moorhead coached against the 1953 and '45 Milan Indians as head coach of the Versailles Lions. Moorhead is a member of the Indiana Basketball Hall of Fame as a player and as a coach.