New Residence Hall to Honor Rogge
by Richard Paige • September 1, 2015

Share:
A stunning new residence hall on the campus of Wabash College will bear the name of one of the College's most esteemed professors. The 38-bed hall will be named in honor of long-time economics professor Benjamin A. Rogge, who taught at Wabash from 1949 to 1980. Alumnus Robert Allen '57 and his wife, Elizabeth, made a gift to honor Rogge in the new Residential Life District.
"All of us at Wabash are grateful to Bob and Betty for their extraordinary loyalty and generosity to the College," said President Gregory D. Hess. "The Allens understand the importance of a residential liberal arts education because they both experienced the lifelong benefits of challenging academics and excellent professors — like Ben Rogge. Their gift of Rogge Hall at Wabash is an investment in the future of our exceptional residential liberal arts education."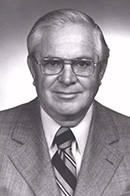 Dr. Rogge came to Wabash as an Assistant Professor of Economics and Mathematics in 1949 after earning his bachelor's degree from Hastings College, a master's degree from the University of Nebraska, and his Ph.D. from Northwestern University. He was a staunch Libertarian and nationally recognized expert in free market economics. He authored several books, including the widely used Introduction to Economics and Jobs for All, and contributed articles on economics to Encyclopedia Britannica. He rose to full professor and served as Dean of the College from 1955 to 1964. The Wabash yearbook praised him, saying, "His standards were high, his integrity total, yet he was kind and understanding and generous. He was humane."
Rogge helped organize a series of lectures by Milton Friedman at Wabash College that were eventually developed into Friedman's book, Capitalism and Freedom. A collection of Rogge's speeches on topics in economics or education, was published under the title Can Capitalism Survive? He also taught in the Wabash Institute for Professional Development from its inception.
The National Association of Wabash Men named Rogge an Honorary Alumnus of the Class of 1953, and the Board of Trustees presented him with an Honorary Degree in 1979. A scholarship fund and an annual economics award were named to honor his memory after his passing in 1980.
"For you to be a good alumnus of Wabash College will demand as much of you over the years as being a good student at Wabash College has demanded of you in the last four years," Dr. Rogge told graduating seniors in 1963. "This is a college which seems to be able to influence the lives of those young men who attend it—to provide them with an experience strong in its impact on what they are, what they think and say and do, and how they think and say and do it. It is a college, which commands affection and loyalty and, at its best, is a lifelong inspiration to its graduates to seek to become something better than they are."
Bob Allen, a 1957 Wabash College alumnus, and his wife, Betty, a graduate of DePauw University, contributed $2 million outright and $2 million to challenge other alumni to make gifts in support of the expansion of Wabash's Residential Life District. The district includes the construction of six new housing units totaling 136 beds along with the renovation of Martindale Hall.
"Ben Rogge had a profound impact on generations of Wabash men," said Bob Allen of his former economics professor. "He was a fire and brimstone lecturer and nationally acclaimed scholar on free market economics. Many of his former students can still hear his powerful voice in our memories, and yet he was also kind and generous. More than anything, he was an outstanding teacher for all students fortunate enough to have him in class. Betty and I are happy to honor his memory so that future Wabash men might have a sense of Ben Rogge's greatness."
Click here to donate to new student housing
Bob Allen grew up in New Castle, Indiana and attended Wabash with the assistance of a small scholarship. Bob was a member of Phi Delta Theta and lived in the fraternity house for three years. After he and Betty were married following her graduation from DePauw, the new couple moved to an area of campus known as "Mud Hollow" during Bob's senior year. The married student house units were left over barracks used for the Navy's V-12 program during World War II, and the residential community forged there left a lasting impression on the Allens.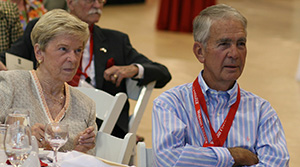 "We believe that our gift will provide a symbolic connection between our generation of Mud Hollow residents to future generations of Wabash students who will live in this new housing," Bob Allen said. "This is an important investment for all Wabash students."
Bob Allen rose through the ranks of Indiana Bell and AT&T, becoming President of AT&T in 1986. He served as Chairman and Chief Executive Officer of AT&T from 1988 until his retirement in 1998.
Thus far, the College has announced that three of the new housing units are named for long-serving Wabash professors, a testament to the strength of the Wabash faculty and the impact they have on Wabash students. In addition to Rogge Hall, gifts have been named in honor of Religion Professor Raymond B. Williams (Williams Hall) and Political Science Professor Melissa A. Butler (Butler House).
The national architecture firm of Shepley Bulfinch designed the Residential Life District, and Indiana's The Hagerman Group is the construction manager for the project.