The Music of their Harps
by Steve Charles
Printer-friendly version | Email this article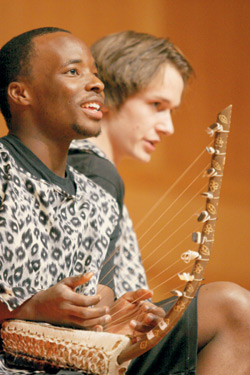 The Wabash community knows the Acholi people of Uganda through songs and dances introduced by Associate Professor of Music James Makubuya, who began teaching at Wabash in 2000.
Makarere University in Uganda's capital, Kampala, draws students from across the nation, and Makubuya was first a student, then instructor at the school.
"I knew and taught many Acholi people, but they were also teaching me about their indigenous style," says the professor, an ethnomusicologist and internationally known musician whose most recent performance was this spring at Carnegie Hall.
Although he is of the Bagandan people from the south of the country, Makubuya grew up in Uganda during the regime of Idi Amin. He is no stranger to violence and suffering. And in a trip to his homeland in 2004, he met the tragedy inflicted on the Acholi face to face.
Always looking for new styles and compositions for the adungu, a nine-stringed bow harp adopted by the Acholi, Makubuya approached a young man who was playing the instrument.
"He was one of the displaced Acholi children," Makubuya explains. "He was playing a new song called Loipenye, and it was about growing up without his parents. Yet the final words were full of hope—'this will be over some day—we will get through this.' That such a person—that such a people—suffer such violence is so wrong."
Makubuya has taught the adungu to dozens of Wabash students in the Wamidan ensemble since its founding in 2000. This year, the group added Loipenye to its repertoire, and the words of that young Acholi and his melody of hope were sung in Salter Hall in the spring.
In photo: Ivan Settimba '06 and Kyle Prifogle '09 play adungus during last spring's Wamidan concert.