Works in Progress: In Search of Artistic Freedom
by Jim Amidon '87
Printer-friendly version | Email this article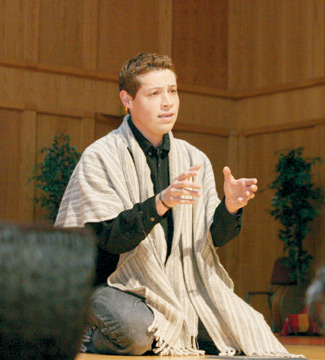 Something seemed odd to Reynaldo Pacheco '06 when he was cast in the role of the Piano Tuner in Dwight Watson's The Newton Project during his freshman year. For the first time in his theater career, his only responsibility was to focus on his own performance.
"I couldn't believe that I didn't have to make my own costume, hustle props, adjust the lights, or do the publicity for the show," the native of La Paz, Bolivia recalls. "I just had to worry about my part."
"He worked hard at that part," Dwight Watson says, recalling the native Spanish speaker's determination to get his pronunciation in English—then a recent language acquisition—just right. "He's a very persistent young man."
Pacheco's parents would no doubt agree. They had hoped he'd attend college in La Paz to become an economist or politician like his father. Actor and singer were way down the list of their aspirations for their son. Pacheco did take economics classes at a La Paz university for a year, but he spent most of his time working in theater, the most formative moments with a gypsy street theater troupe.
"We performed where ever we could," Pacheco recalls. "We didn't have a building or many costumes—we had a mat we'd lay over the floor to keep from getting splinters. But I learned more about theater there than anyplace else. Theater is about imagination and ingenuity. You have to be passionate, you have to love it."
Against his parents' advice but not without their blessing, Pacheco applied to Wabash, earned a scholarship, and is poised to graduate from Wabash as one of the College's most celebrated and versatile artists in decades. He credits Wabash with helping him find his voice.
"I didn't have an artistic voice when I came here," the theater/French double major explains. "I had tools, but I was still exploring art and topics that interested me. Wabash gives you so much freedom for exploration; it's what the liberal arts is all about. I took a political science class on globalization and I wrote a play for my final paper. That's the kind of artistic freedom I needed in college."
Pacheco has reveled in that freedom. He has been a photographer, painter, actor, singer, dancer, and director; he has written short stories, poetry, and even a couple of screenplays. "Mixing everything, combining all of my interests, is my process of creation," he explains.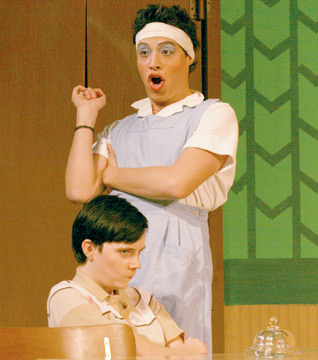 He was the first Wabash student ever to read his poetry at the National Under-graduate Literature Conference. He has published non-fiction in Wabash Magazine and fiction in the Wabash Review. His play, The Doll, was performed on the Wabash stage. His works of visual art have been exhibited at the cultural center at the Catholic University in Quito, Ecuador. He has sung songs in English, Spanish, and French in concerts at Wabash. He has mentored children in Crawfordsville's community theater, and last summer directed Chicago for the Philharmonic of La Paz.
He spent two summers in Chiapas, Mexico, a semester in Paris, and split last summer between Ecuador and Boliva. In Ecuador, he co-directed two short films, one an introduction to the College's Ecuadorian Studies Program, and the other based on one of Wabash Professor Luis Aguilar-Monsalve's short stories.
So what does Pacheco want to be when he grows up? He's looking for a graduate program that will provide him the same degree of freedom that Wabash has. "I definitely want to go to a place where I can continue to explore," he said.
But he knows he'll have a difficult time remaining as versatile in graduate school. In February he went to Chicago to audition for a half-dozen master's degree programs. He spent hours performing for representatives from Julliard, Harvard, and the University of Southern California. Displaying the full range of his talents, he wrote a monologue to perform. He was surprised to find that such original performances are usually discouraged. But his creativity paid off: he was the only person to get a call back from Julliard and he was one of two actors who were flown to USC for additional interviews for spots in the school's famed acting program. Offering the financial package Pacheco needed, USC's acting program is the next step for Pacheco.
"I had hoped to be in Los Angeles," he says. "I've done theater—in streets, in bars, huge musicals, small independent plays in black boxes—but I have no experience with film-making. Los Angeles is certainly more oriented to film."
He breezes over his theater resume as if it was a thing of the past. His fondest memories, though, come from his work with the Mayan theater group, Sna tz'ibajom, in Chiapas, Mexico. He learned about the group during an internship there in political science and economics. He returned the next summer on a Wabash Dill Internship Grant to direct the Mayans.
"The group is now traveling and doing a lot of outreach, teaching the indigenous language and re-telling old stories," he says proudly. "These people do theater in streets, in the jungles, anywhere, just to express themselves and their culture. It's very important work. In fact, they were just honored by the president of Mexico."
Pacheco's pride in Sna tz'ibajom recalls his own roots in street theater, where everyone collaborated on every aspect of the production, where theater is about "imagination and ingenuity."
Dwight Watson says those words capture Pacheco well.
"He has that youthful enthusiasm for trying many different things at once," Watson says, "but graduate work will give him the particular training he still needs, and bring him into contact with people in the business that Wabash hasn't."
Asked what obstacles stand in the way of the Wabash grad with movie star looks, an American Idol voice, and immeasurable creative energy, Watson thinks back to the first time he directed Pacheco and smiles.
"Nothing he can't overcome."