Faculty Notes: Three Professors to Stay
Printer-friendly version | Email this article
Their pedagogical styles are as different as the disciplines they teach, but Mike Axtell, David Blix '70, and Preston Bost have at least two things in common—their focus is fixed firmly on their students, and Wabash students will benefit from that attention for years to come.
President Andy Ford announced in December that all three have been granted tenure.
---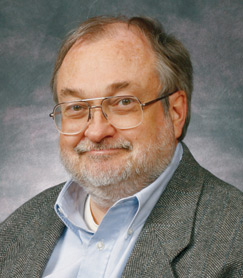 Center Hall 216 was packed with student and faculty supporters five years ago when then-Visiting Professor of Religion David Blix gave his presentation for the tenure track position in that department. Blix's teaching style, tough but colorful grading, and rapport with and support for students haven't wavered since that day.
But Blix, who earned his Ph.D. at the University of Chicago, has added the study of Chinese languages and extensive travel in Asia to his scholarship and understanding of world religions. Last year, he was named a Carnegie CASTL Scholar, a program that "honors the work of distinguished faculty who are contributing to an emerging scholarship of teaching and learning." In May he was honored with the 2006 McLain-McTurman-Arnold Award for Excellence in Teaching.
---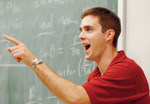 Mike Axtell and his colleagues in mathematics have re-energized their department. Since Axtell's arrival, the number of majors each year has tripled, and projections are excellent for those numbers to hold in the future.
Axtell's office is one of the easiest to find in Goodrich Hall—just look for the open door and students waiting for his help. Axtell, like Blix, was named a CASTL scholar by the Carnegie Foundation, and he and his colleagues won a national grant to establish the Wabash Summer Institute in Algebra, which attracts some of the top undergraduate mathematics students in the country.
In addition to taking over as faculty advisor for Lambda Chi Alpha following Professor John Fischer's retirement, Axtell is every student's favorite intramural athlete.
---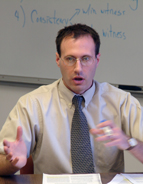 Preston Bost brings that same high energy level to the study of psychology, making available to his students all the resources he can muster in this rapidly changing discipline, and constantly pushing those students to apply their knowledge through any number of psychological studies, both on-campus and off.
The professor has applied his own research to studies benefiting Wabash, as during his recent survey designed with teacher education professor Michelle Pittard to discern attitudinal differences between athletes and non-athletes at Wabash.
Bost also invited architect Eric Rowland '86 (who designed the College's Trippet Hall) to his freshman tutorial on design for a primer on that field before taking his students to Columbus, IN to study the architecture there.
Read more about Wabash professors and their scholarship at Faculty News and Notes: www.wabash.edu/facstaff/notes.cfm