Spring 2006: Moments
Printer-friendly version | Email this article
Students were the first to endorse Saint Mary's College Vice President and Dean of Faculty Patrick White as the next president of Wabash.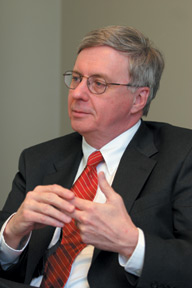 "Dr. White fielded questions with an ease that could make even the most uncomfortable person feel at home," Royce Gregerson '09 wrote in The Bachelor after meeting all three candidates for the job. "His demeanor and method of responding to questions very much reminded me of President Ford. He took his time, pausing to think, and his answers showed a strong sense of confidence in the abilities of students to contribute to the administration of the College."
Dr. Patrick White will serve Wabash best in its continued development as a College and, more importantly, a community."
The Presidential Search Committee concurred.
"We were most impressed by his sense of Wabash's mission of transforming the lives of the students who enroll here," said search committee chair John Fox '64. "We value the leadership he has shown in developing innovations in teaching and learning and in faculty and faculty-student research. He embraces our high standards for excellence in teaching and our passion for an environment that places students at the heart of the learning environment."
On January 28, the Board of Trustees elected White the College's 15th president, to succeed Andy Ford, who since 1993 has led the College to unprecedented growth in recruitment and fund raising, while spearheading a physical transformation of the school's facilities. White will begin his term on July 1.
Board of Trustees Chairman Joe Barnette 61 praised the diligent work of the search committee, which included trustees, faculty, an alumni representative, and the student body president.
"Dr. White's passion for the liberal arts, track record as an administrator, and his enthusiasm for the students of Wabash are qualities well suited for Wabash's next president," Barnette said.
"Wabash is one of America's greatest liberal arts colleges, rich in tradition and even richer in promise and possibilities," said President-elect White. "To be chosen to lead Wabash to new heights of achievement as its next president is a great honor. I look forward with energy and passion to working with the men of Wabash, their extraordinary faculty, staff, and administrators, the incredibly talented and dedicated alumni, and the deeply committed Board of Trustees in order to enhance Wabash College's greatness, its leadership among liberal arts colleges, and its influence in the world."
White's connections to Wabash extend to Professor of English and former Dean of the College Don Herring H'84, who was White's professor at the University of Chicago.
"Don Herring was one of the most joyful of teachers," White said. "He taught me that teaching literature should be a great joy, and, by extension, the liberal arts experience shouldn't be gloom and doom, no matter how hard the comps are, no matter how hard everything else you go through is. The liberal arts should be an experience of great joy."
In addition to serving as President of Wabash, White will join the faculty in the department of his mentor as Professor of English."Dr. Patrick White will serve Wabash best in its continued development as a College and, more importantly, a community."
---
"Reasoned Discourse and a Listening Heart"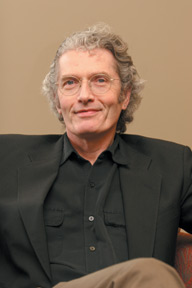 President-elect White got his first chance to work with Wabash faculty and staff when he assisted the committee searching for a new Dean of the College.
And on March 15, President Andy Ford announced the appointment of Dr. Gary A. Phillips as Dean of the College beginning July 1.
"We conducted a national search for the Dean of the College position, and we were pleased at the breadth and depth of the candidate pool. It was really quite remarkable," President Ford said. "Even in that company, Dr. Phillips stood out."
Currently Chair of the religion department at The University of the South in Sewanee, Tennessee, Phillips said, "I am energized by the collegiality, the sense of community, the commitment to liberal arts education, the care it gives to the young men who come to be part of the Wabash community."
"Gary Phillips brings a deep passion for the liberal arts and a commitment to leadership grounded in reasoned discourse and a listening heart," said President-elect White. "I was happy to spend a good amount of time with him in the careful process of review established by President Ford and the very strong search committee. Throughout, Gary evidenced a high regard for the excellence of the Wabash faculty; the drive, seriousness, and work ethic of the men of Wabash; and the promise for even greater achievement ahead."
---
One weekend it was internationally acclaimed pianist Andreas Klein performing on the College's new Steinway grand piano and critiquing students in a master class. The next week those same students, including Kyle Prifogle '09, performed on the same piano—a gift from John Failey '72.
---
"What makes Bill Cook a truly great teacher are the lives that he has transformed through his pedagogy. He has touched so many hearts, changed so many lives. He's done so directly by teaching, and indirectl through mentoring of teachers. This guy really is a force of nature."
—Professor Jim Williams, Chair of the History Department, SUNY-Geneseo, introducing Distinguished Teaching Professor of History
Bill Cook '66, one of three national finalists for the Robert Foster Cherry Award for Great Teaching.
---
"We have, for the first time, gained intimate knowledge of something that is actually useful and relevant in our lives. This trip has taken us outside of academia and transplanted us into a behemoth—a complex sector in a complex world."
—Justin Liedel '09 and Chris Serak '08, "blogging" about their immersion experience in Washington, DC with Professor of Political Science David Hadley. Read more at WM Online.
---
Common bond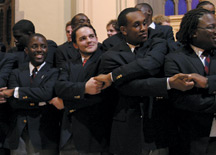 Matt McKay '06 and his fellow Wabash men became part of the Morehouse College tradition of joining hands for the singing of their "Alma Mater" when the glee clubs of the two colleges for men performed a joint concert in Indianapolis in March. The extraordinary concert kicked off the spring tours of both glee clubs, and was also enjoyed by Indianapolis-area Wabash alumni, who at the conclusion joined both groups to sing Wabash's own "Alma Mater."
---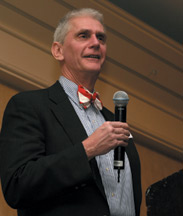 "Frank has always been a man of vision, and his vision for helping the homeless and people with AIDS came together with his creation of Partners in Housing Development Corporation, whose mission is 'to create affordable, non-discriminatory housing for individuals with special needs.' He has assembled more than $238 million to fund innovative programs that reach out to the homeless and those in need. He personifies the graduate envisioned by the College's first professor, Caleb Mills, who saw Wabash as a College 'devoted to the public's interest at the highest possible level.'"
—John Bridge '72, introducing classmate Frank Hagaman, the Indianapolis Association of Wabash Men's 2006 "Man of the Year."
---
Two for Lew
Two events at Wabash last fall marked the 100th anniversary of the Lew Wallace Study, home of one of the College's most studied alumni. The Lew Wallace Symposium in November followed the College's October production of The Andersonville Trial, which featured Peter Wagner '06 (far right) as Lew Wallace, Class of 1840, who presided over the trial that brought to light conditions at that notorious Confederate prison camp.
Earlier in the year, Nancy and David Orr '57 hosted a pre-centennial party at their home, which was built for Susan and Lew Wallace and was their residence for 35 years.
---
Professors Mike Axtell, Melissa Butler, Maureen McColgin, and Lon Porter serve up breakfast for students at this year's Midnight Munch. More than 300 students attended this year's study break before final exams.
—Photo by Howard Hewitt
---
He lived to spark debate. Challenging people garnered him his greatest pleasure. Nevertheless, he always attempted to act as a gentleman, never disparaging the character of those he disagreed with.
—Brandon Stewart '08, remembering former editor of The Wabash Commentary Ken Rudolph '05, who died in a car accident in February.
---
"Thinking of My Boy"
by Tu Fu (712-770)
Apart still, and already oriole songs
Fill warm spring days. Changing seasons
Startle me here without you, my little
Sage. Who talks philosophy with you now?
Clear streams, empty mountain paths, our
Simple village home among ancient trees . . .
In grief thinking of you, sleep: sunning
On the veranda, I nod off beneath blue skies.
Read by Professor David Blix '70 in the Wabash Chapel memorial service for Han Jiang '07, who was killed in a car accident March 9.
---
Role Reversal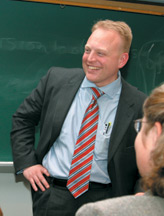 In November 2005, Indiana Solicitor General Tom Fisher '91 (right) sat in the gallery as mentor and "big brother" Greg Castanias '87 presented oral arguments before the United States Supreme Court.
On March 20, 2006, it was Fisher's turn before the Justices, representing his state in Hammon v. Indiana, a decision that will have major implications for the prosecution of domestic violence cases in the U.S.
And Castanias was there to support him.
"Tom was marvelous in a very difficult argument," Castanias said of Fisher's moment on the legal world's biggest stage. "He took on some rather aggressive questioning from Justice [Antonin] Scalia and completely held his own, debating with Justice Scalia (and other Justices) fine points of constitutional and pre-constitutional history, such as the trial of Sir Walter Raleigh.
"No one would have guessed that this was Tom's first argument before the Court," Castanias added. "Tom possesses an ease and confidence on his feet that I can only hope I have on my best day."