Voices: Leap
by Jesse Becerra '05
Printer-friendly version | Email this article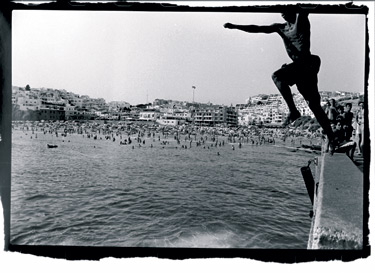 "After graduation, somehow I ended up doing exactly what I needed to do—I traveled and got lost," writes Jesse Becerra '05. "Forgetting about the books, armed with an open heart and camera lens, I set out to get as immersed as possible in Europe, specifically Spain."
The boy in the photograph Jesse entitled "Leap!" is jumping from the promenade at San Pedro de Alcantara, Spain.
Jesse writes this about the man in the second photo, "Flo's Place":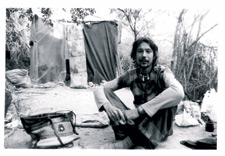 "Flo works 11 months of the year for an institution helping adults with mental handicaps in Bavaria, Germany. The remaining one month of combined vacation time, he leaves behind his wife and modern housing to live in the plastic and‑cloth shelter‑seen‑in the background, which is part of a‑greater utopian Rainbow Community in Southern Spain. The community,‑not unlike American hippie communes of the 60s and 70s,‑promotes love, peace, and universal solidarity, and is a hopeful refuge for‑Flo."
—WM will follow Becerra's journey in a future Alumni Gallery.