Voices: A Poor Farmer
by Jim Spence '61
Printer-friendly version | Email this article
Thirty years ago, when tax shelters were icebreakers over cocktails and lunches, my wife and I bought a farm.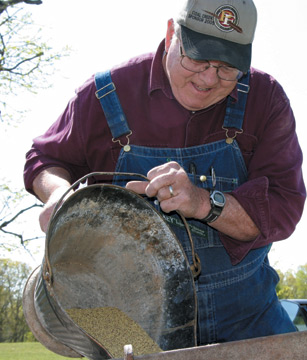 A tourist in Lancaster County asked an Amish man how he could go on day after day toiling away on a farm. The Amish man was at first puzzled, then replied that he had never thought of it as work.
I wonder if Michelangelo thought chipping away on a hunk of marble was work. Did Mozart think penning notes was tedium? I doubt that Lance Armstrong looks at pedaling a bike up the Alps as work.
For 24 years, I rode the New Haven Line for 110 minutes, twice a day, to and from Manhattan. Midwesterners often asked me how I could maintain such a boring routine for so long. But the time on that train was all mine. In the morning, I could drink my coffee, eat my bagel, read the New York Times, work the puzzle (maybe), plan my day, read a good book, visit with the regulars, or sleep off a hangover. Whatever I chose, it was my own uncontested, unsecond-guessed decision. I could always look forward to the return trip and decompression after 10 to 12 hours in Fun City. Routine, maybe; boring, never.
Thirty years ago, when tax shelters were icebreakers over cocktails and lunches, my wife and I bought a farm. The Plan: buy a farm, write off the improvements, let the land appreciate, sell it or swap it for a bigger farm, cash in, then take Uncle Sam's money and run to Aspen. We got stuck at step one—came here to Alamo in 1976, and just won't leave.
Ours is a poor farm, dropped off here by the Wisconsin glacier, in one of the poorest townships in a county far below a bunch of national averages, but somehow I don't feel poor.
Owning a farm is different than owning a stock certificate. A farm gives off the fragrance of new mown hay. One morning over a cup of hot, freshly ground, freshly brewed Millstone breakfast blend, I studied the sun creeping up behind the woods behind the barn through a fog so dense that neither the sun nor the barn seemed real. No cameraman nor artist less than God could have captured that apparition. In early spring, the rare and delectable morel hides in the woods. June brings wild raspberries. A month later, the blackberries are still around for the taking. August offers sweet, sweet corn, 10 minutes from stalk to dinner plate, accompanied by real red tomatoes with real taste. In October, the sugary persimmons go into homemade ice cream served with hot persimmon bread, and our neighbors have us over for cider pressing, dinner, and solutions to world issues.
In the Big Apple, I paid a grand a year to belong to a club where I could forgo lunch to work up a sweat. On the farm I have time to eat, and the sweat is thrown in for free.
I don't miss Perrier with lime. Water on the farm is on tap 24/7 at a refreshing 54 degrees.
In place of the glass skylights at the Tavern on the Green, I have only the sky. While the potted trees at the Four Seasons added to the ambience, the hackberry by my tool shed offers a cool place to nap on a summer day.
The night view up and down Park Avenue from the Sky Club was breathtaking, summer or winter. But that's no match for the moving picture of Old Sol calling it quits in a cyan sky, slipping away behind the timberline in a blaze of glory.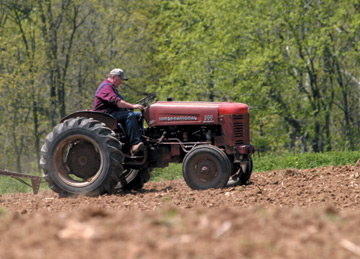 There are millions of lights over hundreds of square miles to be seen beneath you coming into LaGuardia on a clear night. Over the farm I can see billions of lights spread over incomprehensible space. They twinkle and glow eternally, never needing the EPA to make sure their power source isn't breaking one of its laws.
Current tillage wisdom emanating from the land grant universities discourages plowing, and I try to be a good steward of the soil. But like a junkie, I can't resist plowing just a little. The moldy, stale odor of decomposing dead plants is as intoxicating as a step into Starbuck's. If the moisture is just right, I can pick up a clod and gently separate out the earthworms, grubs, bugs I can't name, roots, old stems that have been sealed from the atmosphere, and other "stuff." I wish for Wabash professors Willis Johnson and Richard Laubengayer to show up to take me beyond the limit of my little knowledge.
The farm is my stage. I scream "Back Home Again in Indiana" from the tractor seat while cutting or raking hay; I never do that number when baling, as there are people around. One of my anthems, which nearly cost me a head of hair 47 years ago, begins: "Dear old Wabash, thy loyal sons shall ever love thee."
I subscribe to two weekly farm newspapers and get more data than I can use from Purdue, the United States Department of Agriculture, Pioneer, and John Deere. I am well informed. As far as I can surmise, nobody has ever made a decent living farming. Israel and Palestine will unite into one nation before farming turns an unsubsidized profit. One wonders what keeps us losers going.
I get to keep going because I had the foresight to get into a tax shelter and because my children are sacrificing their Social Security taxes to support their mother and me. We don't need much though, what with the mushrooms, berries, and sweet corn. Venison is much cheaper here than at Le Chateau. We store away some of summer's bounty to get us through the winter, and we are warmed several times by cutting, splitting, piling, unpiling, carrying, and burning wood donated by the farm.
The farm donated most of the lumber to build our present home and, if I get my way, will provide the poplar planks for my final one. As far back as I can remember thinking about the disposal of my carcass, I had insisted on cremation with the debris spread over Long Island Sound. Recently, I saw a movie about a geezer who meditated under an ancient sequoia whose roots fed upon his father's remains, and would someday do the same for him. What an idea! I can return more than a few ounces of dust to the earth; I can feed a tree. (Many say I'm made of just the right stuff for such a purpose.) The molecules I have fed so well will move skyward, some will be parts of leaves, will float gently to the forest floor, or will fly for miles on a blast of wind. Eventually, my tree will warm another eccentric farmer on a cold, Indiana winter day. And my smoke will drift off into the ether.
The Spences live outside of Alamo, IN and are members of Homegrown Indiana, "a group of prudent and farsighted stewards of the land dedicated to producing a healthy food supply for growing healthy people."

See a photo album of Spence's farm.
Contact Jim at alamomayor@peoplepc.com