Tom Bennett '60 inducted into Indiana Hall of Fame
by Steve Charles
Printer-friendly version | Email this article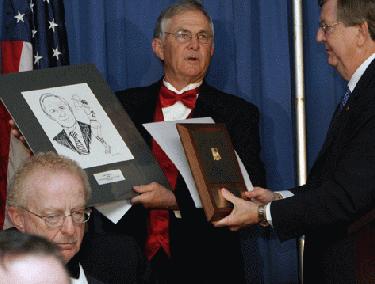 During an event that honored Indiana basketball greats, none spoke more eloquently than Tom Bennett '60, who was inducted into the Indiana Basketball Hall of Fame Wednesday night before a record crowd of 1,150.
"The red I wear tonight represents my gratitude to some great schools that fostered my basketball career," said Bennett, sporting a scarlet vest under his tuxedo. Various shades of red are the school colors of Southport High School, his alma mater, Wabash College, Indiana University, where he earned his master's degree, and Mesa Community, where he racked up many of his 711 wins as a junior college coach.
"I accept this unparalleled honor on behalf of my family; my basketball coaching friends, who helped me understand this game better; and to so many players, whose loyalty and unselfishness can not be overestimated, to the communities that supported programs," Bennett said, "and to Indiana's basketball culture, which taught me to love this game."
Bennett's coach at Wabash, Bob Brock, was on hand to celebrate his former's player's induction, as were several of Bennett's former Wabash teammates. (See photo album). Current Wabash basketball Coach Mac Petty also attended.
Bennett joins 13 other Wabash men in the Hall of Fame. Those previously inducted are:
Francis Bacon '18
Frank Barnes '29
Charlie Bowerman '61
Karl Dickerson '53
Charles Englehardt '26
David Glascock '09
Ward "Piggy" Lambert '11
Virgil Robbins '24
Maurice "Guy" Robinson '26
Sam Scheivley '41
Alva Staggs '14
Homer Stonebraker '18
Lee "Pete" Thorn '24
Read more about Bennett's induction into the Hall of Fame in the Indianapolis Star.
Photo - Bennett accepts a copy of the portrait and plaque that will hang in the Indiana Basketball Hall of Fame.