We already had a connection
Printer-friendly version | Email this article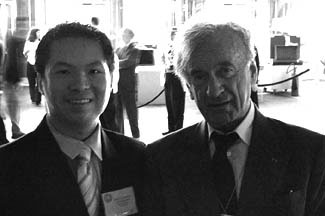 Check out the website for the UN Chronicle Online Edition and you'll find the work of Nguyen Tang Le Huy Quoc '07, "Benjamin" to his friends at Wabash.
Ben spent two months of his summer in New York interning at the Chronicle, the in-house journal that reports on the United Nations and its agencies.
The junior political science major from Ho Chi Minh City, Vietnam, assisted with the UN's first conference on anti-Semitism since World War II and reported on an address by 2003 Nobel Laureate Shirin Ebade while also writing two other reports published in the Chronicle.
Appearing in the "How Do We See Others" issue under the heading "10 Stories the World Should Hear More About," Ben's report on Africa's Bakassi Peninsula describes the Cameroon-Nigeria Mixed Commission's successful attempts to end tensions between those two countries. He cites the commission's work and subsequent efforts by the African Development Bank as a model for solving other potential conflicts.
In "Who's Afraid of Human Rights," Ben quotes panelists, including Amnesty International USA Executive Director William Schulz, in writing about the challenges that the UN and human rights non-governmental organizations still face in establishing justice worldwide.
But Ben's most memorable moment occurred when he met Elie Wiesel. Assigned to help coordinate the 1986 Nobel Peace Prize winner's visit to the conference on Anti-Semitism, Ben met Wiesel at the UN's security station and helped him.
"We talked for about five minutes," Ben recalls. "I told him that I'd read his book, Night, in our Cultures and Traditions course, and he asked, 'Did you get an A in the class?' I chose to be honest and told him I got a B+, when someone standing nearby said, "If you're going to work for the UN, you need to be more diplomatic than that—next time, just say 'I was above average.' We all laughed."
Ben asked Wiesel about a moment in Night when, as a child, he was able to help his sick father keep moving as the Germans marched them to a death camp.
"I asked him, 'How did you find the strength, as a child, to carry your father?' He answered, 'My father was all I had left; I wanted to hang on to him with every breath.'
"There's something I'll never forget about Mr. Wiesel's character, about the way he talked to me," Ben says. "It was the first time we met, yet he was so warm, so friendly that I felt we already had a connection."
Ben's internship was made possible through the Harold D. and Margaret Coons Public Affairs Internship fund.
See Ben's work at the UN Chronicle Online: www.un.org/Pubs/chronicle/2004/issue2/0204cont.htm