Works in Progress - From Gas City to NYC
Printer-friendly version | Email this article
by Jim Amidon '87
"Being there has opened my eyes to an entirely new world, a place where every person seems to have drive and sense of purpose."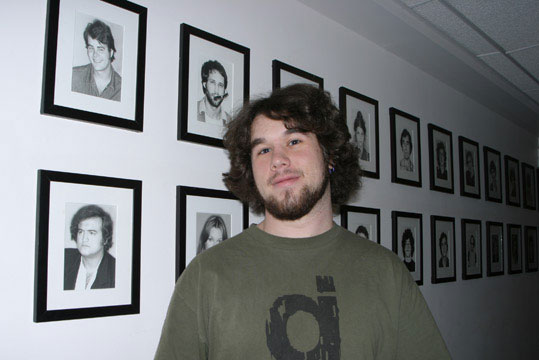 Gas City is a small town in east central Indiana with a population of less than 6,000 people, 97 percent of whom are white. The entire city comprises less than four square miles and only nine percent of the town's residents have college degrees. The average person makes about $36,000 per year and you can own the average home for less than $66,000.
For Wabash senior Shay Atkinson, whose parents are teachers, Gas City was the perfect place to grow up. Up until a year ago, he had aspirations of becoming a teacher himself.
Now those plans have changed and Atkinson has no intention of living in Gas City ever again. Upon graduation from Wabash, he's headed for New York's bright lights and endless possibilities.
He was bitten by the bug of the big city during the spring of his junior year, when he participated in the New York Arts Program. A Fine Arts Fellow and award-winning Bachelor and Wabash photographer, Atkinson snagged a working internship with NBC's Saturday Night Live . When not in Rockefeller Center on the SNL set, he worked alongside fashion photographer Jordan Doner, whose work appears in European fashion magazines.
"Being part of the world you only ever see on TV was fascinating and completely blew my mind," he says. "Being there has opened my eyes to an entirely new world, a place where every person seems to have drive and sense of purpose. New Yorkers take so much pride in where they live; you can see it in their movement, energy, and excitement. There's a motivation to do everything so well in New York City, and that's the drive I felt when I was there."
Atkinson was motivated to do well in his internships simply by observing his colleagues at SNL.
"The collaboration involved with pulling off a live, 90-minute show every week is amazing," he explains. "There's this huge spectrum of people and jobs, and everyone works together to pull it off."
He's come a long way from Gas City. While his family vacationed in Michigan and South Carolina, his first taste of the big world came when a high school art teacher took his photography class to Washington, D.C. to photograph George W. Bush's inaugural.
"My art teacher just opened all of these doors for me," recalls the Wabash art major. "He said, 'I want you all to see new things, things you've only dreamed of seeing.'"
His trip to Rome with John Fischer's Roman Art and Archeology class and a photography immersion learning trip through the American West further opened his eyes and mind to a whole new world of possibilities.
"When I took my first studio course in art as a sophomore, I knew instantly that I couldn't ever be happy as a teacher."
Atkinson was encouraged to pursue the New York Arts Program by former music professor Judd Danby. When the program's representative visited campus, Atkinson's path became crystal clear. "He started mentioning possible internships at Time, Rolling Stone, and Sports Illustrated, and my jaw dropped."
His application and essay caught the attention of Saturday Night Live photographers Norman Ng and Mary Ellen Matthews, who are charged each week with shooting promotional photos of the guest hosts and the bands that perform.
Once in New York, he hit the ground running. "I really felt like a New Yorker from day one," he says, "because I was working the whole time. I felt absolutely connected and involved. There was never a moment when I was like, Wow, I'm in New York. It was like, This is me, this is my town."
Atkinson recalls lots of down time on the SNL set. The highlight each week was posing for Polaroid pictures with other interns to check the lighting and background. But he was able to meet all of the guests and musicians, which for a budding rock star, was a big hit.
His time with fashion photographer Jordan Doner was anything but laid back or collaborative. It was exhausting, fast-paced, and stressful. Doner allowed Atkinson to set up many of his shots, including lighting, but there were also times when Shay had to run around town on errands.
"Ultimately, he gave me credit for the work I did for him, and I know that because of my work, his days were easier; I knew he depended on me to get the work done. And, I got to hang out with beautiful women all day, every day. He hangs out with a very "in" crowd!"
His NYC apartment was about the size of the average walk-in closet, but Atkinson didn't spend much time there. When not at SNL or with Doner, he spent most of his time doing what most NYC people do: eating great ethnic food and listening nightly to the latest and hottest club bands.
"My tongue definitely has a taste for that culture," he says. "When I even hear the phrase 'NYC,' it evokes memories, emotions, and stories. Maybe it just comes down to how you walk when you're in the City. People have these common steps—fast, big strides. You get the sense that no matter where they're going, people are going places there."
Now he's back in Crawfordsville, running home every few weekends to perform with his band, "Signify by I," hitting the usual clubs in Indianapolis, Evansville, and around the state. He's also preparing for his senior photography exhibition. He's playing with concepts, but likes the theme of "Family Ties" and what gets handed down from generation to generation.
"I want to set up each photograph so that you see the subject the way I see it," he says. "The subjects don't have to be strange or unusual, just everyday things, but examined through my eyes a little differently."
Those eyes have now been opened. No longer are his mental images of sunsets and rural fields. Shay Atkinson sees a very different world; one of skyscrapers, dark clubs, and interesting people.
"Spending a semester in New York made it clear that I want to be there after I graduate. For all I know, I could go back there and be a construction worker. But I know that I've got to be there."