The optimism of a scientist
Printer-friendly version | Email this article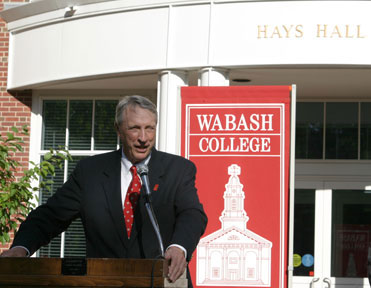 Tom Hays '55 doesn't like the limelight.

The national chairman of the College's successfully completed $136.1 million Campaign for Leadership wanted to name the new science building in honor of the Campaign steering committee, volunteers, and the thousands of generous alumni who contributed to that effort.

He was looking forward to Homecoming and the planned Campaign-ending celebration, where he would personally congratulate and thank those volunteers and alumni.

But first, Wabash insisted on honoring Hays.

The former president and deputy chairman of May Department Stores, who came out of retirement to lead for seven years the most audacious fundraising effort in the College's history, had to take the evening in stride.

In naming the College's chemistry and biology building Hays Hall, President Andy Ford said, "We recognize Tom's hard work, his commitment, and we hold him up as a model for our students as a civic leader and a family man noted for his integrity, honesty, compassion, and perseverance."

When Hays noted that he wasn't even a scientist, biology professor David Polley insisted that he nonetheless had "the problem solving skills and the optimism of a scientist."

"Tom was not just the titular head of this Campaign," Ford said. "He was the true head of the Campaign, day in and day out. There wasn't a day he wasn't trying to figure out a new approach to help us be successful."

Dean for Advancement Joe Emmick '92 said, "On this campus today, you see living examples of the impact Tom and Sue Hays have had on this College, not only students whose learning here has been greatly enhanced by the Campaign, but also in the many students who are recipients of the Hays Scholarship."

"I'm honored that the College would select my name for this building," Hays said. "It's a fabulous facility.

"The Campaign has been a tremendous team effort. Hopefully, we've put Wabash in the position to do for students of the future what it's done for me and for thousands of others."

President Ford added: "With the Campaign successfully concluded, the last building finally named, you can finally retire, Tom, knowing that your first undertaking in your retirement—this Campaign—will last for generations and generations to come. And we thank you."