Speaking of Sports
Printer-friendly version | Email this article
by Brent Harris
Director of Sports Information
It was going to be like any other summer—work, play some baseball, and spend some time with his friends in Brownsburg. At least that's what Bill Goff '05 had planned. That was before he had the chance to play in the Great Lakes Collegiate Summer Baseball League.
Goff heard about the league from Wabash Head Coach Tom Flynn. When the Little Giants played Denison University, Flynn, along with Denison Head Coach Barry Craddock, talked to Goff about his chances in the league.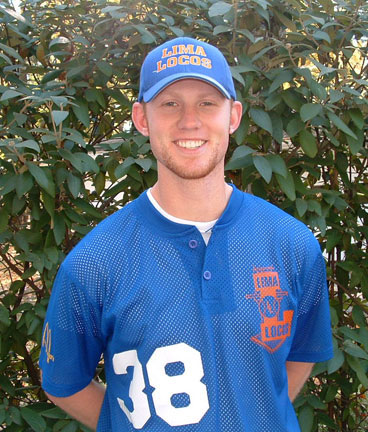 "They both knew a lot of the coaches in the league," says Goff. "Coach Craddock knew the Lima team's coach well. He thought I would be a good addition to the Lima team, and both coaches thought it would be a great opportunity for me to pitch against some of the best college talent in the Midwest."
After making some initial inquiries with Locos' coaching staff, Goff packed his bags in early June and traveled to Northwest Ohio for the workouts.
"I got in on Friday and immediately started doing situational work—lefty versus lefty, pickoff plays, runners on the corners, and such," the lanky left-handed pitcher says of his first two days of work.
"I ended up starting one game for the Locos before moving to the bullpen for the remainder of the 40-game season."
One of the biggest differences on the field for Goff came with the change of bats. Used to facing aluminum bats during the Wabash season, Goff had to learn to throw against the traditional wooden bat. He also had to pitch against players who had just finished their season for teams like Michigan, Michigan State, and Ohio State.
"I had to change my pitching style," Goff says. "I've always been a little nervous about throwing inside. This summer really helped my confidence. I also learned the difference between a Division I and Division III player is not as extreme as I assumed it was. Everyone plays hard. I think playing with and against that caliber of athlete also gave my confidence a boost."
Goff's lessons weren't reserved for playing field. While he spent the summer in Lima, he stayed with a family from the area.
"The Coston family treated me so well while I was there," said Goff. "This was the first time that I was really going to be away from home for an extended period of time. They live in a very rural area, so it was an extreme culture shock for me, butI learned that I can adapt to a situation that is presented to me."
"It was very similar to how I felt when I came to Wabash. At first I thought I had made a terrible mistake. But as I got more involved, it became comfortable. I realized Wabash was the perfect place for me because it has helped me become who I am now.
"It's the same with my experience in Lima," Goff explains. "I had a job to earn spending money, and I had to drive 20 to 25 minutes just to get to town to workout on off days. As relaxed as it seemed sometimes, I realize I got a lot accomplished."
Goff is back on campus and preparing for his final season in a Little Giants' baseball uniform. While he'll spend the spring adding to his career totals of eight victories and 97 strikeouts on the mound, Goff will be comfortable knowing that he's ready to face a future after baseball with all the confidence of a true Wabash man.
Cheering from the Other Dugout
Bill Goff wasn't the only Little Giant touring the Midwest in the GLCSBL.
When the Lima Locos played the Stark County Terriers, Goff found himself facing one of his Wabash coaches.
Assistant baseball coach Cory Stevens spent the summer as a pitching coach for the Terriers.
Stevens was familiar with the league, having played his collegiate ball at North Central College in Naperville, Illinois. While he was preparing his pitchers, including four who were named to the GLCSBL All-Star game, he still managed to keep an eye on Goff.
"It was tough as a coach," said Stevens. "As a competitor you always want the players you're working with to do well. But when you look into the opposing team's bullpen and you see a guy like Bill, you want to see him perform well, too. I had to sit on our bench thinking about how Bill was pitching, just wanting to see him excel, because I knew how it would help both of us once the summer was over and we got back to Wabash."