Wabash Voices: Oaxaca
Printer-friendly version | Email this article
WABASH VOICES
Oaxaca
"It is necessary to obey the dreams."
by Andrew Dits '06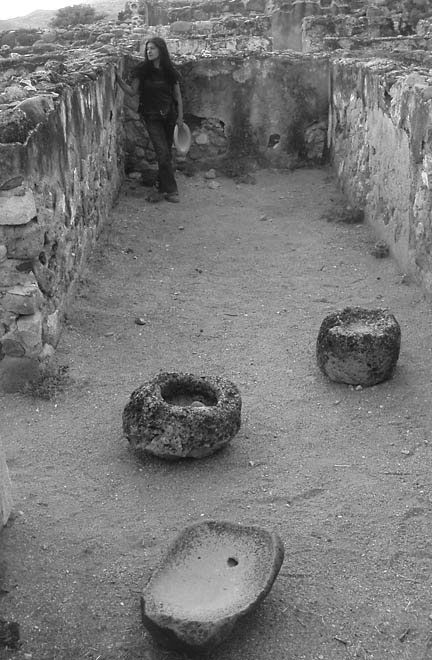 1.
In Cultures and Traditions class last spring we were talking about the prophetic dreams of the Bible. In high school I saw the dreams as imaginative story, just story. When I returned from these three months in the south of Mexico after my freshman year at Wabash, I felt differently.
There are no elections in Chamula for policeman, elders, shaman or saint-feeders. "Everything here is organized through dreams," Sokoro, a Mayan actress in the documentary I was shooting for the College with Reynaldo Pacheco, told me. Men in great black wool shirts were swinging bags of eggs over tiny birthday candles waxed to the floor, slitting the necks of chickens and reciting in buoyant tones the Tzotzil prayers like poetry between shots of cane liquor and chasers of Coca-Cola.
Sokoro continued as I watched the women incensing the saints with goblets of burning copal, "If the women do not obey their dreams, they become deathly infirm."
"It is necessary to obey the dreams."
2.
Garbage and babies and mango pits and everywhere Mexico balances on its own tremendous capacity to fall apart at any moment. I want to see beyond lima-bean-shaped faces and Ocotlan pottery, beyond the faces furrowed by the land, beyond the eyes that vacantly cause me to feel angry at my whiteness.
There must be something delicate, something like a cactus bloom pigmented with magic, which bonds itself to the ruins to now.
I have hugged la columna de la vida in the temple depths of the Mitla burial ground, my hands passing to my wrists. They have given me no years to live, and I cannot touch the ceiling for energia, because my neck is already snapped against it. The ancients have given squat men older than me thirty years to live, because they cannot hold the column, because six hands fit between the empty space of their embrace.
I don't believe in god. Most of these people will die before me. If they could offer me half a mango, if I knew the language, if they could sew me inside themselves with the agave needle, something could come of this.
3.
After my first week in Mexico a group of Canadians kindly took me with them to Monte Alban. Monte Alban, the ultimate ruin above the valley of Oaxaca, stone the Zapotecas placed in the cool jaws of the sky; where they performed primitive surgery with the points of agave leaves and predicted agricultural cycles.
"Sure, you can see Yagul if you want, but nothing compares after Monte Alban," one of them says. "Sorry. You did this all the wrong way."
Yagul—the place of the stick—is about a mile from the road. The seven-peso bus closes its doors on you after it stop regrettably in the far beyond-town land, where only mezcal distilleries and gas plants exist.
Leticia is comfortable here, though, and she immediately shows me the billboard-sized hieroglyph on the mountainside, which looks like a crushed insect. I'd like to go explore the caves, looking for the head-bone of an animal. She tells me I need to see the fortress first. We walk slowly and practice my Spanish. I can, by now, ask, "What is the meaning of that?"
"Yaga," she replies. I remember the music of Lila Downs: Yaga rasta: broken tree. Tree.
Once we reach the high ruins, it is five or six in the evening. A gold light is falling to sleep on everything. We stop on a turret looking out above a 100-foot fall into a patch of poisonous plants called "the bad women."
"I used to read here for hours as a child," she says.
We descend and sit on the labyrinth with walls where the princess once lived, and she pulls out two old filter-less cigarettes.
"I don't usually smoke, but…" She gives a laughing frown at her habits.
"These are from the last time my close German friend visited this same place with me. This is a special occasion." I give her a hug.
"gichI ikI biop," she says in Zapotec, pointing to a strange-shaped plant near us. I smile at the illusive sounds tapping their tiny feet in the air.
"Una planta con espinas en la forma de la cabeza de una hormiga," she repeats. A plant-with-thorns-in-the-shape-of-the-head-of-an-ant.
I ask her how she feels about Yagul.
"Sometimes, I fly in my dreams as a little girl above the labyrinth. I remember it."
For years now, I've disliked historic sites and museums. I feel no connection. Yet through this woman, Yagul is not ruined and dusty, but alive and growing.
On the bus traveling back she reads my Dutch palms.
"You have long years," she says. "You must learn forever and give back."
Suddenly she points to a mountain and calls it her favorite.
"Why?"
Because magic is there.
"Who does magic there?"
Nobody, she replies.