Career Services
Using WabashWorks
WabashWorks is your one-stop-shopping experience for opportunity listings, networking with alumni, and access to premium resources. All roads to your successful job/internship/fellowship and even graduate program search lead through WabashWorks. Access to all or part of WabashWorks is available for students, alumni, recruiters, faculty, and staff.
---
STUDENTS
The best way to master WabashWorks is to spend some time navigating the links. Here are crucial, often missed, ways to use WabashWorks effectively.
_______
1. Premium Resources
Premium resources are what we've bought for you including Vault, Current Jobs For Liberal Arts Graduates (including internships), and GoingGlobal.
Vault includes exceptional career guides by field, company reviews, and more
GoingGlobal is your source for international work
Current Jobs gives you a longer list of job prospects than you would believe
_______
2. The Mentor Network


The Mentor Network enables you to connect with alumni ready to help you. This is the easiest way to connect with people willing to offer you advice that you will ever have. Use it. You are welcome to speak with staff at Career Services to learn how to use it effectively. Here are some tips.
Start getting in touch with alumni mentors during your freshman year; pick one or two per month

Ask for advice or start a conversation; DO NOT ask for jobs or internships

Search by industry, field, or major to help you understand where other alumni have gone before you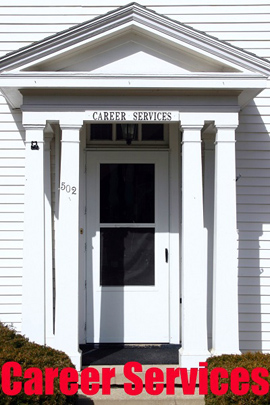 Schroeder Center for Career Development
---
Personal, walk-in service anytime.
Arnold House, 502 W Wabash Ave.
Hours: M-F, 8a - 4:30p; Su-Th 7p - 10p
Phone: 765-361-6414
Email: career@wabash.edu
Scott Crawford, Director
Cassie Hagan, Assistant Director of Experiential Programs and Alliances
Casey Hockersmith, Administrative & Recruiting Assistant