Career Services
Recruiters
Welcome to Wabash College Schroeder Center For Career Development
Thank you for your interest in Wabash College talent. We work both with current students and alumni, who are seeking a wide variety of opportunities in locations throughout the world. Our office welcomes all recruiters, with the exception of those who charge a fee or investment from candidates or new hires. We operate on a no-hoops, no-hassle philosophy of recruiting and our recruiting services are offered at no charge.
Post An Opportunity OUR SERVICES FOR RECRUITERS
To post a job, internship, fellowship, graduate school program or any other type of opportunity, you can either:
email the full position description and details to career@wabash.edu or
create an account in Wabash Works to post the position to Wabash College
There is no charge to post in our system. We post and market listings for 30 days unless you specify a deadline date. We do not post continuous listings.
Set Up a Resume Referral
Resume Referrals work much like position postings, except we market referrals via a targeted email to students and resumes are submitted in one email bundle on the deadline date you choose. We can set very short deadlines (one week) for such referrals. Once you receive the resumes you can either follow up directly with candidates of interest, or schedule on-campus or phone/Skype interviews through us.
Hold An Information Session On-Campus or Via Group Skype
Such sessions, normally scheduled for 12:00pm or 7:00pm ET, are a great way for you to connect with students to promote your opportunities, build visibility for your organization with potential candidates, and answer student questions. Many employers schedule such a session in advance of On-Campus Interviews. We market your session to students and manage RSVP's. To schedule a session, contact Cassie Hagen, hagenc@wabash.edu, 765-361-5594.
Schedule On-Campus Interviews
We manage On-Campus Interview schedules throughout the academic year. Our process is simple: you email us a position description to post, we gather resumes (and cover letters if you like) and send them to you, you select the candidates you'd like to interview and we create your interview schedule. Interviews take place in our center. To schedule On-Campus Interviews, contact Cassie Hagan, haganc@wabash.edu, 765-361-5594.
Participate In Mock Interview Programs
These programs are a great way for you to connect with potential talent and help students develop their interview skills as well. We schedule Mock Interview Weeks once each semester utilizing employers as the interview experts. Interviews are scheduled in-person or via phone or skype.To participate, contact Cassie Hagan, haganc@wabash.edu, 765-361-5594.
On and Off Campus Events, Presentations, Workshops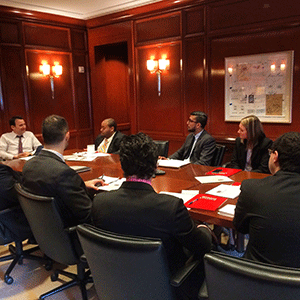 Each academic year we host a variety of events both on and off campus, including networking events, employer site visits, Professional Immersion Experience (PIE) Trips, and workshops. We are always seeking employer participants and speakers for these events. To discuss possibilities, contact Cassie Hagan, haganc@wabash.edu, 765-361-6355.
Host A Wabash Intern or Extern
We offer Wabash-funded programs to help support Wabash students for internships and externships. The majority of our funding sources support Indiana-based opportunities, but we do manage a Small Business Internship Fund for internship opportunities outside IN with Wabash alumni. Internships are usually, but not exclusively, summer opportunities, while externships (one-day to one-week project based opportunities) are scheduled year-round. To learn more, contact Cassie Hagan, haganc@wabash.edu, 765-361-6355.
ABOUT WABASH COLLEGE
Details on the College's mission and educational philosophy: http://www.wabash.edu/aboutwabash/mission
Information on our academic programs including major and minor fields of study: http://www.wabash.edu/academics/majors.
For more information on our Liberal Arts Plus programs: http://www.wabash.edu/plus/ - includes Global Health, Center for Innovation in Business and Entrepreneurship, Digital Arts, and Democracy.
2016-2017 AcademicYear DATES TO KNOW
Thursday, August 25th
Classes Begin
Monday, October 3-Saturday, October 8
Homecoming Week
Thursday, October 13-16
Fall Break
Monday, November 7-Saturday, November 12
Bell Week
Saturday, November 19-Sunday, November 27
Thanksgiving Break
Wednesday, December 7-Friday, December 9
Dead Week
Friday, December 9
Last day of classes
Monday, December 12-Friday, December 16
Final Exam Week
Saturday, December 17-Sunday, January 15
Christmas Break
Monday, January 16
Classes Resume
Saturday, March 4-Sunday, March 12
Spring Break
Monday, March 13
Classes Resume
Wednesday, April 26-Friday, April 28
Dead Week
Friday, April 28
Last day of classes
Monday, May 1-Friday, May 5
Final Exam Week