Wabash students are sharp, polished, articulate, curious, and ready to work hard. It's easy for graduate schools and employers to find their next talent here.
The Schroeder Center for Career Development is dedicated to the development and implementation of innovative programs and services that promote life-long career management skills for students and alumni. We offer career counseling, professional school advising, employment and internship opportunities, and professional development resources. The office works with students and alums to clarify career aspirations, identify opportunities, and offer support at every stage of professional development.
We serve students from all majors pursuing full-time positions and/or competitive internship opportunities. We are committed to tailoring our recruiting programs to meet the needs of every organization that is a recruiting partner at Wabash College.
As members of the National Association of Colleges and Employers (NACE), Wabash College adheres to the NACE Principles for Career Services and Employment Professionals. All employers who wish to partner with us will be expected to review and follow all NACE Principles. To promote professionalism and ensure a positive experience for our students, alumni, and employer partners, and to clarify areas of unique concern, we have adopted supplemental Recruiting Policies that represent our profession's standards and best practices. The following policies apply to all employment organizations participating in recruiting activities at Wabash College including on-campus interviews, resume referrals, information sessions, and career/job fairs.
---
1st Destination Rates Class of 2019:
At Graduation: 82.6%
At Six-Months: 100% (Class of 2021)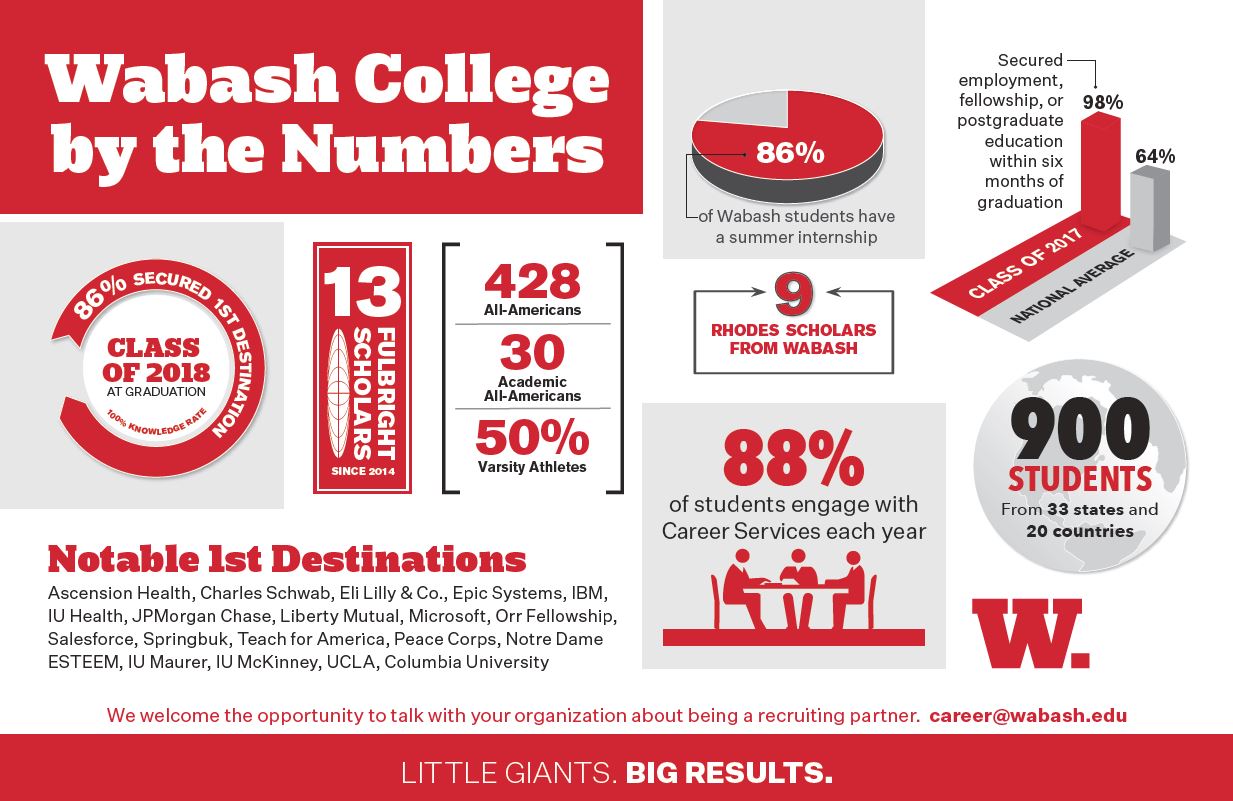 Post Opportunities
We welcome all recruiters -- except those who charge a fee or investment from candidates or new hires. We operate on a no-hoops, no-hassle philosophy of recruiting, and our recruiting services are offered at no charge. To post a job, internship, fellowship, graduate school program or other types of opportunity, you can either:
Create and manage a free account in WabashWorks (sign up here)
Submit the full position description and details to career@wabash.edu
We post and market listings for 30 days unless you specify a deadline date. We do not post continuous listings.
Wabash is a proud partner with Handshake.
Setup Resume Referrals
Resume Referrals work much like position postings, except we market referrals via targeted email to students, and resumes are submitted in one email bundle on the deadline date you choose. Once you receive the resumes, you can follow up directly with candidates of interest or schedule interviews through us.
Hold Networking Events
Such sessions, normally scheduled for 12:00 pm or 7:00 pm ET, are the best way to connect with students to promote your opportunities, build visibility for your organization with potential candidates, and answer student questions. Many employers schedule such a session in advance of On-Campus Interviews. We market your session to students and manage RSVPs.
Schedule On-Campus Interviews
We manage On-Campus Interview schedules throughout the academic year. Our process is simple: email us a position description to post, we gather resumes (and cover letters if you like) and send them to you, you select the candidates to interview, and we create your interview schedule. Interviews take place in our office.
Engage Students Directly
Each academic year we host a variety of events both on and off campus, including networking events, employer site visits, Professional Immersion Experience (PIE) Trips, and workshops. Off-campus travel destinations vary year-to-year and formatting for programs is generally flexible to meet your needs while providing a quality experience for students. Reach out if interested and we'll make plans to connect as opportunities arise.
Hire A Wabash Intern or Host an Extern
We offer Wabash-funded programs to help support Wabash students for internships and externships. The majority of our funding sources support Indiana-based opportunities, but we do manage a Small Business Internship Fund for internship opportunities outside Indiana with Wabash alumni. Internships are usually, but not exclusively, summer opportunities, while externships (one-day to one-week project-based opportunities) are scheduled year-round.
ABOUT WABASH COLLEGE

---
CONTACT US
For questions or assistance,
please contact us:
We look forward to helping you connect with talented Wabash men for opportunities at your organization!
---
Campus Calendar (full)
---
Recruiter Policy
All employers who wish to partner with us will be expected to review and follow our Recruiter Policy. View our Recruiter Policy.