Career Services
Callings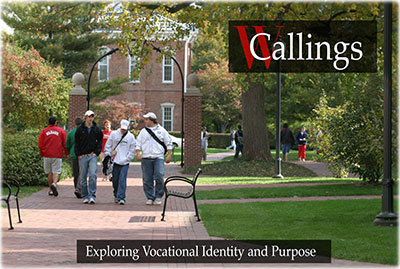 WABASH CALLINGS
Exploring Vocational Identity and Purpose
A NetVUE-Affilliated Program
Wabash Callings helps students seek lives of purpose and fulfillment. Callings-sponsored events aim to enrich our understanding of identity and purpose. For a more intensive student-experience, join the Quests and Questions student group.
---
OVERVIEW
The NetVUE-affiliated program at Wabash College, Callings: Exploring Vocational Identity and Purpose, is committed to fostering sustained reflection on vocation among students, faculty, and staff, while providing students with experiential learning opportunities to help them explore their vocational identities. Consonant with Wabash's history as an independent college founded by Presbyterian ministers, the Callings program seeks to draw upon multiple traditions, both theological and secular, in exploring the concept of vocation and its role in our lives.
As one of only four colleges for men in the country, Wabash has a unique opportunity to tackle the vocational challenges facing young men in our society. Many commentators have noted that young men today struggle to make the transition from adolescence to adulthood. Notable symptoms include an "extended adolescence" that last through the 20s and widespread confusion about future direction and responsibilities. Many young men show inadequate preparation for adulthood. Among the many causes of this situation, we believe too few young men are animated by a rich vocational vision providing energy, identity, and purpose. Wabash is a perfect place to engage this important national issue. Wabash consistently challenges young men "to take their lives seriously." In this context where the growth and maturity of young men is a central focus inside and outside the classroom, Callings provides high impact opportunities to reflect upon and explore vocational identities.
The Callings program supports the mission of Wabash College to "educate young men to think critically, act responsibly, lead effectively, and live humanely." Our curriculum stands in the great tradition of the liberal arts in its breadth of content and focus on developing the whole person. We aim to develop the habits of mind, core competencies and skills, and soundness of character that will equip our young men to succeed in a variety of careers or graduate programs. This approach makes all the more important an effort like Callings, which enables students to reflect on how their gifts, passions, and education intersect with the needs of society and the world at large.
REGULAR ACTIVITIES:
Campus Speakers
We invite speakers to campus to address promises and prospects of vocational discernment through personal or academic work and from both theological and secular points of view.
Recent Speakers:
April 22, 2015: Jake Moore '12 and Martine Tchitchihe, Peace Corps in Cameroon, "Called to Serve." Moore and Tchitchihe also visited an African History class and met with interested students at Career Services.
April 15, 2015: Zach Foughty '07, Indiana University School of Medicine, "Social Entrepreneurship: How an 'Economist' Landed in Medical School." Foughty also visited a Religion class, had dinner with students, faculty, and staff, and gave an evening presentation on behalf of the college's Global Health Initiative.
March 18, 2015: Christian Smith, William R. Kenan, Jr. Professor of Sociology at the University of Notre Dame, Director of the Center for the Study of Religion and Society, and Principal Investigator of the National Study of Youth and Religion, "Understanding Emerging Adulthood and the Challenge of Finding a Vocation." Smith also visited a Religion class, had dinner with faculty and staff, and gave a second presentation on behalf of the Religion Department.
January 26, 2015: Frank Buerger '73, Staff Director of the Defense Intelligence Office, Captain—U.S. Navy Ret., "Answering the Call." Buerger visited a Political Science class, met with students, had dinner with students and faculty, and gave a second presentation on behalf of the college's Democracy and Public Discourse Initiative.
November 13, 2014: Bob Shaver '04, Founder and President of GCF Group, "Pursuing Meaning in Our Daily Bread: A Social Entrepreneur's Path to Working in Food." Shaver also visited a Freshman Tutorial and a Religion class and ate lunch with interested students and faculty.
Callings Courses
We encourage students to engage in finding and understanding callings through a rigorous curriculum. Recent courses focused especially on calling or vocation include a Freshman Tutorial entitled "Callings" and a Religion seminar on "The Christian Tradition of Vocation."
Quests and Questions Mentor Community
In mentor communities, a small group organizes around a shared set of interests, questions, and goals to pursue them in common. Mentor communities feature mutually-enriching relationships and the expectation that participants will both teach and learn with each other. While a mentoring community includes leadership from a team devoted to student engagement in vocational discernment, it does not replicate the traditional mentor structure. Rather, as Sharon Daloz Parks has described it in Big Questions, Worthy Dreams (2011, p. 175), mentors provide "a context in which a new, more adequate imagination of life and work can be explored, created, and anchored in a sense of we." Mentors engage in dialogue and action with students, as with each other, in order to model the quest for discernment and encourage students to take a similar engaged stance with their peers. Quests and Questions is a collaboration between students and faculty aimed at facilitating rich discussion of callings and vocational discernment within an engaged group of students and providing a venue for sharing their lessons with each other and the community. In addition, students receive funded opportunities to explore their callings by attending conferences, pursuing internships and externships, and engaging in distinctive community service.
Career Test Drive Program
Career Test Drives are brief (1 day to 1 week), unpaid "externship" opportunities to participate in the daily life of a professional in a career field, industry, or organization. Wabash promotes externships as a signature way for students to explore vocational options first-hand with greater rigor than job-shadowing and less overhead commitment than an internship. At that early stage of discernment where multiple experiences and careful reflection contribute much to a student's basic orientation toward future activity, an externship plays the role of a controlled experiment. Career Test Drive externships allow students to pursue their best opportunities in a concrete way. Over spring break 2015, for instance, six students participated in Callings-funded externships in diverse fields, including physical therapy, transportation logistics, academic finance, and advertising.
Non-Profit Internship Program
Service- and non-profit work traditionally contribute to students' understanding of their callings and support life-long commitments to serving others even when their professional work is in another area. Yet many internships remain inaccessible in these fields because they are unpaid. By supporting two internships per year, we enable students to pursue these opportunities in which they gain key insights and build core competencies for lives of future service.
Faculty/Staff Brown Bag Lunch
Wabash Callings only works when many in the Wabash community understand and appreciate its initiatives. We support a reading group among faculty and staff to continue our own vocational development and build strong and supportive relationships. Recent readings include Peter C. Brown, Henry L. Roediger III, and Mark A. McDaniel, Make It Stick: The Science of Successful Learning (Belknap Press, 2014); and James M. Lang, Cheating Lessons: Learning from Academic Dishonesty (Harvard University Press, 2013).
Callings is co-directed by Jon Baer, Associate Professor & Chair of Religion, and Cassie Hagan, Assistant Director for Experiential Programs and Alliances, Career Services. Callings operates under the purview and with the support of Scott Feller, Dean of the College.
Contact Information:
Jon Baer
Associate Professor & Chair of Religion
Wabash College
P.O. Box 352
Crawfordsville, IN 47933
765-361-6130
baerj@wabash.edu
Cassie Hagan
Assistant Director for Experiential Programs and Alliances
Career Services
Wabash College
P.O. Box 352
Crawfordsville, IN 47933
765-361-5594
haganc@wabash.edu