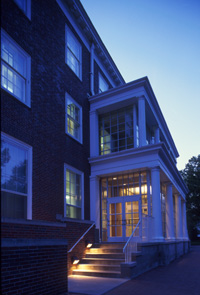 Check or Credit Card
You can make your outright gift to Wabash through check or credit card. Please make your check payable to Wabash College. You can also use your credit card to make a one time gift or to make your gift in multiple monthly payments. Make a credit card gift online or call (877) 743-4545.
Gifts of Stock
Alumni and friends often find making a gift of securities to Wabash College very beneficial.

Stock gifts are valued based on the mean price of the stock on the date of the gift. No capital gain taxes are due on stock that is gifted to Wabash. However, it is important to follow some simple steps to expedite the transfer of the stock to Wabash.
If you have the stock certificate, simply send the certificate(s) to:
Wabash College Annual Fund
Hays Alumni Center
P.O.Box 352
Crawfordsville, IN 47933-0352

Do not sign the certificate(s). Rather, sign a blank stock power form (at your broker's office, a bank, or from the Gift Planning Office) and then take the signed stock power form to your bank for a medallion signature. The medallion signature is certification of your identity. After the stock power form has the medallion signature, mail the form to Wabash College. If your stock certificate is for more shares than you want to gift, Wabash will have the certificate split, re-issuing to you the number of shares you designate.

If you have the stock listed with your brokerage account, please ask your broker to contact Rhonda Maynor, Gifts Processing Coordinator, at (765) 361-6088. The College will work with your broker to accomplish the transfer. You must be sure the broker does not just sell the stock and then transfer the proceeds. Such a step triggers a taxable transaction for you.
Mutual Funds
A gift of Mutual Fund shares needs to be handled very carefully. First of all, it takes several weeks, months sometimes, to accomplish the transfer and usually requires a signature guarantee. The College has a special packet of material that you can use to instruct the mutual fund how to transfer shares to the College.

Some mutual funds have special forms available for making gifts. They may be available on a web site but generally require downloading and mailing with original signatures and guarantees.
For more details, please contact Wabash College at (877) 743-4545.
You can also make take advantage of our Planned Giving program.