As you know, Big Bash 2021 will not be held this June in its traditional format due to the pandemic. We are, however, providing other in-person opportunities for our alumni, families, and friends to return to campus this summer and fall to connect with classmates, other alumni, and the College. The various occasions are outlined below. More details and registration links for each activity will be provided on this page as each becomes available.
---
Big Bash 2021
Open Campus
Saturday, June 5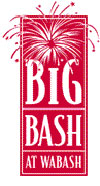 After nearly 15 months of campus not being open to visitors, we are opening campus for part of this day. Please plan to come to campus, bring your family, and walk through buildings including the new Little Giant Stadium. Schedule outline below.
Open Campus for Alumni and Families
10:00 a.m. – 2:00 p.m.
Walk around campus at your own pace, visit academic buildings around the mall, drop into the Chapel, and tour the brand new Little Giant Stadium.
Food Truck Lunch Provided
11:00 a.m. – 2:00 p.m.
Grab lunch on us from the Bon Appetit food truck.
Alumni and Parent Relations staff will be located under the canopy on the mall, please stop there to sign-in.
Campus will be open rain or shine.
The

Bookstore

will be open (10am-2pm).

Wally's Pub

will be open for dirnks (10am-2pm).
Masks will be required.
---
Future Events/Dates
Saturday, September 11
Full day celebration of 50th reunion classes (classes of 1970 and 1971) and the Golden Little Giants.
* No home football game
Saturday, October 16
Tailgates for 5-year to 45-year reunion classes and the class of 1966.
* Home football vs. Wooster