Alumni
Indianapolis Association of Wabash Men
Ad Hoc | News | The Board | Mission | Contact | History

The Indianapolis Association of Wabash Men serves the largest concentration of Wabash College alumni located in the Indianapolis metropolitan area. This constitutes around 2,000 alumni or nearly 20% of all alumni. The IAWM board encompasses a broad generational, geographical, and professional diversity. Annually, we sponsor several diverse and exciting events and services for the Wabash community.
Join us as we gather for camaraderie, enlightenment, celebration, and support of Wabash College and its students.
Upcoming Events
TEDx WABASH COLLEGE - Mar. 17, 2018
TEDx Wabash College brings together innovative thinkers from across the world and larger community to explore ideas for our collective future. Once again, the IAWM proudly supports this student-run event as a Bronze Sponsor.
General Admission is $20. Save 50% off registration when you use the promo code ALUMNI.

WABASH MAFIA - Mar. 20, 2018
Location:
Moe & Johnny's
5380 N. College
starting at 5:30 p.m.
Catch some hoops with fellow Wabash alums and friends. Be sure to join us at Moe & Johnny's anytime after 5:30 p.m. The play-in games of Tourney will be in full swing and on the venue's many TV screens.
Moe & Johnny's is located south of Broad Ripple on the corner of 54th and College and owned by Chuck Mack '67.
http://moeandjohnnys.com/
LEADERSHIP BREAKFAST - Mar. 22, 2018
Join us for a conversation on leading effectively in Central Indiana.
Ivy Tech Culinary Center
2820 N Meridian St
Indianapolis, IN 46208 (
map
)
Doors open/Breakfast at 7:30 a.m.
Program begins at 7:50 a.m.
$20 per ticket/seat.
Major sponsorship and table sponsorship opportunities available as well.
RSVP via the button below. Contact Dustin DeNeal '04 at Dustin.DeNeal@FaegreBD.com or 317-237-1176 with questions.
Featuring
Alonzo Weems '92
Vice President and Deputy General Counsel, Eli Lilly and Company
Myra Selby
Partner, Ice Miller LLP
Pete Metzelaars '82
Coach and Retired NFL Player
Honoring
John Bridge '72 as the IAWM Man of the Year
MLB BUS TRIP TO WRIGLEY FIELD - Fri., June 8, 2018
Join alumni, family, and friends on our annual MLB bus trip on Friday, June 8, 2018. This year, we return to the Friendly Confines of Wrigley Field to watch the Chicago Cubs take on the Pittsburgh Pirates.
Our deluxe motorcoach will depart at 9 a.m. EDT from the north side of the Regions Bank Tower in downtown Indianapolis (New York St. between Penn and Delaware). If needed, we can make bus stops in Lafayette and Merrillville. We'll post a full itinerary here soon.
Cost: Through April 30, $90 (includes bleacher seat ticket and bus transportation); May 1 and after, $100
Friends and family (including children) are welcome. Please bring your own beverages for the bus. Concession stands, of course, are plentiful and convenient at the ball park.
We have limited tickets (52) and will be sold first come, first served.
Register online at iawmrsvp.com.
Contact Kyle McClammer '08 at kmcclammer@woodmclaw.com.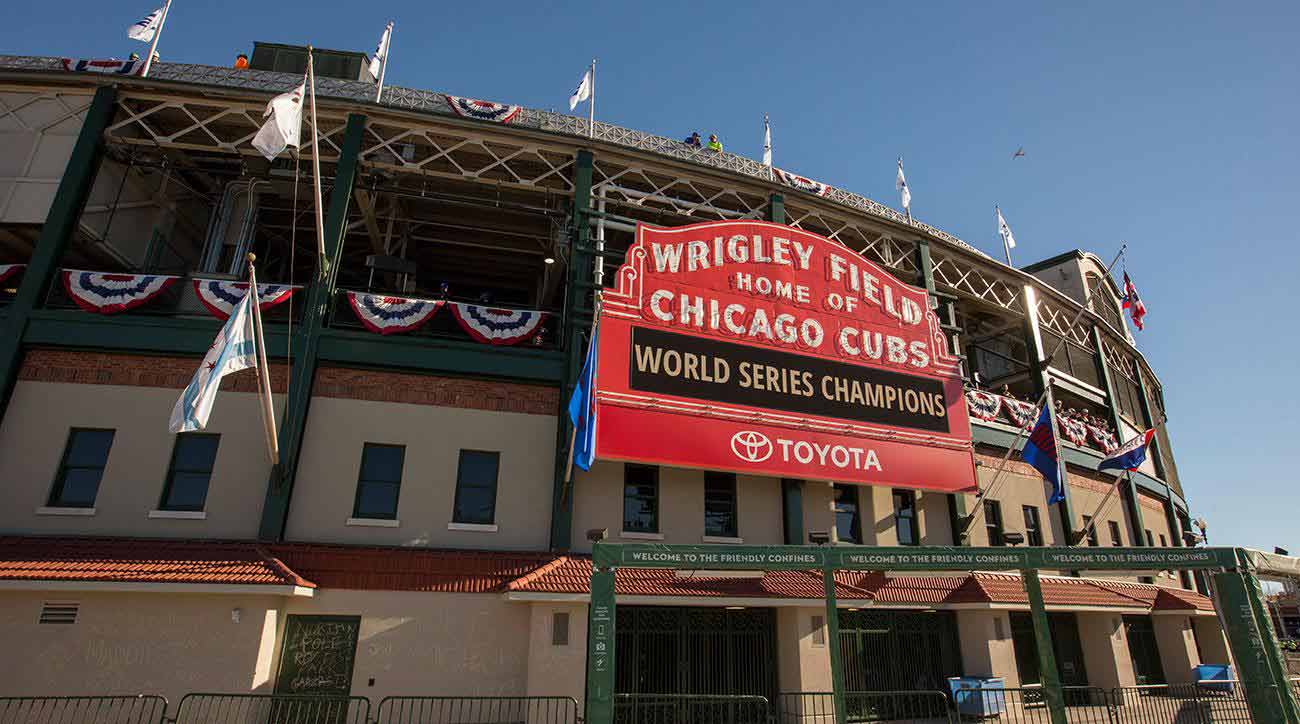 MITCHUM CROCK GOLF OUTING - Thurs., July 19, 2018
We're headed back to beautiful Plum Creek in Carmel. Details coming soon.
WABASH NIGHT AT VICTORY FIELD - Fri., July 27, 2018
Watch the Indianapolis Indians take on the evil Buffalo Bisons from the left-field lawn. Fireworks follow the game. Details to come.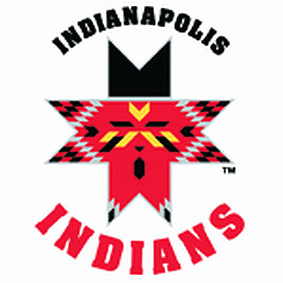 Ad Hoc Committees
Chairman: Jon Pactor '71 (pactorlaw@iquest.net)
Alumni Engagement
Chairman: Jim Dyer '83 (jimdyer83@gmail.com)
Contact: Jon Pactor '71 (pactorlaw@iquest.net)
The IAWM continues its long tradition of supporting the student-run newspaper,
The Bachelor
, by taking out advertisements in the weekly publication. Our alumni group uses the space to announce alumni-student events, congratulate student and alumni accomplishments, and provide occasional encouragement to students, organizations, and athletic teams.
Chairmen: Jeff Rice '00 (rice.jeffreyj@gmail.com)
Joe Samreta '95 (samretaj@yahoo.com)
Chairman: Jon Pactor '71 (pactorlaw@iquest.net)
---
Past Events
WABASH MAFIA - Feb. 21, 2018
Location:
The Koelschip
2505 N. Delaware St.
starting at 5:30 p.m.
Come join the Wabash Mafia after work in Fall Creek Place. Chris Bly '06 and Jake Koeneman '06 opened The Koelschip just over two years ago. It's a beer, coffee, and wine bar featuring their Central State beers made with Brettanomyces yeast. It's right next door to Goose the Market if you're feeling like grabbing a tasty sandwich.

No need to RSVP. As usual, there's no program and no agenda. Just another opportunity to gather, meet, network, or schmooze.

The Koelschip: http://www.thekoelschip.com/
Central State Brewing: http://www.centralstatebrewing.com/home
PROF. MARC HUDSON POETRY READING - Feb. 8, 2018
Location: Vonnegut Museum * Library
340 N Senate Ave, Indianapolis, Indiana 46204
7 p.m.
East of Sorrow, a new collection of poems by Marc Hudson, has recently been published by Red Mountain Press. His earlier books include Island, Afterlight, The Disappearing Poet Blues, and Journal for an Injured Son.
This poet, whose earlier work has been honored with an NEA fellowship and the Juniper Prize, taught creative writing and literature at Wabash College for 28 years. He is currently working on a collection of essays on the ecological imagination.
CAREER SERVICES NETWORKING DINNER & PACERS GAME - Feb. 5, 2018
Please join us for an alumni-student networking dinner at the Old Spaghetti Factory, followed by a Pacers game!

Career Services will be bringing a group of students to Indianapolis earlier in the day for a Pacers Career Fair and Inside the Front Office event. The students look forward to introducing themselves and practicing their networking skills.

We will meet you at Old Spaghetti Factory at 5:00 PM and head over to the game from there. The Pacers play the Washington Wizards at 7:00 PM.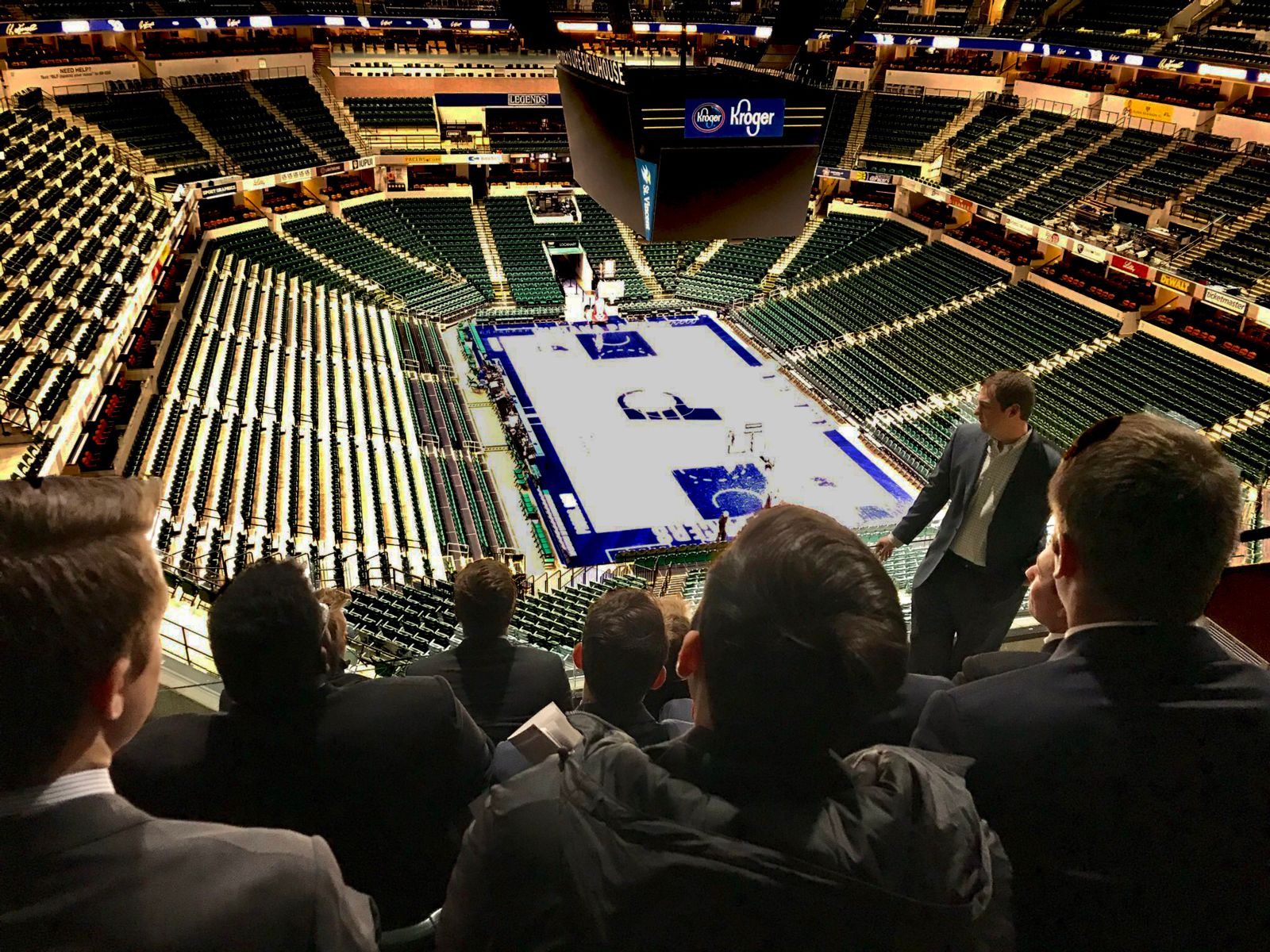 WABASH SWIMMING AT IUPUI - Jan. 20, 2018
WABASH MAFIA - Jan. 10, 2018
Location:
Our New Year's Resolution? Keep providing opportunities for the Wabash community to connect.
We'll kick things off at Sun King downtown, right off College and Wabash Streets. Co-owner
Clay Robinson '97 continues to grow his brew business and community outreach with some tasty
TWR. The Tasting Room features a new addition, a food counter, Oca, from Goose the Market
with garnished sausage and sauerkraut platters, charcuterie boards, cheese plates,
bratwurst, and sandwiches.
Make a resolution to join us after work.
WABASH MAFIA - Dec. 7, 2017
Location:
651 E. 54th St.
Indianapolis, IN 46220 (
map
)
(adjacent to Moe & Johnny's)
Take a break from the holiday bustle to join us after work one last time this year. Alongside Moe & Johnny's, Cornerstone has served as a hub for the busy SoBro corner of 54th and College. Owner Chuck Mack '67 is rebranding the coffee shop to serve a dual purpose of providing craft beer and cocktails, along with Moe's menu, all served up by Levi Kinney '16.
No RSVP needed, no official start time, no program. Just show up, quaff a pint, and chat.
RALLY FOR THE MONON BELL - Nov. 9, 2017
Celebrating the Best College Football Rivalry in the Universe. All are welcome for this casual event.
Skyline Club
1 American Square, 36th Floor, Indianapolis
Appetizers and Drinks: 6:00 p.m.
Program: 7:00 p.m.
Featuring a Special Tribute to Coach Greg Carlson
Remarks from Wabash President Gregory Hess
Pep Talk from Wabash Football Coach Don Morel
Game Preview
Casual Dress – Please feel free to wear your Monon Bell or Wabash themed attire!
WABASH MAFIA - Nov. 2, 2017
Alums met up after work at Triton Tap (915 Broad Ripple Ave - Indianapolis) with some tasty TWR, a great deck, and a beautiful view of Broad Ripple. Dave Waldman '93 is Triton's director of operations for the main brewery.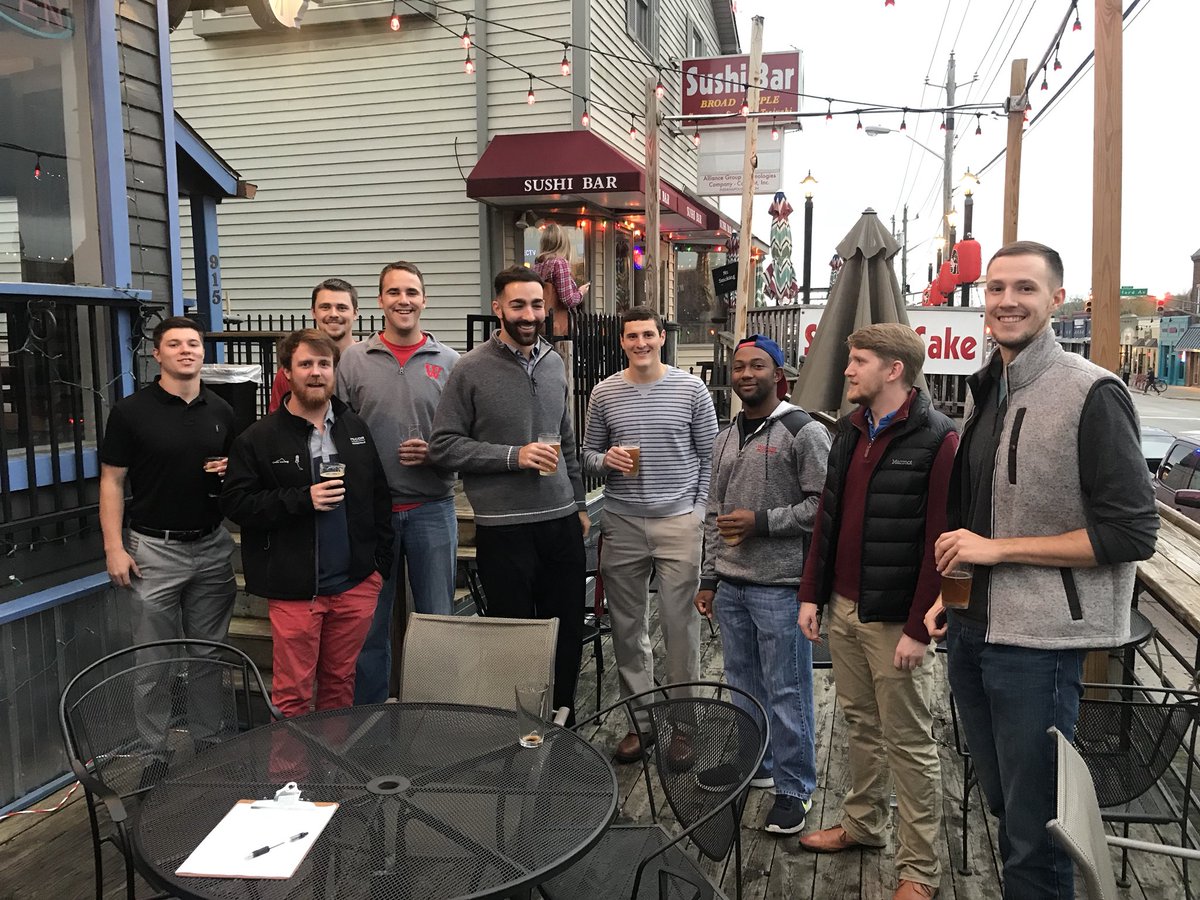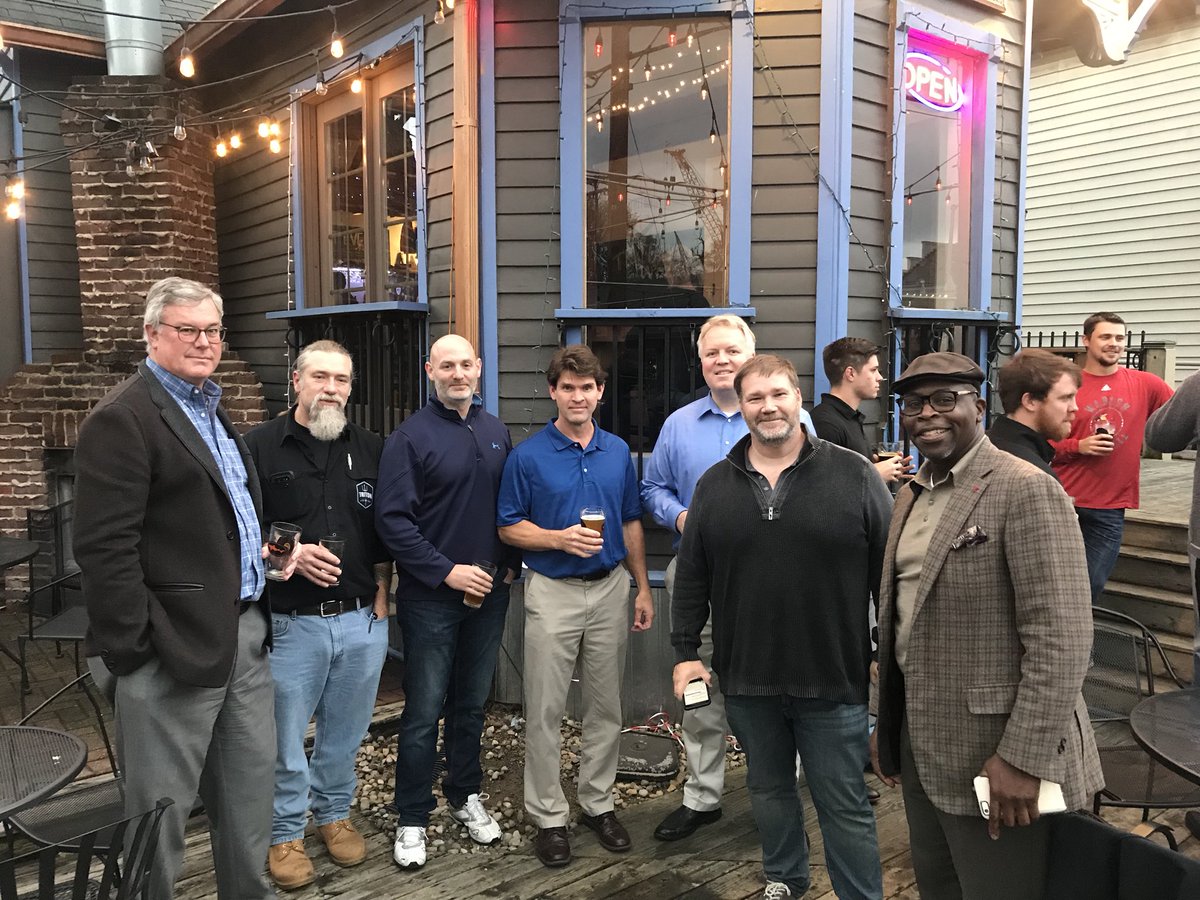 WABASH DAY - October 21-22, 2017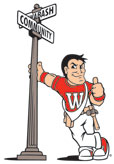 WABASH Day is a national day of community service planned by Wabash leaders in local communities and carried out by alumni, current students, family, and friends of Wabash College. (W.A.B.A.S.H. stands for Wabash Alumni Benefiting And Serving Humanity.)

We thank all of the those that have been instrumental to the success of Wabash Day over the past 12 years. Alumni, families, and friends have volunteered in their communities providing countless volunteer hours to organizations in need of that support.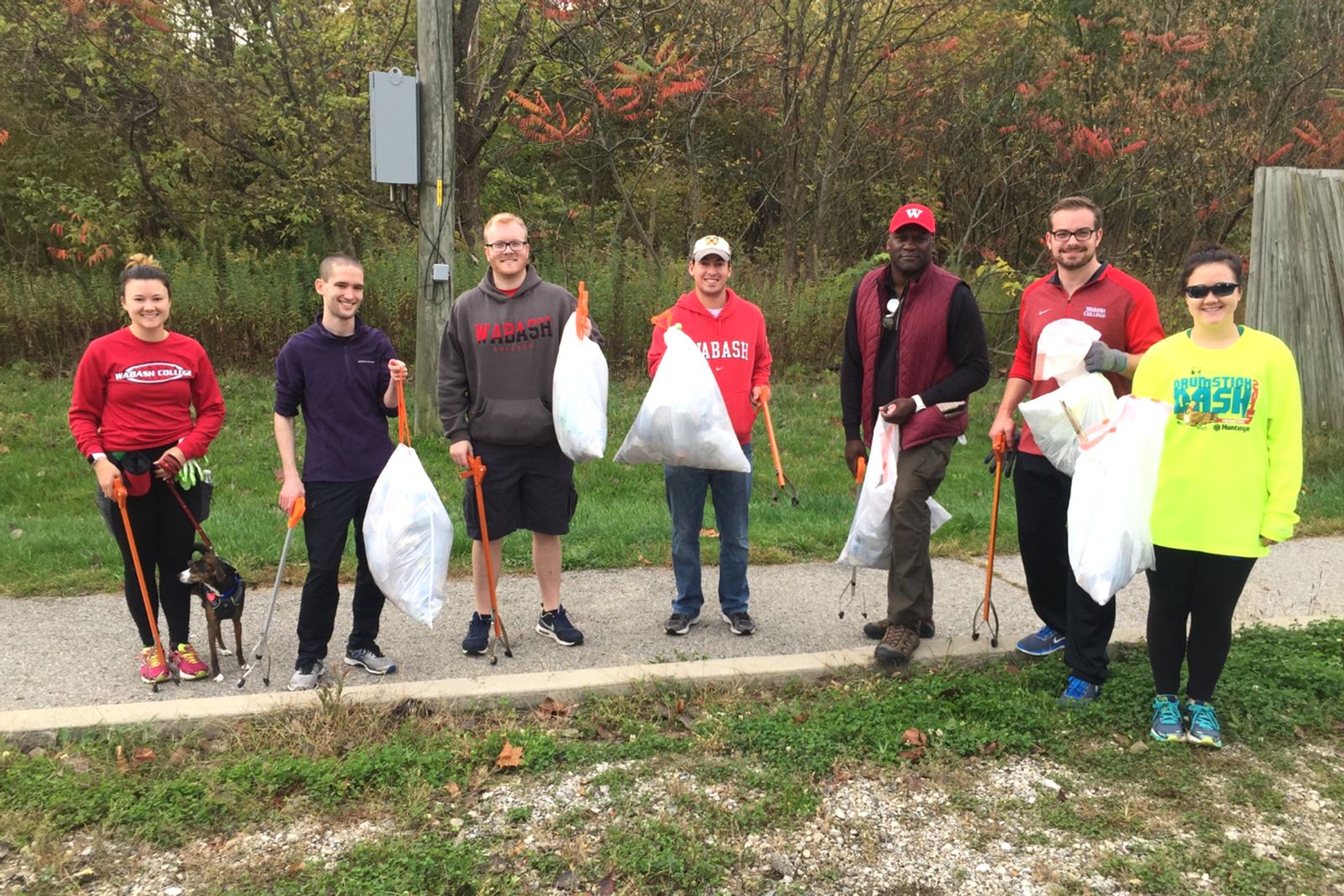 MINI GOLF AT THE IMA - Thursday, August 3, 2017
Last year, the Indianapolis Museum of Art asked local artists to create putt putt holes for a unique 18-hole experience. This year, Mini Golf returns with the theme of The Natural World. We took advantage of the museum's monthly free day, and the IAWM picked up the tab for golf.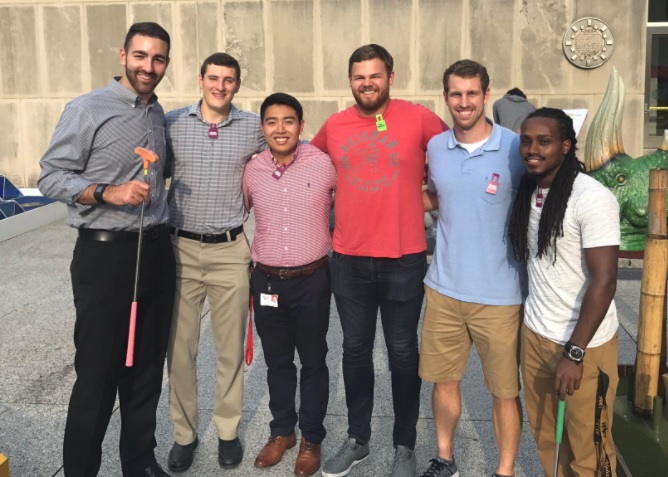 MITCHUM CROCK GOLF OUTING - July 20, 2017
Annual Event in Honor of Robert Mitchum H'59
Presented by Barnes & Thornburg LLP
One hundred and forty-eight golfers met on July 20, 2017 at Plum Creek for the 47th Mitchum Crock. They hit the course after a short rain delay. The high was 89°. However, 76% average humidity bumped the heat index to 100°.
Winners:
1st place, Crock: Dustin DeNeal, Drew McCoy, Adam Berry, and Jonathan
McDowell.
2nd place, Crock: Tony Unfried, Joe Johnson, Michael Wittman, and Brian
Wittman
1st place, Petty: Danial Christian, Adam Collins, Rob McCourt, Davey Neal
2nd place, Petty: Tony Unfried, Joe Johnson, Michael Wittman, and Brian Wittman
Hole and raffle winners:
Dr. Shelbourne was awarded closest to pin*
Ben Mahan, longest drive
Ray Rebke, longest put
Mike Macke won the fire pit, Rick Cavanaugh the Day with the Basketball team, and Chris Baker bagged the Day with the Football team.
*When doing the awards, the closest to the pin marker was missing. General consensus was that Dr. Shelbourne was closest, so he was awarded the price. However, after the event, someone turned in the tag, and Kevin Casey actually was closest. He told Tom that he didn't mind, he had a great day, and it was close anyway.
WABASH NIGHT AT VICTORY FIELD - July 14, 2017
The Indianapolis Association of Wabash Men (the IAWM) invites Wabash alumni, students, faculty, staff, families, and friends to a night of baseball, fireworks, and LEGOs. Watch the Indianapolis Indians take on the evil Louisville Bats in the beautiful confines of Victory Field, the "Best Minor League Ballpark in America." Stick around after the game for a fantastic fireworks show shot right from centerfield!
WABASH MAFIA - Thursday, July 6, 2017
The Mafia met at Liberty Street (653 Massachusetts Ave., libertyonmass.com).
Shawn Miller '81 and his wife, Tammy, reestablished one of the oldest tavern locations on Mass Ave, complete with a pre-Prohibition look, mahogany bar with a wide selection of high-end distilled spirits and rotating taps of regional and local craft beer.
ANNUAL MLB BUS TRIP - June 9, 2017
Alumni, family, and friends boarded a bus in Indy and visited the Friendly Confines of Wrigley Field as the World Champion Chicago Cubs took on the Colorado Rockies.
ALUMNI-FACULTY-STAFF SYMPOSIUM - June 2, 2017
This year, the event moved to Big Bash Weekend for Wally 8.0: A Symposium on Technology and the Liberal Arts. (photos)
Alumni, faculty, and staff made the following presentations:
Matt Carlson - Intelligence, Natural and Artificial
Heidi Walsh - Wally on Film: A Technology Novice Capitalizes on Student Talent
Jeremy Bird '00 - Can Technology Save Our Democracy?
Dennis Kennedy '80 - Will A.I. Kill the Lawyer All-Star? The Role of Artificial Intelligence, Rule-based Bots, Smart Contracts and Other Cutting Edge Technologies in Our Legal Future
Mike Abbott '85 - Play to Learn: Game Design as a Quintessential Liberal Art
Colin McKinney - Robotics at Wabash
Brian Kopp '98 - How Sports Technology is Keeping Athletes Healthier and Improving the Game
Rick Sasso '82 - Medical Technology 2017: How Wabash Liberal Arts Changed Spine Surgery
David Waldman '93 - A Tradition of Technology: Managing 7000 Years of Tradition and History with Modern Technology at Triton Brewing Company
Lon Porter - 3D Printing at Wabash: Enhancing Learning on Campus and Beyond
WABASH MAFIA - Wednesday, May 17, 2017
Wabash alumni and friends gathered after work in Fall Creek Place. Chris Bly '06 and Jake Koeneman '06 opened The Koelschip more than a year ago. It's a beer, coffee, and wine bar featuring their Central State beers made with Brettanomyces yeast.
MINI MARATHON HOSPITALITY TENT - May 6, 2017
Running the Mini? Stop by after you finsh. We'll be set up in Military Park with plenty of TWR!
KYLE STUCKER '17 WINS IAWM SCHOLAR-ATHLETE AWARD
During the Awards Chapel on April 27, 2017, senior Kyle Stucker won the IAWM Scholar-Athlete Award, which also comes with a plaque and $500. Kyle was a three-year starter on the offensive line for the Wabash football team. He has a 3.845 cumulative GPA, is a rhetoric major and chemistry and biology double minor. He earned All-North Region honors in 2012 and 2017, First Team All-Conference in 2015 and 2016, and First Team Academic All-American. Kyle is former Beta Theta Pi president, member of the Chemistry Club and Pre-Health Society, and Senior Fellow with the Wabash Democracy and Public Discourse initiative. He tested in the top 6% in the nation on the MCAT and will attend medical school in the fall.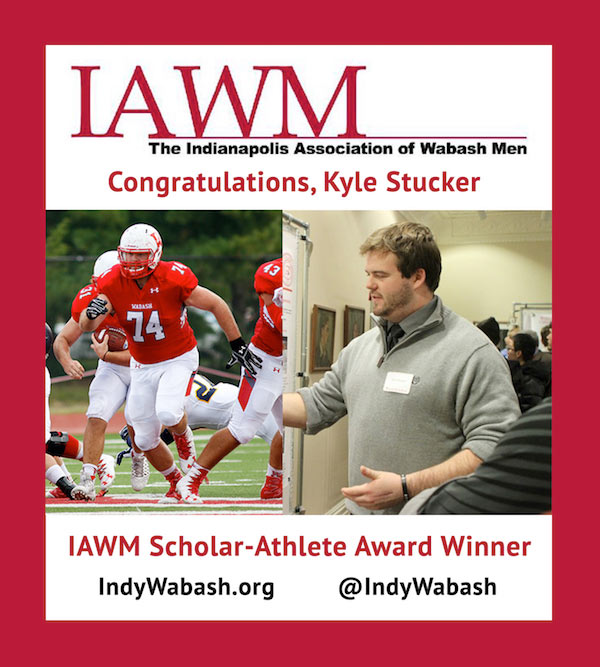 2ND ANNUAL LEADERSHIP BREAKFAST - March 23, 2017
Nearly 220 Wabash alumni, staff, students, and friends of the College packed the Ivy Tech Culinary Center for the 2017 Indianapolis Association of Wabash Men (IAWM) Leadership Breakfast. (story) (pictures)
TEDX WABASH COLLEGE - Jan. 21, 2017
Students organized an inaugural TEDX event on campus with the theme of "Outside the Lines, But on the Page."
The following speakers gave TED Talks:
Find out more at tedxwabashcollege.com.
The IAWM is a Bronze Sponsor of TEDx Wabash College.