Alumni
News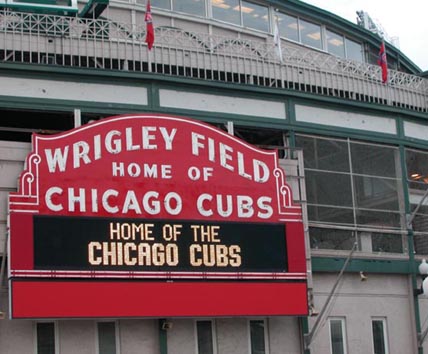 The Indianapolis Association of Wabash Men and Wabash Club of Chicago have teamed up to organize an opportuntiy for Wabash alumni and friends to get together. They invite all interested parties to join them in Chicago for a day of baseball and fellowship on Thursday, April 13. You can sign up through the Wabash Club of Chicago and meet everyone at the venue or you can join the IAWM on their chartered bus leaving from Victory Field in Indy.
Alumni and Students Network in Chicago
Advertising giant Leo Burnett's downtown Chicago office was once again the location for the Alumni/Student Networking Event co-sponsored by Wabash College Career Services, The Wabash Club of Chicago, and the Alumni and Parent Relations Office.
Over 20 area alumni made their way to the downtown office overlooking the river
more...
Indy Alumni Offer Mentoring Tips
Indianapolis area alumni met at the downtown location of the law firm Barnes and Thornburg to offer Wabash students an opportunity to polish their interviewing skills. more...


Summit Focuses on Entrepreneurism
Wabash students and alums gathered Saturday to explore the close connection between an entrepreneurial spirit and the liberal arts. The Schroeder Career Center sponsored its first Entrepreneurial Summit. more...


Wabash Hosts Entrepreneur Summit
Wabash College will host an Entrepreneur Summit on Saturday, February 12. The event will take place in Hays Science Hall in room 104, and it is free and open to the public. more...


Lopez Brings Experience to Soccer, Career Services
David Lopez joins the Wabash soccer team this fall as an assistant coach in addition to duties as the internship coordinator for the Schroeder Center for Career Development. more...


Kelly '11 Interns at Cancer Center
Charlie Kelly '11 couldn't imagine what type of internship he'd find after studying abroad. The rising senior followed in the footsteps of many Wabash men interning this summer at the Cancer Research Center of America. Read his blog entry and four other new posts. more...


SIFE Develops Leadership, Ethics
Wabash senior Mark Schultz has helped establish a new program at the College. Students in Free Enterprise (SIFE) provides opportunities for students to gain hands-on experience in business, leadership, and service. more...


Marketer: Dive Into Social Media Now
Lewis Howes is a former professional athlete and self-made social media guru. He told a group of Wabash students Thursday night they must dive into social media immediately or they'll be sitting at home after graduation wondering what happened. more...


Social Networking, Sports Marketing Speaker to Visit
Wabash men interested in sports marketing or professional social networking should mark Thursday, Jan. 28 on their calendars now. more...


Wabash Students Score Near Top in NSSE
Wabash freshmen and seniors scored their level of engagement higher than the national average and higher than similar Midwest institutions on 28 of 30 measurements in the 2009 National Survey of Student Engagement (NSSE). more...


Wabash Scores High in Princeton Review
Wabash College has scored near the top of The Princeton Review's college ratings in its guidebook, The Best 371 Colleges. more...


Career Bootcamp Sharpens Skills
A Wabash College education never stops at the classroom door. Job seeking skills are as much a part of the Wabash experience as the brotherhood and challenge of the liberal arts. more...


Career Services Visits Quarterly Luncheon
Scott Crawford and Betsy Knott, Director and Assistant Director of the Schroeder Career Center were the featured guests at the Hamilton County quarterly luncheon held on February 12. more...


Pacer Experience Helps Shape Career Direction
Wabash Career Services sponsored a career night at the Indiana Pacers-Cleveland Cavaliers game Tuesday night. Two Bachelor staffers share their experience. more...


Healthcare Alums Discuss Careers
Wabash's Schroeder Career Services Center sponsored a Healthcare networking dinner Monday night featuring seven alumni and 37 students. It is part of a series of career-themed networking dinners. The alums represented dentists to human resource representatives at Eli Lilly. more...


Wabash Alums Excited About Program
Wabash graduates who have found successful careers in business and leaders of current business-related programs are praising the new Wabash Business Leadership Program. more...


Schroeder Career Center to Sponsor Talks by Job Related Experts
The Wabash College Schroeder Career Center will sponsor two talks next week for students who want to succeed in the working world. Lisa DiTullio will present, "Want Success? Try Vanilla," at 7 p.m., Monday, October 20, and Ellen Augustine will discuss, "The Job Market Advantage: Understanding Green Principles and Local/Global Myths," at 7 p.m. Tuesday, October 21. Both events will take place in Korb Classroom in the Fine Arts Center. more...


What's Happening at Wabash College—October 2008
This monthly calendar is for the purpose of letting you know What's Happening on the campus of Wabash College. more...


Schroeder Center Launches New Services for Alumni
Alumni who wish to make mid-career moves and those starting out their careers will benefit from an array of new services provided by the Schroeder Center for Career Development at Wabash. "Experience" is entirely free for alumni to use. The new services expand the successful Wabash Works program available to current Wabash students. more...


Many Seniors Have Post-Graduate Plans
Students of the 2008 senior class are near the end of their journeys at Wabash, but their travels will not end here. More than 72 seniors have accepted jobs, internships, or admittance into graduate or professional schools. Dozens more are still in the process of applying for jobs, interviewing, and deciding what they want to do next. more...


Liberal Arts Inspires "Entrepreneurial Spirit"
Twenty Wabash entrepreneurs who believe that their liberal arts education was the best preparation for the work they love are interviewed in the new issue of Wabash Magazine. more...


Spring Break Means Immersion Learning
"We walked down to Casa de las Americas, where we saw a fascinating art exhibit by Brazilian artist Miguel Rio Blanco," said Ivan Acebo-Choy in his blog posting from Madrid. "He insists on showing the face of marginal Brazil. Through photographs, installations and a short film, Rio Blanco disturbs, evokes, provokes and confronts his audience with bodies that bespeak of poverty, forgetfulness and marginalization." more...


Career Services Busy Helping Seniors Find Jobs
About this time of year, college seniors get nervous. In about three months, they will be released into "the real world," and it won't be a very pleasant place if they don't have a job. more...


Internship Month: Celebrating Life-Changing Experiences
February is Internship Month at the Schroeder Career Center—a time to celebrate student adventures in "the real world" and to invite all Wabash students have one of their own. more...


Former Comedian to Present Leadership Program
Mary Jane Pories, founder of Fishladder Inc., will present her dynamic presentation Thursday, January 24th sponsored by both the LEAD (Linking Education and Alumni Development) program and the Schroeder Center for Career Development. more...