Alumni
Homecoming 2018
Schedule
Thursday, September 27, 2018
11:00 AM – Chapel Sing
Watch as the Class of 2022 participates in this annual rite of passage.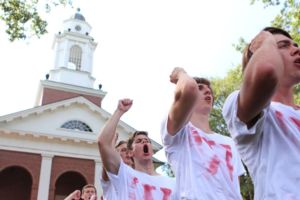 4:45 PM - 39th Annual LaFollette Lecture - What Does Economics Have to Say About Culture? Delivered by Professor of Economics Joyce Burnette
Salter Hall, Fine Arts Center
The LaFollette Lecture Series was established by the Wabash College Board of Trustees to honor Charles D. LaFollette, their longtime colleague on the Board. A successful businessman, Mr. LaFollette was a devoted friend of the humanities and the arts. The LaFollette Lecture is given annually by a Wabash College faculty member who is charged to address the relation of his or her special discipline to the humanities, broadly conceived. A reception will follow in Littell Lobby.
Event is free and open to the public.
Friday, September 28, 2018
6:00 PM - 2018 Athletics Hall of Fame Dinner and Induction Ceremony, Knowling Fieldhouse, Allen Athletics Center
Reply Required, Register Here.
2018 Inductees:
Kurt Casper '02 – Football
Grant Comer '97 – Swimming
Geoff Lambert '08 – Track and Field
Kevin McCarthy '12 – Cross Country and Track and Field
Mike Maddox '80 – Baseball
Jeff McLochlin '83 – Football (posthumous)
2002 Football Team
Saturday, September 29, 2018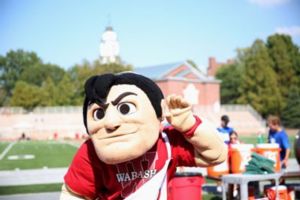 10:00 AM – Kane Society President's Reception, Caleb Mills House
11:00 AM – Alumni Chapel, Pioneer Chapel
The annual Homecoming Alumni Chapel, celebrated in the spirit of Barney Hollett '36, represents the general meeting of the National Association of Wabash Men, and the time we honor Wabash men and women for their contributions to the College and their communities.
Alumni Awards To Be Presented:
Justin Grimmer '05, Jeremy R. Wright Young Alumnus Distinguished Service Award
Jim Davlin '85, Frank W. Misch Alumni Distinguished Service Award
Shawn Crane '81, Frederick J. Urbaska Distinguished Civic Service Award
Brad Gerstner '93, Clarence A. Jackson Distinguished Career Achievement Award
Warren Rosenberg, Honorary Alumnus
Lyle Schmidt, Honorary Alumnus
Judy Schmidt, Honorary Alumna
Diane Schroeder, Honorary Alumna
Michael McCarty '90, Career Services Fellow
David Brewer '90, Career Services Fellow
Patrick Weber '76, Admissions Fellow
12:15 PM – Homecoming Luncheon, Knowling Fieldhouse, Allen Athletics Center.
Join President Gregory Hess and Trustee Greg Estell '85 as we celebrate the College's great tradition of philanthropy and those who demonstrated leadership in their support of Wabash students during the most recent year. Get your photo with Wally, enjoy a tailgate inspired menu, and celebrate Wabash with friends. All luncheon attendees will receive both a giveaway item and a complimentary ticket to the football game (students, faculty and staff, children, and those with a W pass will not need a ticket). Tickets will be distributed at the end of the luncheon. Refunds cannot be given for previously purchased tickets. Reply requested, Register Here.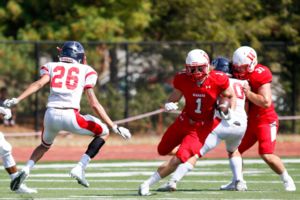 2:00 PM – Football vs. The College of Wooster, Sewell Field, Byron P. Hollett Little Giant Stadium (Buy Tickets)
7:30 PM – Homecoming Concert, Salter Concert Hall, Fine Arts Center
An evening performance featuring the Wabash College Glee Club and other Wabash ensembles, celebrating the return of Wabash alumni and their families through music. The Glee Club will be singing some old favorites, as well as introducing repertoire for their new season.
Event is free and open to the public.
*Make time to stop by the Eric Dean Gallery in the Fine Arts Center to see the current exhibition. Gallery Hours: M-F, 9-5 p.m. and Saturdays 10-2 p.m. For more details and for exhibit times visit www.wabash.edu/fineartscalendar.