Schedule
Thursday, September 26, 2019
11:00 AM – Chapel Sing
Watch as the Class of 2023 participates in this annual rite of passage.
4:45 PM - 40th Annual LaFollette Lecture, Salter Hall, Fine Arts Center
Associate Professor of Music James Makubuya will present Ethnomusicology: Its Role, Power, and Significance in the Humanities. The LaFollette Lecture Series was established by the Wabash College Board of Trustees to honor Charles D. LaFollette, their longtime colleague on the Board. A successful businessman, Mr. LaFollette was a devoted friend of the humanities and the arts. The LaFollette Lecture is given annually by a Wabash College faculty member who is charged to address the relation of his or her special discipline to the humanities, broadly conceived. A reception will follow in Littell Lobby.
Event is free and open to the public.
Friday, September 27, 2019
4:30 PM - Book Celebration and Signing, Lilly Library
The College will celebrate the publication of a long-awaited book, Some Little Giants: A Brief Wabash College Athletics History, 1866-2017, written by alumnus and long-time athletics director Max Servies '58. The reception will include remarks from Servies and editor David Phillips H'83 at 4:45 p.m..
6:00 PM – Wabash Swim & Dive Alumni Meet, Class of 1950 Natatorium, Allen Athletics Center (Register Here)
Saturday, September 28, 2019
8:00 AM – Class Agent Forum, International Hall, Detchon Center
10:00 AM – Kane Society President's Reception, Caleb Mills House
11:00 AM – Alumni Chapel, Pioneer Chapel
The annual Homecoming Alumni Chapel, celebrated in the spirit of Barney Hollett '36, represents the general meeting of the National Association of Wabash Men, and the time we honor Wabash men and women for their contributions to the College and their communities.
Alumni Awards To Be Presented: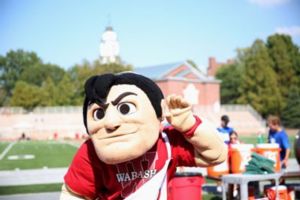 Mark Shreve '04, Jeremy R. Wright Young Alumnus Distinguished Service Award
Jim Dyer '83, Frank W. Misch Alumni Distinguished Service Award
John Pence '58, Fredrick J. Urbaska Distinguished Civic Service Award
Leonard Johnson '63, Clarence A. Jackson Distinguished Career Achievement Award
Rick Warner, Honorary Alumnus
Marcus Kammrath '16, Career Services Fellow
Joe Pfennig '82, Admissions Fellow
NOON – Soccer vs. Wooster, Fischer Field
12:15 PM – Homecoming Luncheon, Knowling Fieldhouse, Allen Athletics Center.
Join President Gregory Hess and alumni, parents, and friends as we celebrate the College's great tradition of philanthropy and those who demonstrated leadership in their support of Wabash students during the most recent year. Get your photo with Wally, enjoy a tailgate inspired menu, and celebrate all things Wabash before the game. Kids will receive a free bag with Wabash inspired items and a giveaway item will also be available before the game to all attendees.
2:00 PM – Football vs. Denison, Sewell Field, Byron P. Hollett Little Giant Stadium (Buy Tickets)
5:00 PM – Annual 'shOUT Homecoming Reception, 1832 Brew Lounge, Lilly Library
7:30 PM – Homecoming Concert, Salter Concert Hall, Fine Arts Center
An evening performance featuring the Wabash College Glee Club and other Wabash ensembles, celebrating the return of Wabash alumni and their families through music. The Glee Club will be singing some old favorites, as well as introducing repertoire for their new season.
Event is free and open to the public.
*Make time to stop by the Eric Dean Gallery in the Fine Arts Center to see the current exhibition. Gallery Hours: M-F, 9-5 p.m. and Saturdays 10-2 p.m. For more details and for exhibit times visit www.wabash.edu/fineartscalendar.